Did Orlando Shooter Mateen Have Bipolar Disorder?
It is being widely reported in the media that Orlando shooter Omar Mateen had bipolar disorder, but do we really know if Mateen had bipolar disorder (What Is Bipolar Disorder)? Where did this information come from and should we really believe it or is it just media sensationalism? After all, every mass shooter seems to be designated some mental illness; is it just bipolar's turn?
Orlando Shooter Omar Mateen
For those of you who don't know, it's being reported that Omar Mateen killed 49 people and injured 53 people at a gay nightclub in Orlando on the morning of June 12th. The shooting is considered "one of the deadliest in recent U.S. history."
The Accusation of 'Bipolar' of Omar Mateen
The accusation that Mateen had bipolar disorder actually comes from his ex-wife, Sitora YuSufi. YuSufi says Mateen was violent and says he was bipolar in this quote (regarding their marriage):
At the beginning he was a normal [human] being that cared about family, loved to joke, loved to have fun, but then a few months after we were married I saw his instability . . . I saw that he was bipolar and he would get mad out of nowhere. That's when I started worrying about my safety.
She also says Mateen was,
. . . mentally unstable and mentally ill [and] obviously disturbed and traumatized.
YuSufi talks about how abusive Mateen was and how she left him after only four months.
Does Mateen's Violence and Instability Equal Bipolar Disorder?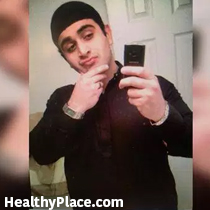 But the question is not was Mateen a bad guy – it appears that he certainly was – the question is, did he actually have a mental illness? And if he did, is that actually germane to the reporting of the Orlando shooting?
Here's the thing, information from an allegedly abused ex-wife is bound to be tainted. She has said all sorts of horrible things about him in the interviews she has done with the media. Are these things true? I have no idea. But regardless as to the fact that he may have been violent and abusive, that doesn't mean that he had bipolar disorder. YuSufi is not a psychiatrist and, more specifically, she certainly isn't Mateen's psychiatrist. What qualifications does she have to say that "he was bipolar?" And why should we believe her? She never said he had a diagnosis of bipolar – i.e. was actually diagnosed by a professional – she just said he "was" bipolar, suggesting that she assessed him as such, apparently due to his abusive actions.
But this isn't right and this isn't fair. It's not fair to give someone a diagnosis of a mental illness without any evidence. Violence, in and of itself, is not a symptom of bipolar disorder. Even if Mateen beat his wife, that doesn't mean he had a mental illness – it just means that he was an abuser. Being an abuser does not equal having bipolar disorder (Narcissistic, Sociopathic or Plain Abusive?).
Why the Media Reports that Mateen Has Bipolar Disorder
Of course, when a tragedy like a mass shooting occurs, people are looking for the reason why, and, in our society's media, that almost always means that someone is looking to blame a mental illness. In the case of Mateen, it appears he hated homosexuals – one possible reason for his actions; it also appears that Mateen felt aligned with the Islamic State and that also had to do with his motivation. And while either one of these aspects might be what drove Mateen to attack innocent people in a gay nightclub, that is never enough for the media. The media always wants to paint people with mental illness as the "bad people." They seem to be suggesting that those with bipolar are a certain type of person and that type of person is dangerous.
We, with mental illness, are the "bad guys" and if society could just control those horrible people, then the rest of the "good people" would be safe.
And, of course, the idea of Mateen having bipolar disorder makes a great headline. It's something the media can tout and with which they can garner eyeballs. I get it. Most are, technically, reporting it correctly by putting "bipolar" in quotation marks, but no one sees that bit. Everyone just sees that yet another crazy gunman had bipolar disorder.
Is It Right to Say that Orlando Shooter Mateen Had Bipolar Disorder?
In short, we have no idea whether Orlando shooter Mateen had bipolar disorder. The accusation of an ex-wife certainly isn't enough to diagnose a mental illness, nor is the presence of violence.
And no matter what you think about people with bipolar disorder, believe this: we are not mass shooters. Of the millions of us that exist, most of us are just ordinary people on the violence spectrum. Sure, there are people with bipolar disorder who are violent – just like without bipolar disorder. And, yes, those with bipolar disorder who are untreated may be more inclined towards violence, but that doesn't mean that just because a person is violent they have bipolar disorder.
Mental illness and abuse and violence are not the same thing.
Mateen may have had bipolar disorder or he may not, but his actions, even heinous ones, don't tell us either way.
You can find Natasha Tracy on Facebook or Google+ or @Natasha_Tracy on Twitter or at Bipolar Burble, her blog.
APA Reference
Tracy, N. (2016, June 13). Did Orlando Shooter Mateen Have Bipolar Disorder?, HealthyPlace. Retrieved on 2019, July 19 from https://www.healthyplace.com/blogs/breakingbipolar/2016/06/did-orlando-shooter-mateen-have-bipolar-disorder
Author: Natasha Tracy