Does Talking/Writing About Depression Make You Depressed?
I'm a depressed person, or, if you like, I'm a person you suffers from depression. And, of course, I'm a person that writes and speaks about depression – a lot. So someone recently asked me, "Doesn't talking about depression all the time make you more depressed?"
Well, it depends on your perspective.
Writing or Talking about Depression May be Cathartic
In psychiatry, catharsis is thought of as a, "discharge of pent-up emotions so as to result in the alleviation of symptoms or the permanent relief of the condition." And many people find writing or talking about depression, bipolar, mental illness and other painful subjects cathartic. Talking about your problems (or expressing them in other ways, such as through art) can actually alleviate some of the suffering that you feel.
Talking About the Negative, about the Pain of Depression, is Actually Positive
When I give talks on bipolar disorder, often, a large part of it is my personal story with bipolar and, mainly, depression. In fact, I even talk about when I tried to take my own life. And one audience member asked me, "Isn't it just more painful to relive all those events over and over?"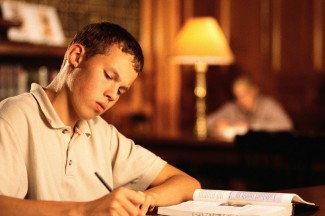 Again, that depends on how you look at it.
Yes, when I write or speak about depression, it is, in part, reliving or expressing very painful things that a large part of me would like to forget. But I also believe that writing or talking about depression is helping others. I believe that expressing a truth that goes beyond my mere life and by sharing my experiences, which are so often shared, I'm actually helping people. And that is nothing but a positive thing.
Talking/Writing about Depression Can be Painful – But it can Still be Positive
Sometimes I cry when I write. It hurts to write or speak some of the words that I do but I still consider that a positive experience because I know that people are going to hear those words and heal just a tiny bit. My words aren't going to save the world, but I do believe that they can bring about just a tiny positive feeling in others. I believe they can educate others and create compassion. I believe they can create community and build bonds. I believe they can reduce stigma and stem the tide of discrimination and prejudice seen in society.
And these are all very positive things.
In all honesty, those positive things don't lift my depression – nothing does – but those positive things certainly don't create depression either. By maintaining the proper perspective on pain and attempting to find meaning in it, expressing it can actually beneficial to you and those around you.
You can find Natasha Tracy on Facebook or Google+ or @Natasha_Tracy on Twitter or at Bipolar Burble, her blog.
APA Reference
Tracy, N. (2014, May 20). Does Talking/Writing About Depression Make You Depressed?, HealthyPlace. Retrieved on 2023, June 6 from https://www.healthyplace.com/blogs/breakingbipolar/2014/05/talking-writing-about-depression-depressed
Author: Natasha Tracy
Actually, I believe that journaling is one of the few reasons that I didn't kill myself during my struggle through Borderline Personality Disorder. I started journaling in grade 10, for my Creative Writing class and experienced many positive effects through the release it allowed. Growing up as a lesbian in a small-minded community, it was in my journal where I first expressed my feelings of attraction towards other women, well over a year before I was ever able to voice it to anyone else. During university, I took a 4-year Psychology/Sociology major, and, although I was extremely suicidal through much of that time, I knew that my journaling had helped me through the toughest times, and, for my fourth-year Psychology class, I had to design an experiment. For my experiment, I decided to look at the effects of journaling on LGBTQ-identified individuals, as those of us in the LGBTQ community often experience extra stresses related to our sexual orientation. I'd reviewed many studies about journaling's positive effects and about how writing about one's feelings as little as 20 minutes per day could make an individual much happier in as little as two weeks, and I replicated the findings in a group of LGBTQ-identified individuals.
Leave a reply