The Stigma of Bipolar in Relationships
How many times of you heard, "oh, you can't date her, she has bipolar disorder." Well, okay, you might not have heard it, but many of us have been on the business end of that idea. People have advised others never to date us because we have bipolar disorder. In this video I talk about the stigma of dating someone with bipolar disorder and how it's just prejudice that produces statements like the above.
The Stigma of Dating Someone with Bipolar Disorder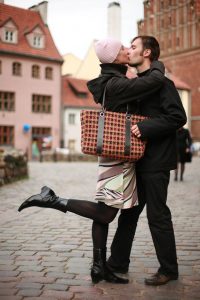 It's unfair, but some people treat us like we're lepers. Some people say that you should date us for your own protection. But this is unfair and untrue.
In this video I discuss how ridiculous it is to judge our "date-ability" based on a diagnosis.
You can find Natasha Tracy on Facebook or GooglePlus or @Natasha_Tracy on Twitter or at the Bipolar Burble, her blog.
APA Reference
Tracy, N. (2013, December 1). The Stigma of Bipolar in Relationships, HealthyPlace. Retrieved on 2019, August 22 from https://www.healthyplace.com/blogs/breakingbipolar/2013/12/stigma-bipolar-relationships
Author: Natasha Tracy