Why I Refuse to Read Anatomy of an Epidemic
Many people here have read Robert Whitaker's Anatomy of an Epidemic: Magic Bullets, Psychiatric Drugs, and the Astonishing Rise of Mental Illness in America (New York: Crown Publishers). And some of these people will likely claim that the book changed their lives or, at the very least, their view of psychiatry and psychiatric medication.
Well. Ho there. You would think with such a ground-breaking book I would be all over it.
Guess again.
I refuse to read Anatomy of an Epidemic. And yes, some people will fault me for this. But I have a good reason. I refuse to read Anatomy of an Epidemic as I have no desire to be outraged at a misunderstanding of science for 416 pages.
The Poster Child: Robert Whitaker
Robert Whitaker is the poster-child for antipsychiatry, which is his prerogative. If he enjoys talking to throngs of antipsychiatrists then I say, better him than me.
And part of his criticism of psychiatry is well-deserved. I would say that being concerned with the use, and possibly overuse, of some medications and the prescribing of heavy psychotropic medications to children is quite warranted. I take no issue with the fact that debate and concern is appropriate here.
What I do take concern with is his contention that psychiatric medication actually worsens treatment outcomes and causes disability. This is the reason why antipsychiatrits love him and it's the reason I probably couldn't stand to be in the same room as him.
Antipsychotics and Mental Illness
Whitaker's chief whipping boy is antipsychotics and schizophrenia. He cites studies that he says back up his claim that not taking antipsychotics increases the chances of getting well and that antipsychotics induce the symptoms of schizophrenia.
Well that is complete falderal.
You see, Robert Whitaker, it seems, can't read a study.
Scientific Studies
Studies are very tricky business and if you don't actually read and entire study, look at the data and really read what the researchers are saying – you might miss something. In fact, you might miss something that changes the entire meaning of the study. Rarely do the researchers themselves miss it, but for some reason, when reading the study, people draw conclusions contrary to the researchers – like Whitaker does.
How do I know this? Well, rather than reviewing his book I reviewed some of the studies he cites and the claims he says are backed up by those studies and I found them to be fallacious at best. Sure, he cites studies, he just contraindicates what the study actually proves. And nothing ticks me off more than this because people believe him just because there is a linked study – no one ever bothers to check that the study says whatever Whitaker says it does.
Whitaker Contrarians - Doctors
Except, of course, the people who do – the doctors. You know, the people who went to medical school for over a decade. You know, the people actually qualified to understand what all the fancy numbers mean. You know, those people.
And I, for one, rely a lot on what doctors make of medical data and they are the ones most able to refute Whitaker's claims.
Enter E. Fuller Torrey, MD. He wrote a most excellent piece on how Robert Whitaker got it wrong. And chiefly, how his assertions of medication-induced schizophrenia and treatment outcome improvement without medication is wrong. Fuller uses the very studies that Whitaker cites to prove the very opposite of what Whitaker is saying. Because quite honestly, Whitaker either doesn't understand how to read a study or his misrepresents the data on purpose.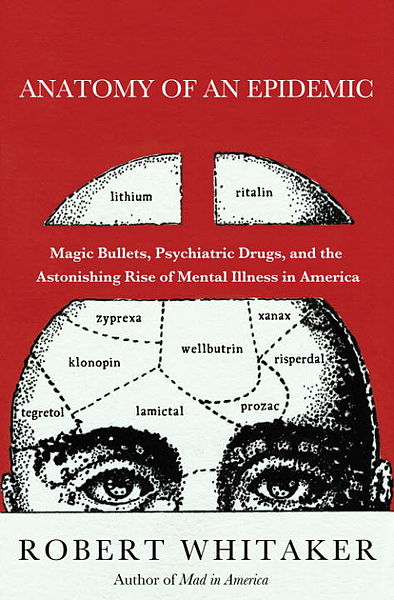 In one case, Whitaker claims that treatment outcomes for schizophrenia have worsened over the past two decades and are now no better than they were a decade ago.
Well, you know, wrong.
The problem with the study Whitaker cites is that it contains a moving target – namely the definition of schizophrenia over time. The way schizophrenia was diagnosed in the 1950s isn't how it was diagnosed in the 1970s or the 1990s. The diagnostic criteria differed substantially as we learned more about the disease at there was progression of the Diagnostic and Statistical Manual of Mental Disorders. Earlier on, diagnostic criteria for schizophrenia were very broad and so more people who were less sick were diagnosed with schizophrenia whereas now, the criteria are much stricter and people in the category of schizophrenia are much sicker. Fuller states:
When a broad definition of schizophrenia was in vogue, outcomes were better but when a narrow definition was in vogue, outcomes were worse, as would be expected.
In fact, in that very study it showed that treatment outcomes improved in the 1960s and 1970s specifically coinciding with the usage of antipsychotics. At no time in the study do the authors suggest that treatment outcomes have worsened over time. That was just Whitaker's unsupported claim.
And Fuller goes on to explain more about how Robert Whitaker got the science wrong – and he does – over and over. He gets it wrong, wrong, wrong, wrong. One really starts to wonder how he can call himself a journalist at all.
OK, I'm Getting Worked Up
And see, this is why I can't stand to read the book because I would have to dissect all of his claims and find out where he was wrong simply because I would feel compelled to do so. I'm that kind of girl. I don't like falsehoods hanging around for people to pick up and inadvertently digest.
In short, if you like Whitaker's work, that's fine, but you might want to read some doctor's reviews of his work before you start believing everything he wrote because by-and-large, for many of the claims, the science isn't there. It just isn't.
Please read Anatomy of a Non-Epidemic - a Review by Dr. Torrey for all the details. More critique here.
You can find Natasha Tracy on Facebook or GooglePlus or @Natasha_Tracy on Twitter.
APA Reference
Tracy, N. (2012, June 5). Why I Refuse to Read Anatomy of an Epidemic, HealthyPlace. Retrieved on 2019, August 22 from https://www.healthyplace.com/blogs/breakingbipolar/2012/06/why-i-refuse-to-read-anatomy-of-an-epidemic
Author: Natasha Tracy
Dear Betty

As a 66 year old Biopsychologist who was trained to evaluate research I know more than MDs who I taught for 10 years. What are your credentials??
Leave a reply