About Natasha Tracy, Author of 'Breaking Bipolar' Blog
Hi, I'm Natasha Tracy, a 30-something writer living on an island in the Pacific Northwest and the author of the Bipolar Burble. I have leapt from planes, helicopters and cliffs trusting nothing but nylon and canvas to save my life. I have worked for many tech companies including the biggest boy on the block. I have visited twelve different countries, have a bachelor's degree in computer science and I think a law should be passed preventing Apple from naming anything else beginning with the letter "i."
And I have bipolar disorder.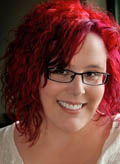 I've been diagnosed with a series of variants finally landing on bipolar type-II, ultra-rapid-cycling. I've been in treatment for over a decade. Treatments have included over 40 bipolar medications, vagus nerve stimulator implantation, electro-convulsive therapy (ECT) and several types of psychotherapy.
Breaking Bipolar is my way of entertaining and enlightening on the topic of bipolar disorder. It's shearing honesty aims to put the reader inside a brain suffering from mental illness. It's designed to elucidate the subjects of pain, loss, depression, hypomania, hope and humanity. It explores the difference between a sick brain and a mind left trying to cope with it.
I hope my writing will allow people to truly appreciate what the mentally ill experience and ultimately lead to greater understanding and respect, as well as reduce the fear people show around the mentally ill.
I look forward to the day when humans can fly, breathe underwater and latte art becomes recognized as a serious area of study.
Natasha Tracy's Breaking Bipolar Blog Welcome Video
If you would like to know a little more about me, watch this bipolar video.
Check out Natasha Tracy's book: Lost Marbles: Insights into My Life with Depression & Bipolar and connect with her on Facebook, Google+ or Twitter or at Bipolar Burble, her blog.
APA Reference
Tracy, N. (2010, May 28). About Natasha Tracy, Author of 'Breaking Bipolar' Blog, HealthyPlace. Retrieved on 2019, August 22 from https://www.healthyplace.com/blogs/breakingbipolar/2010/05/natasha-tracy-author-breaking-bipolar-blog-2
Author: Natasha Tracy
Hi Helene,

Thank you so much. I know what it's like to be newly diagnosed.

If you haven't read it, you may want to read this article from my personal blog (not affiliated with HealthyPlace): http://natashatracy.com/bipolar-disorder/new-bipolar-diagnosis-first-bipolar-months/

It's about someone who actually celebrated her diagnosis. (Another perspective.)

- Natasha Tracy
Hi Jason,

Well, honestly, most of us would be pretty happy at those working hours. She has a job and then gets stuff done at home? That's pretty good. And if she's in bed at seven and up at three, that's only eight hours of sleep. That all sounds pretty reasonable.

That said, anyone can be affected by a medication like that, especially in the beginning. You need to give it six-eight weeks to see what might a long-lasting concern.

Try to be patient for now. It sucks but waiting is all we can do.

- Natasha Tracy
Leave a reply