Ways to Inspire a Deadlocked Bipolar Life
We all can get in a rut sometimes. It's hard to get out of a rut. You have to pull yourself up out of your hole. How can you do that when you feel so defeated?
Bipolar Disorder can defeat you like no other disease can. It affects our brain and that affects how we function; which, in turn, affects our relationships and our daily existence. I've found myself alone, hopeless, and incapable of doing anything about it. At least until I found the tools in which to combat that feeling of being in a rut.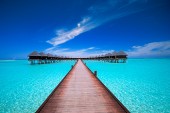 Start reading.
Reading is going to get you out of that deadlocked bipolar life. Read all you can about bipolar disorder so you can be knowledgeable about what's going on in your life. You can't fix anything until you know what needs to be fixed. I also recommend that you read something for enjoyment. I found the Twilight series to be highly enjoyable during a past episode. It made me get out of my head and into something else. Every time I felt bad, I opened the book and became so engrossed with the characters that I forgot about the problems at hand.
Listen to music.
Listen to good, inspirational music. It doesn't have to be New Age music, but it should be something that motivates you to get past the problems you're experiencing. I recommend getting some music for your iPod in which you can dance. Dancing is great exercise both for your body and your mind. You'll feel invigorated and happy. That's the goal, right? Keep dancing the blues away. If you're experiencing mania, then I suggest the New Age stuff. It's a great way to calm your soul. (Read Music Therapy for Treatment of Psychiatric Disorders)
Slam negativity.
Negativity gets in the way of progress. Whenever you have a negative thought, blow it away from your mind. Remember happier times. Remember that you're grateful for some things in your life. Are you grateful for the roof over your head? Are you grateful for the internet? Many people find friends online and it's their only way of connecting. Positivity is a must to inspire a deadlocked bipolar life. I highly recommend Affirmations on iTunes. They keep me grounded even in the worst of times.
Get out of your house.
New environments are a good way to get out of a bipolar rut. Find a Meetup Group near you that shares your similar interests. I belong to a writer's group and it inspires me to get out of the house. There are all kinds of groups out there. I'm planning on looking for a meditation group so I can meditate with a group twice a week. Maybe you're an artist and would like to commune with like-minded souls. There's a group out there for everyone.
Take your time.
Even though you want to desperately get out of a deadlocked bipolar life, it will take time. Some things aren't going to happen overnight. But, I believe if you implement these tools, you will climb out of your rut. It will take time to do each of these things and it will take effort. It's important to remember that the effort and time are worth it because you're worth it. Soon you'll be dancing the bipolar away!
APA Reference
Fender, C. (2010, March 29). Ways to Inspire a Deadlocked Bipolar Life, HealthyPlace. Retrieved on 2023, December 1 from https://www.healthyplace.com/blogs/bipolarvida/2010/03/ways-to-inspire-a-deadlocked-bipolar-life
Author: Cristina Fender
Great tips!! and it works. It is a lot of effort and work, and time. it works. I am still working at chasing away negativity, but I find myself answering more and more in positive statements. Reading the Secret helped me a lot. Also have learned to eat certain foods to help me with the chemicals in my body. I really believed that has also helped. thanks for letting share.
Zeida,
I'm so glad that my program is working for you! It is a lot of effort and work, but it's worth it in the end. Chasing away negativity is difficult, but I find it less difficult the more I meditate. Affirmations keep me going, too. I'll have to read the Secret, is that the title?
Your welcome to share anytime!
Cristina
Leave a reply