Trading Creativity for Bipolar Medication
Does it matter that my creativity has dwindled down to almost nothing now that my bipolar medications have taken over? Should it matter that my essence is now a dull wit? Am I willing to trade a part of my soul for a lot of sanity? Should I have to choose between my bipolar medication and a normal life?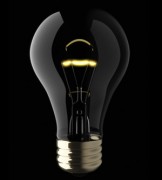 I wish I had all the answers. Right now, I'd give up a piece of my soul for a good blog post. The thoughts haven't been flowing for several weeks now and it irks me to no end. I've written for as long as I can remember. I've journaled for more than half my life. I never had a moment when there was nothing but blankness, yet here I am. I never pretended to be a good writer, but I always knew that I was a writer nonetheless. And now I feel a little lost. Words are failing to enter the void that has become my head.
But I wouldn't trade the bipolar medications for a few good journals in my head. For the first time in my life, I feel like I have something to look forward to. I have a life of purpose planned for myself and I wouldn't trade that for the ability to write. Sanity hasn't changed who I am inside. Perhaps I just need to look a little deeper, past the vast amount of bipolar medication I'm taking. Perhaps I was merely in a funk and life has given me a little nudge. Perhaps it's not the medication and only a bit of writer's block.
Bipolar Disorder and Creativity
So many people with bipolar disorder have the creative streak running through them. I've heard tales of their creativity coming to a dead-end when there is too much medication for Bipolar Disorder involved. Many feel that it blocks them and they decide to stop taking bipolar medication. I just can't see myself doing that. Life has so much more to offer me when I am medicated. My life is fuller. My family gets more of me and I get filled up by each day that I accomplish something great.
Maybe one just has to work a little harder to find that creativity deep inside. I believe that the medication does dull the feelings a bit, but it's something that will get better in time. I've learned that the medication side effects wane a little bit with each passing day. Soon I will be back to normal. I just have to be a little patient.
APA Reference
Fender, C. (2010, April 26). Trading Creativity for Bipolar Medication, HealthyPlace. Retrieved on 2019, September 21 from https://www.healthyplace.com/blogs/bipolarvida/2010/04/trading-creativity-for-bipolar-medication
Author: Cristina Fender