Grandiosity: A Bipolar Symptom That Doesn't Fit Me
A common bipolar symptom that often occurs in manic episodes is that of grandiosity – having an inflated sense of self, believing that one has special powers, spiritual connections, or religious relationships. This is a simple definition of grandiosity, but I find that in my personal experience, as many people do, that I do not perfectly fit into this textbook definition.
Grandiosity Makes Me Feel Isolated
Oftentimes while in class, for example, when going over philosophical things, I feel as if I always have many of the same philosophical topics swirling around in my head that seem more realistic to me while others discuss them as if they are foreign ideas. Some peers, when discussing these topics during class, even go as far as calling them "psycho" and "crazy," while I'm sitting there feeling as if I'm thinking on an entirely different level with an advanced level of understanding and perception.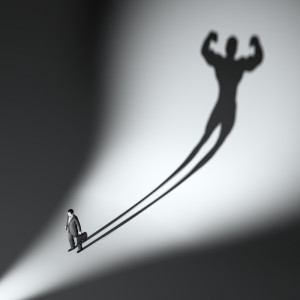 Please don't get me wrong here. I do not believe that I am superior to anyone else. I simply feel as if I'm different and isolated from everyone, as if my brain works and thinks in different ways, differently than anyone else's.
Grandiosity makes me feel isolated and alone, as if no one understands me. I find it incredibly difficult to even verbally express these things to others. I have these grand ideas in my head, but as soon as I open my mouth to share, I get stuck. I feel ridiculous and stupid, and again begin feeling as if I'm losing my mind because I cannot share what's going on in my head.
Is this grandiose behavior? Are these feelings even considered grandiose ideas? Or are they simply grievances that I dwell on? Am I one of the only one who feels this way, or is this a common maddening symptom that many other people living with bipolar disorder experience as well?
What do you think?
You can also find Alexa Poe on Google+, Facebook and Twitter.
APA Reference
Poe, A. (2013, October 15). Grandiosity: A Bipolar Symptom That Doesn't Fit Me, HealthyPlace. Retrieved on 2019, July 16 from https://www.healthyplace.com/blogs/bipolarvida/2013/10/grandiosity-a-bipolar-symptom-or-a-personality-trait
Author: Alexa Poe
Hi there! Thanks for commenting!

I hear so many different opinions on this. A few people have told me that it could be mania or just a "bipolar thing," while other people say the same thing as you. Who knows -- maybe I just over-analyze everything!

Again, thanks for sharing, and I hope you're well!

-- Alexa
Thank you for sharing! It does make sense, and I agree with you!

I hope you enjoy your week, too, and I hope you're well!

-- Alexa
Leave a reply