To Face His PTSD, This Man Turned His Back on Stigma
Here's what's happening on the HealthyPlace site this week:
---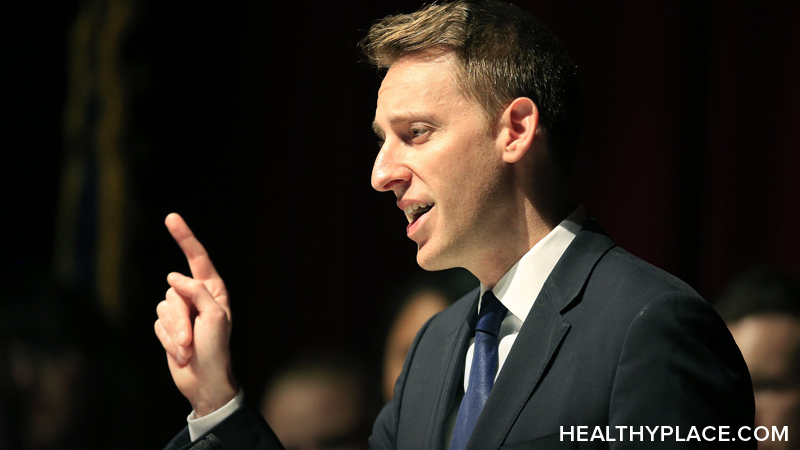 To Face His PTSD, This Man Turned His Back on Stigma
"After 11 years of trying to outrun depression and PTSD symptoms, I have finally concluded that it's faster than me. That I have to stop running, turn around, and confront it." —Jason Kander
Mr. Kander is a veteran of the war in Afghanistan, and until recently he was a candidate running in the 2018 race for mayor of Kansas City. He'd been keeping his experiences with post-traumatic stress disorder and depression to himself because of the fear that if people discovered his secret, his political career would abruptly end. Stigma prevented him from seeking help for these highly treatable conditions—until, in the thick of his mayoral campaign, he needed to stop running from PTSD.
Now that he is confronting his PTSD, he is taking back his life. The consequences of stigma he feared have been insignificant; in fact, he has been heralded as an inspiration for others to seek depression and  PTSD treatment.
For many people, a combination of therapy, lifestyle changes (like improving nutrition and exercise), and sometimes medication make a positive difference. Seeking help, as difficult as it may be at first, offers healing, forward movement, and the power to reclaim your life. Chances are high that Mr. Kander will return, thriving, to politics. Chances are also high that you will return, thriving, to your own goals.
Related Articles Dealing with PTSD, Seeking Help
Your Thoughts
Today's Question: If you've sought PTSD or other mental health help despite facing stigma, what was the experience like for you? We invite you to participate by sharing your thoughts, knowledge, and experiences on the HealthyPlace Facebook page and on the HealthyPlace Google+ page.
From the HealthyPlace Mental Health Blogs
On all our blogs, your comments and observations are welcomed.
Feel free to share your thoughts and comments at the bottom of any blog post. And visit the mental health blogs homepage for the latest posts.
------------------------------------------------------------------
From HealthyPlace YouTube Channel
I'm Hannah. I Have Bipolar 2
With Bipolar, Falling in Love is a Different Experience
When you have bipolar disorder, what does it mean to fall in love? Let me give you an inside view of my perspective of falling in love when you live with bipolar disorder. (Watch Hannah and subscribe to the HealthyPlace YouTube channel for more great mental health videos.)
------------------------------------------------------------------
Most Popular HealthyPlace Articles Shared by Facebook Fans
Here are the top 3 mental health articles HealthyPlace Facebook fans are recommending you read:
If you're not already, I hope you'll join us/like us on Facebook too. There are a lot of wonderful, supportive people there.
------------------------------------------------------------------
Mental Health Quote
"A woman can't change a man because she loves him, a man changes himself because he loves her."
Read more abuse quotes.
------------------------------------------------------------------
That's it for now. If you know of anyone who can benefit from this newsletter or the HealthyPlace.com site, I hope you'll pass this onto them. You can also share the newsletter on any social network (like facebook, stumbleupon, or google+) you belong to by clicking the links below. For updates throughout the week, circle HealthyPlace on Google+, follow HealthyPlace on Twitter or become a fan of HealthyPlace on Facebook. Also, check out HealthyPlace on Pinterest and share your mental health pins on our Share Your Mental Health Experiences board.
APA Reference
Peterson, T. (2018, October 29). To Face His PTSD, This Man Turned His Back on Stigma, HealthyPlace. Retrieved on 2023, October 4 from https://www.healthyplace.com/other-info/mental-health-newsletter/to-face-his-ptsd-this-man-turned-his-back-on-stigma
Last Updated: October 30, 2018