Songs to Cope with Depression: Some of My Favorites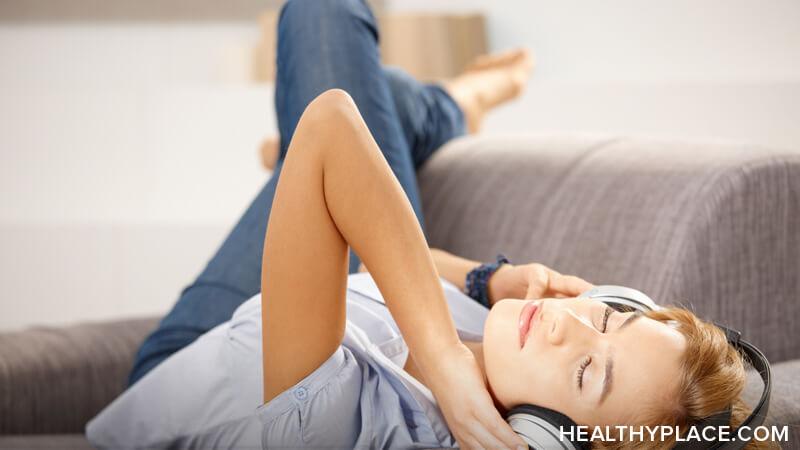 It's possible to use songs to cope with depression. Many of us who are diagnosed with depression, myself included, find comfort in music. Often we can identify with an artist and his/her feelings and experiences; also, we may find that songwriters are able to eloquently put into words the thoughts and struggles we have but are unable to express aloud. This is why I find using depression songs helpful in coping with my depression. So, how do I use songs to cope with depression?
My Favorites Songs to Cope with Depression
Anger
First of all, when I feel angry about the day to day depression struggle, I listen to heavier, louder music. It helps me to release my feelings rather than keep them bottled up inside me. Sometimes I get so tired of dealing with depression. I get angry about how depression interferes with my life. I get tired of ignorant and hurtful comments; I get sick of depression stigma. I grow weary of the way that daily tasks can overwhelm, and at times even exhaust me. I get worn out from the battle of trying to fight my mind so I can stay alive. The anger in me continues to build, and I have found that listening to music that expresses these same types of angry feelings helps me cope with my own feelings of anger about my depression. My favorite song for when I feel this way is "One Step Closer" by Linkin Park.
The Darkness of Depression
When I'm going through a particularly dark bout of depression, I will go one of two ways with my song choices. I might listen to songs written about the deepest struggles of depression so that I'm reminded I'm not alone. It's like a friend or a warm blanket there to comfort me. The artist is able to express what I'm feeling when I don't feel like communicating with anyone. The songs that I listen to most during this time are "Heavy" by Linkin Park (feat. Kiiara) and "Hurt," both the Nine Inch Nails version and the Johnny Cash remake. Other times, I listen to songs that are uplifting. They remind me that I've conquered the dark bouts of depression before and that I can do it again. My favorite songs for this are "Fight Song" by Rachel Platten and "Tell Your Heart to Beat Again" by Danny Gokey. 
Celebrations
When I reach treatment milestones or personal goals, I listen to songs that speak of being a warrior and a survivor; that is what I am. I know how hard the battle of depression is, and those of us who cope with it every day of our lives deserve to celebrate each victory we achieve. The hard work we put into each step of recovery should be recognized. I like to throw mini-celebrations with my favorite snacks and music when I meet goals. My favorite songs to celebrate are: "Survivor" by Destiny's Child and "Another One Bites the Dust" by Queen. 
Using songs helps me cope with my depression. If you haven't tried using music as part of coping with your depression, try it; or, if you already have particular songs that help you cope with depression, I'd like to hear what they are and how they help you. I look forward to reading your comments.
APA Reference
Smith, J. (2018, October 24). Songs to Cope with Depression: Some of My Favorites, HealthyPlace. Retrieved on 2023, June 9 from https://www.healthyplace.com/blogs/copingwithdepression/2018/10/songs-to-cope-with-depression-some-of-my-favorites
Author: Jennifer Smith
F***ing Perfect by Pink. This song for me covers all the emotions and I always end up singing it at the top of my voice
Thank you for sharing, Vicki. I am also a fan of Pink. I am glad you've found a song that helps you cope.
Hello, Sophia. Thank you for your comment. I'm glad to hear that you, too, find music helpful in coping with depression.
Leave a reply