Stop Focusing on Negative Situations
HealthyPlace Mental Health Newsletter
Here's what's happening on the HealthyPlace site this week:
Stop Focusing on Negative Situations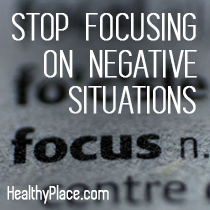 Do you continually focus on negative situations? Is every word, action and behavior absorbed and dissected without thought?
Out of fear, many who struggle with anxiety, paranoia and depression tend to dissect the behaviors and words of others more intensely. Those with mental illness fear being hurt and when the words or body language of others gives off the slightest hint of negativity, the mind tries to put the pieces of the puzzle together. (How to Stop Worrying About What Others Think). The puzzle may not have anything to do with them, but with high anxiety and paranoia in play, they believe that any negative body language must involve them in some way.
Why the Focus on the Negative?
When it comes to focusing on the negative, most aren't seeing the situation clearly. Negative beliefs beget negative thoughts. (Stop All-Consuming Negative Thoughts with the G.L.A.D. Technique). If you go into a situation with confidence, you are more likely to receive a positive result. The articles below contain ideas on how to do that.
It is not easy to ignore judgmental stares and to push away whispers, but the most important point of action is to give off positivity, so those around you can absorb those feelings.
Articles Related to Self-Esteem and Confidence
Your Thoughts
Today's Question: How have you been able to push past the negative judgments and comments of others and remain positive and confident? We invite you to participate by commenting and sharing your feelings, experiences and knowledge on the HealthyPlace Facebook page and on the HealthyPlace Google+ page.
------------------------------------------------------------------
Share our Stories
At the top and bottom of all our stories, you'll find social share buttons for Facebook, Google+, Twitter, Pinterest and other social sites. If you find a particular story, video, psychological test or other HealthyPlace feature helpful, there's a good chance others in need will too. Please share.
We also get many inquiries about our linking policy. If you have a website or blog, you can link to any page on the HealthyPlace website without asking us beforehand.
---
---
Most Popular HealthyPlace Articles Shared by Facebook Fans
Here are the top 3 mental health articles HealthyPlace Facebook fans are recommending you read:
If you're not already, I hope you'll join us/like us on Facebook too. There are a lot of wonderful, supportive people there.
------------------------------------------------------------------
From the HealthyPlace Mental Health Blogs
On all our blogs, your comments and observations are welcomed.
Feel free to share your thoughts and comments at the bottom of any blog post. And visit the mental health blogs homepage for the latest posts.
------------------------------------------------------------------
Stand Up for Mental Health
Thousands Have Joined the Stand Up for Mental Health Campaign
But we still need you. Let others know there's no shame in having depression, anxiety, bipolar disorder, trichotillomania, OCD, ADHD, schizophrenia or any other mental illness.
Join the Stand Up for Mental Health campaign. Put a button on your website or blog (buttons for family members, parents, mental health professionals and organizations too). We also have covers for Facebook, Twitter and Google+.
------------------------------------------------------------------
Latest Mental Health News
These stories and more are featured on our mental health news page:
Memories Need To Be 'Switched On' And Are Enhanced By Emotion
Current Guidelines To Limit Kids' Screen-Based Media Use 'May Not Be Tenable'
Social Media: 'No Direct Association' With Stress
Rat Study Suggests Abuse-Related Cues Could Reduce Adult Stress
How We Grieve: Everyone Is Different
How Your Facebook Likes Could Cost You a Job
Can Depression And Guilt In Preschool Years Change The Brain?
That's it for now. If you know of anyone who can benefit from this newsletter or the HealthyPlace.com site, I hope you'll pass this onto them. You can also share the newsletter on any social network (like facebook, stumbleupon, or digg) you belong to by clicking the links below. For updates throughout the week:
APA Reference
Aline, J. (2015, January 27). Stop Focusing on Negative Situations, HealthyPlace. Retrieved on 2023, December 11 from https://www.healthyplace.com/other-info/mental-health-newsletter/stop-focusing-on-negative-situations
Last Updated: January 28, 2015