Standing Up for Mental Health on Facebook
HealthyPlace Mental Health Newsletter
Here's what's happening on the HealthyPlace site this week:
Standing Up for Mental Health on Facebook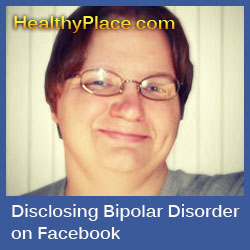 Sara Johnson wrote us to say that as a result of the "Stand Up for Mental Health" campaign, she Stood Up on Facebook and disclosed that she has bipolar disorder to her family members and friends. Her story is amazing on so many different levels. First, it takes a huge amount of courage to do that. She says it was like a breath of fresh air. Secondly, she's a social worker, who for years told her clients to stand up to stigma yet hid her own mental illness. That's how strong mental health stigma is. That's why it must be broken.
If you are waiting for everyone to be educated about mental illness and then hoping they will accept you with open arms, it's likely to be a very long wait. End mental illness stigma today. Don't let it pollute your mind. Don't tolerate it in your life. Stand Up to stigma. Stand Up for Yourself. Stand Up for Mental Health.
Stand Up for Mental Health Campaign Update
It has been two weeks since we launched the campaign. And it's really resonating with people. So far, nearly 1,000 people have joined the campaign. We, and 46 Million Americans with mental illness, need you to stand up. Together, we can do this. If you have a website or blog, please put a campaign button on it. (Buttons are available for parents of children with mental illness and mental health professionals and organizations too.) We also have covers and images for Facebook, Twitter and Google+. No matter what mental health condition you have, let others know about the "Stand Up for Mental Health" campaign, that stigma is wrong and will no longer be tolerated in your life.
Your Thoughts
You can share your thoughts about Sara Johnson's story. We invite you to participate by commenting and sharing your feelings, experiences and knowledge on the HealthyPlace Facebook page.
Related Stories
Help Spread Awareness of Mental Illness
Get Our Mental Health Blog Widget
Nearly 190 sites and blogs are helping spread awareness of mental illness. How about putting our mental health blogs widget on your website, blog or social page? The latest HealthyPlace blog headlines appear as soon as the articles are posted on our site. Just click "Get Widget" at the bottom of the widget, grab the embed code and paste it into your page. You'll also see embed links for Wordpress, Blogger, Linkedin and other social sites there.
As a bonus, put the blogs widget on your site or blog, email us (info AT healthyplace.com) with a page link where it appears, and we'll give a shoutout to your site, blog, or social site on our Facebook and Twitter pages.
---
continue story below
---
Share our Stories
At the top and bottom of all our stories, you'll find social share buttons for Facebook, Google+, Twitter, Pinterest and other social sites. If you find a particular story, video, psychological test or other HealthyPlace feature helpful, there's a good chance others in need will too. Please share.
We also get many inquiries about our linking policy. If you have a website or blog, you can link to any page on the HealthyPlace website without asking us beforehand.
------------------------------------------------------------------
Most Popular HealthyPlace Articles Shared by Facebook Fans
Here are the top 3 mental health articles HealthyPlace Facebook fans are recommending you read:
If you're not already, I hope you'll join us/like us on Facebook too. There are a lot of wonderful, supportive people there.
------------------------------------------------------------------
Mental Health Experiences
Share your thoughts/experiences with any mental health subject, or respond to other people's audio posts, by calling our toll-free number (1-888-883-8045).
You can listen to what other people are saying by clicking on the gray title bars inside the widgets located on the "Sharing Your Mental Health Experiences" homepage, the HealthyPlace homepage, and the HealthyPlace Support Network homepage.
If you have any questions, write us at: info AT healthyplace.com
------------------------------------------------------------------
From the HealthyPlace Mental Health Blogs
On all our blogs, your comments and observations are welcomed.
Feel free to share your thoughts and comments at the bottom of any blog post. And visit the mental health blogs homepage for the latest posts.
Your Mental Health Quotes Are Beautiful
That's what Ashley wrote when she saw the new mental health quotes and sayings set against beautiful, shareable images on our website. We have general quotes about mental health, mental illness, as well an anxiety quotes, depression quotes, bipolar quotes and more. Each day, we add one new mental health quote or saying to a category, so come back often.
Help for the Disrespected Step Parent
Our parent coach, Dr. Steven Richfield gets this email: "We're a blended family that's not blending too well right now. What advice do you have for a disrespected step-parent who is losing it way too much?
Latest Mental Health News
These stories and more are featured on our mental health news page:
The Philosophy of Data
Personality in the Bedroom
When Work is Play
Sugar Rusk
Ditching Your Comfort Zone
Suicide Following Acute Alcohol Intoxication A Greater Risk For American Indians
Mentally Ill People Smoke A Lot More Than People Without Mental Illness
Drug Overdose From Prescription Opioids Reaches Epidemic Levels In NYC
10% Of Mentally Ill Teenagers Use Cannabis, Drink And Smoke
Anxiety May Contribute to Cognitive Dysfunction in Bipolar Disorder
Parental Psychosis Affects Early Schizophrenia Risk Factors
Emotion Regulation Therapy (DBT) Benefits Bipolar Patients
That's it for now. If you know of anyone who can benefit from this newsletter or the HealthyPlace.com site, I hope you'll pass this onto them. You can also share the newsletter on any social network (like facebook, stumbleupon, or digg) you belong to by clicking the links below. For updates throughout the week:
APA Reference
Staff, H. (2013, February 7). Standing Up for Mental Health on Facebook, HealthyPlace. Retrieved on 2023, December 6 from https://www.healthyplace.com/other-info/mental-health-newsletter/standing-up-for-mental-health-on-facebook
Last Updated: September 4, 2014