Mental Health Therapy: What Do Therapists Do for You?
Here's what's happening on the HealthyPlace site this week:
---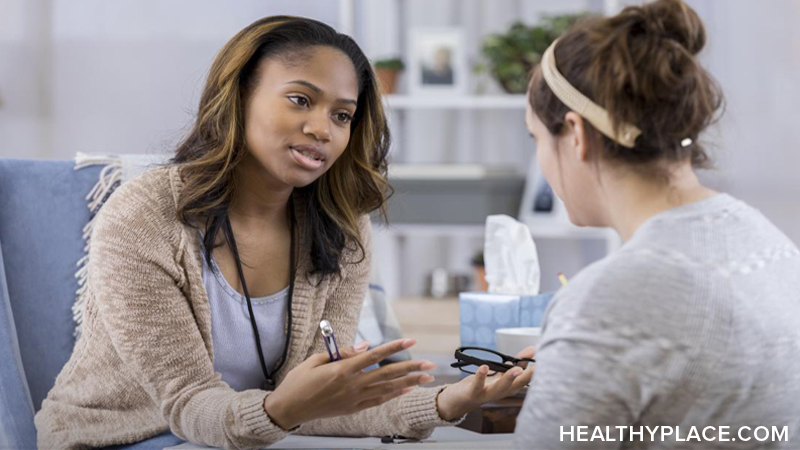 Mental Health Therapy: What Do Therapists Do for You?
Mental health therapy can be an effective way to overcome challenges and obstacles. Therapists help people with a wide range of difficulties, including (but not limited to) depression, anxiety, stress management, relationships, and difficulties of specific mental illnesses and personality disorders.
Often, uncertainties about the process can make people hesitant to seek mental health therapy. Here's a brief rundown of what you can expect a therapist to do. Keeping in mind that every therapist is unique in their personality and approach. In general, therapists:
Provide a safe place where you can talk about things you're not comfortable sharing with others
Listen deeply and reflect your ideas back so you can understand yourself in new ways
Focus on your background, thoughts, emotions, behaviors, or a combination to help you make sense of problems and move forward positively
Refrain from giving advice or ordering you to change
Help you explore options and choices
Work with you to develop skills and tools to soar on your own rather than keeping you dependent on therapy for life
Working with a therapist can empower you to rise above obstacles and create the best version of yourself and your life. If you feel stuck and want to overcome what's holding you back, mental health therapy might be something to consider.
Related Articles Dealing with Mental Health Therapy
Your Thoughts
Today's Question: If you've worked with a mental health therapist, in what ways was it helpful? We invite you to participate by sharing your thoughts, experiences, and knowledge on the HealthyPlace Facebook page.
------------------------------------------------------------------
Depression Almost Killed Me: My Comeback Story
Jennifer almost died by suicide, but she made it through. How did she do it? Join us Thursday, July 16, for our Facebook Live where she'll share two things that have given her strength as she continues on her journey of coping with depression.
Then we'll have psychotherapist, Emily Roberts, on to discuss the aftermath of a suicide attempt and how to deal with some of those challenges.  We start at 4p ET / 3 CT.  Your personal questions and comments are always welcomed. We look forward to seeing you.
------------------------------------------------------------------
From the HealthyPlace Mental Health Blogs
On all our blogs, your comments and observations are welcomed.
Feel free to share your thoughts and comments at the bottom of any blog post. And visit the mental health blogs homepage for the latest posts.
------------------------------------------------------------------
Most Popular HealthyPlace Articles Shared by Facebook Fans
Here are the top 3 mental health articles HealthyPlace Facebook fans are recommending you read:
If you're not already, I hope you'll join us/like us on Facebook too. There are a lot of wonderful, supportive people there.
------------------------------------------------------------------
Mental Health Quote
"I need them to be aware and present with me in the midst of the storm not just tell me what to do."
Read more bipolar quotes.
------------------------------------------------------------------
That's it for now. If you know of anyone who can benefit from this newsletter or the HealthyPlace.com site, I hope you'll pass this onto them. You can also share the newsletter on any social network (like facebook or stumbleupon) you belong to by clicking the links below. For updates throughout the week, follow HealthyPlace on Twitter or become a fan of HealthyPlace on Facebook. Also, check out HealthyPlace on Instagram and YouTube.
APA Reference
Peterson, T. (2020, July 13). Mental Health Therapy: What Do Therapists Do for You?, HealthyPlace. Retrieved on 2023, December 3 from https://www.healthyplace.com/other-info/mental-health-newsletter/mental-health-therapy-what-do-therapists-do-for-you
Last Updated: July 15, 2020