I Am Closer to My Mom Because of Schizoaffective Disorder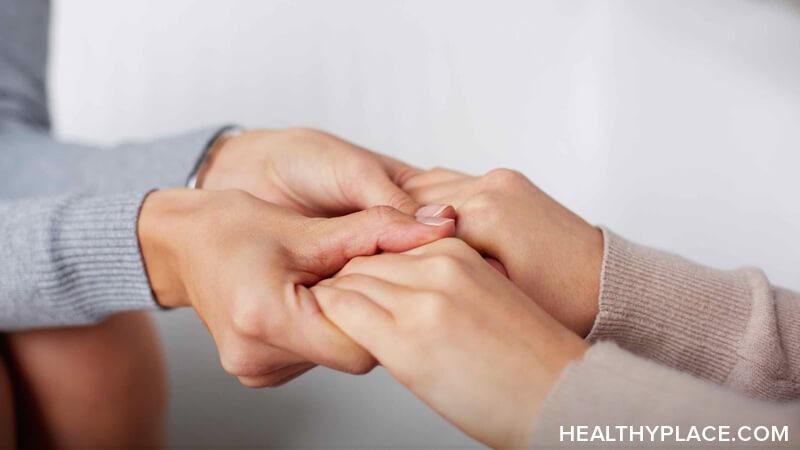 I like to look for the good in bad situations. You know, in the darkness, I look for the stars--that kind of thing. But I've been missing, for decades, one really positive thing that came out of my schizoaffective psychotic episode at the start of my illness in 1998 when I was only 19 years old.
My Schizoaffective Psychotic Episode Brought Me Closer to My Mother
My psychotic episode brought me closer to my mother. Now, it is true that when I left for the Rhode Island School of Design (RISD) a year before my episode, I got very homesick and I called my mom every night. So when my schizoaffective psychosis hit my sophomore year at RISD, my mom and I were well on the path to becoming very close, as we had been when I was little.
A huge part of us getting closer because of my episode was that she actually came out to Rhode Island from our home just north of Chicago. I called her to tell her George Harrison was following me and she got on the next flight to Providence. I stayed in a bed and breakfast with her, away from my chaotic life with my wild art school friends. Staying with her definitely slowed me down from the mania gripping my brain--that, along with the fact that I started taking an antipsychotic my doctor prescribed.
But the bed and breakfast was just the beginning. I left RISD with three incompletes, a C+, and a D. (I later got grades for the incompletes and raised the D to a B.) This was right before Christmas, which is a surreal, chaotic time of year for me, in any case. Sitting next to my mom and flying into O'Hare Airport in Chicago, which looked like a city in a cloud swathed in mist, I knew I would never go back to RISD. I had just been too unhappy there, and having a psychotic break sealed the deal.
I Got Especially Close to My Mother After I Realized I Had Schizoaffective Disorder
I got really close to my mom after I realized that George Harrison wasn't following me, that no one was following me, that it had all been in my head, and that I was hearing voices to boot. I got close to my mom after I started to get better. We would go for a walk together every morning, and she would sit in my "smoking room" (the room adjacent to my bedroom where I would sit and chain-smoke) and she would talk with me while I smoked. One time, she even said she wished she smoked because she felt it would add to the camaraderie if she did. I thought that was sweet, though she never actually picked up a cigarette.
My mom encouraged me to apply to The School of the Art Institute of Chicago (SAIC), where I was accepted with a merit scholarship. I graduated in 2002. The school was a much better fit than RISD and, as a bonus, much closer to home. I just wish I had realized that before I put in three semesters elsewhere.
Of course, both my parents were very loving and supportive during this time, as they continue to be. After all, my father was the first one to notice something was wrong as my mania was inching towards psychosis when I came home for Thanksgiving break just weeks before I hit the full-on delusionary and hallucinatory phase back at RISD. But my mom is one of my best friends, and that all started when I came home for good. That is something precious that came out of me developing schizoaffective disorder.
APA Reference
Caudy, E. (2020, July 9). I Am Closer to My Mom Because of Schizoaffective Disorder, HealthyPlace. Retrieved on 2023, March 23 from https://www.healthyplace.com/blogs/creativeschizophrenia/2020/7/i-am-closer-to-my-mom-because-of-schizoaffective-disorder
Author: Elizabeth Caudy