The Abuse Secret: Reporting Your Friend for Abuse
HealthyPlace Mental Health Newsletter
Here's what's happening on the HealthyPlace site this week:
The Abuse Secret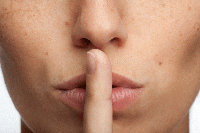 What would you do if your best friend's wife told you she had been enduring physical abuse and/or emotional - psychological abuse by her husband? For many, it's probably one of those awkward moments. Then, there's the internal battle going on in your mind: your best friend vs. his wife. Or maybe, you just don't know what to do in a situation like this.
Kellie Holly, author of the Verbal Abuse in Relationships blog, wrote about this scenario in a two-part series:
One of our HealthyPlace Google+ members bravely shared this:
"Was in this situation. Hate myself for not doing more than just stop talking with my friend."
I bring this up because so many times when there's a tragedy in the news, it's accompanied by this statement:
"I knew (or I thought)," said Mr./Ms. So-and-So. "I wish I had done something."
You can do something! Kellie spells out the steps in her articles. I'll share a first step. Make sure the person is safe, then call the National Domestic Violence Hotline. 1−800−799−SAFE(7233). You can remain anonymous if you wish.
One last thing, you don't have to be absolutely, positively sure about the abuse. If you suspect abuse, it's better to be safe than sorry. Leave the investigation up to the authorities. They know what to do.
Related Abuse Information
---
continue story below
---
Share our Stories
At the top and bottom of all our stories, you'll find social share buttons for Facebook, Google+, Twitter, Pinterest and other social sites. If you find a particular story, video, psychological test or other HealthyPlace feature helpful, there's a good chance others in need will too. Please share.
We also get many inquiries about our linking policy. If you have a website or blog, you can link to any page on the HealthyPlace website without asking us beforehand.
------------------------------------------------------------------
Most Popular HealthyPlace Articles Shared by Facebook Fans
Here are the top 3 mental health articles HealthyPlace Facebook fans are recommending you read:
If you're not already, I hope you'll join us/like us on Facebook too. There are a lot of wonderful, supportive people there.
------------------------------------------------------------------
Mental Health Experiences
Share your thoughts/experiences with any mental health subject, or respond to other people's audio posts, by calling our toll-free number (1-888-883-8045).
You can listen to what other people are saying by clicking on the gray title bars inside the widgets located on the "Sharing Your Mental Health Experiences" homepage, the HealthyPlace homepage, and the HealthyPlace Support Network homepage.
If you have any questions, write us at: info AT healthyplace.com
------------------------------------------------------------------
From the HealthyPlace Mental Health Blogs
Your comments and observations are welcomed.
Feel free to share your thoughts and comments at the bottom of any blog post. And visit the mental health blogs homepage for the latest posts.
Child Abuse: The Impact Doesn't Have to Last A Lifetime on HealthyPlace Radio
Nikki grew up in an abusive home and suffered years of child abuse. It led her to drug use and engaging in self-injurious behavior at the early age of 12 years old.
On this edition of the HealthyPlace Mental Health Radio Show, Amy discusses her years on the street dealing with drug addiction, an eating disorder, even enduring rape and how she made her way back to health and recovery.
That's it for now. If you know of anyone who can benefit from this newsletter or the HealthyPlace.com site, I hope you'll pass this onto them. You can also share the newsletter on any social network (like facebook, stumbleupon, or digg) you belong to by clicking the links below. For updates throughout the week:
APA Reference
(2012, August 14). The Abuse Secret: Reporting Your Friend for Abuse, HealthyPlace. Retrieved on 2023, December 3 from https://www.healthyplace.com/other-info/mental-health-newsletter/abuse-secret
Last Updated: September 4, 2014