Mental Health and Physical Health Aren't Separate Concepts
HealthyPlace Mental Health Newsletter
Here's what's happening on the HealthyPlace site this week:
Mental Health and Physical Health Aren't Separate Concepts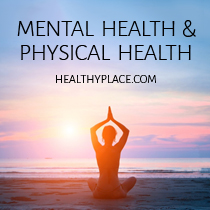 It's interesting that in the world of health care there's a distinction between mental illness and physical illness. Sure, there are reasons for the development of the segregation of mental health and physical health, but in reality, our mental and our physical aspects aren't separate entities. (Pain of Depression: Physical Symptoms of Depression) The brain is very much a physical part of the body. When problems occur at the neurochemical level of the brain, any one of a variety of mental illnesses may develop; by nature, it's also a physical illness of the brain.
The "mental" part of mental health challenges refers to the thoughts, feelings, and behaviors that are affected by any mental illness. The illness, though, is not just mental but physical. The brain is physical, yes. Further, all mental illnesses include physical symptoms, pain or illness anywhere in the body. Every system in the body can hurt because of a mental illness. If you're experiencing physical illness, of course it's best to have a doctor check out your symptoms.
Keep in mind that mental health and physical health aren't completely separate concepts. When we attend to any illness, physical and mental, and tend to every aspect of it, we can regain complete wellness.
Related Articles Dealing with the Relationship between Mental and Physical Health
Your Thoughts
Today's Question:  What, specifically, have you experienced that points to the connection between mental health and physical health? We invite you to participate by commenting and sharing your feelings, experiences and knowledge on the HealthyPlace Facebook page and on the HealthyPlace Google+ page.
---
---
Share our Stories
At the top and bottom of all our stories, you'll find social share buttons for Facebook, Google+, Twitter, Pinterest and other social sites. If you find a particular story, video, psychological test or other HealthyPlace feature helpful, there's a good chance others in need will too. Please share.
We also get many inquiries about our linking policy. If you have a website or blog, you can link to any page on the HealthyPlace website without asking us beforehand.
Most Popular HealthyPlace Articles Shared by Facebook Fans
Here are the top 3 mental health articles HealthyPlace Facebook fans are recommending you read:
If you're not already, I hope you'll join us/like us on Facebook too. There are a lot of wonderful, supportive people there.
------------------------------------------------------------------
From the HealthyPlace Mental Health Blogs
On all our blogs, your comments and observations are welcomed.
Feel free to share your thoughts and comments at the bottom of any blog post. And visit the mental health blogs homepage for the latest posts.
------------------------------------------------------------------
Stand Up for Mental Health
Thousands Have Joined the Stand Up for Mental Health Campaign
But we still need you. Let others know there's no shame in having depression, anxiety, bipolar disorder, trichotillomania, OCD, ADHD, schizophrenia or any other mental illness.
Join the Stand Up for Mental Health campaign. Put a button on your website or blog (buttons for family members, parents, mental health professionals and organizations too). We also have covers for Facebook, Twitter and Google+.
------------------------------------------------------------------
Latest Mental Health News
These stories and more are featured on our mental health news page:
Depressed Females Have Over-Active Glutamate Receptor Gene
Study Finds Autism, ADHD Run High In Children Of Chemically Intolerant Mothers
Parents' Preconception Exposure To Environmental Stressors Can Disrupt Early Development
Frequent Travel Is Damaging To Health And Wellbeing, According To New Study
Picky Eating Linked To Underlying Psychological Problems In Children
SSRI Use During Pregnancy Lowers Risk Of Premature Birth
'Brain Training' App Could Improve Lives Of People With Schizophrenia
That's it for now. If you know of anyone who can benefit from this newsletter or the HealthyPlace.com site, I hope you'll pass this onto them. You can also share the newsletter on any social network (like facebook, stumbleupon, or digg) you belong to by clicking the links below. For updates throughout the week:
APA Reference
(2015, August 4). Mental Health and Physical Health Aren't Separate Concepts, HealthyPlace. Retrieved on 2023, December 10 from https://www.healthyplace.com/other-info/mental-health-newsletter/mental-health-and-physical-health-aren-t-separate-concepts
Last Updated: August 5, 2015