Focusing on Success Over Failure in Schizophrenia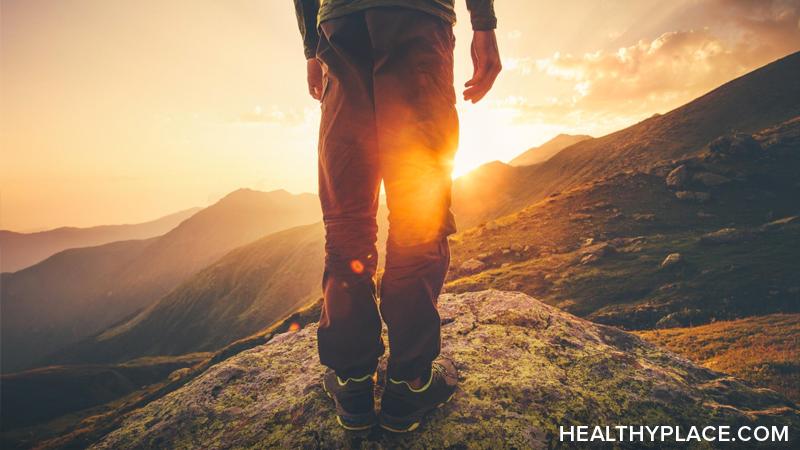 Focusing on success in our lives is difficult because it is so easy to focus on failure when dealing with a mental illness such as schizophrenia. In fact, it is easy to focus on failure in life in general. I've experienced many failures recently. My wife and I bought an antiquated farmhouse in December and we hoped to have several rooms renovated by now. Instead, we are still working on demolition and cleanup as we endured a number of setbacks, and I continue to struggle with low energy and crushing anxiety.
Focusing on success is also hard for me because I hoped to return to work as a physician assistant within a year of my diagnosis. A year came and went, and I'm still far from returning. I recently began writing the story of my life with the goal of becoming a published author. I anticipated significant progress in both writing and social media growth. I've lost more Instagram followers than I've gained. I think you get the point.
Focusing on Success Shows I Accomplish More Than I Realize
I ranted about these failures to my wife and my therapist last week. They listened patiently, as they always do, and then my therapist asked me to list my recent accomplishments. I replied, "I've accomplished nothing," with a self-loathing smile typical of my Monday morning sessions. She wasn't impressed, so I rattled off a list of simple accomplishments that sounded pitiful to my ears.
Yet, she complimented my list and remarked that I was making great progress. Then my wife had the audacity to suggest that my accomplishments were worthy of a blog post. I balked at the idea initially and snapped that I didn't want to write about such a silly topic. Her idea persisted, however, and I recognized the merit of her suggestion – a common theme in our relationship.
Until recently, I rarely arose from sleep at a reasonable hour. I now commonly do so. I engaged in a number of aggressive, verbal confrontations with police officers and other authority figures last year. I'm learning to keep my mouth shut and my ears open. I oftentimes isolated myself socially when stressed. I now spend more time with my wife and children. I took all three of my children to the grocery store by myself for the first time in my youngest son's life. I'm learning to renovate a house. I built a wooden chest for my wife last week. I haven't been hospitalized in over a year. I am a good friend, and I'm a better husband and father than I was. Finally, I am alive.
Embrace Success and You Cannot Fail
My list still seems weak to me, but it denotes something important: improvement. That's all that matters. Are you improving or are you regressing? And if you're regressing, that's okay. Guess what? I've regressed badly over the past several months. Yet I still came up with a list of accomplishments because, in some areas, I've still improved.
Even in the face of regression, you can make a list. It may be populated with accomplishments that seem small and insignificant, but you'll be focusing on success instead of failure. Find your successes and build on them. I've spent most of my life motivating myself with the fear of failure, but that's going to change. It is impossible to fail if you remain focused on the ways you've improved. If we're embracing and focusing on success then we cannot fail. All you have to do is try.    
APA Reference
Law, R. (2019, February 18). Focusing on Success Over Failure in Schizophrenia, HealthyPlace. Retrieved on 2023, September 25 from https://www.healthyplace.com/blogs/creativeschizophrenia/2019/2/focusing-on-success-over-failure-in-schizophrenia
Author: Randall Law
I've been having a pity party for myself, as of late, and inviting far too many people. This helps to recognize that small accomplishments are still progress. I'm continually impressed with you.
Very well said. It does my heart good to hear that you are achieving success and focusing on the positive. I have always maintained that it isn't how big the task is that we overcome, it's that we did it.
Thank you for sharing your progress. You inspire me and give hope to many.
This is a beautiful piece and sheds light on something that is truly so important and empowering. I love your focus and perspective.There are so many seemingly small things we can do to help us create the days we wish to live. Continue this focus and drive. This is such encouragement for so many.
Thank you for your comments and support Lizanne. I wish I could always have the focus and perspective I described in the article. It takes a lot of prodding from my wife and therapist to focus on my accomplishments, but what you said about the importance of the small things we do each day is absolutely correct. Thank you for reading.
Randall, I think your accomplishments are impressive. They seem to be setting you up for a less stressful, more well-rounded and creative life. Sometimes the lessons we learn seem small ... until you wake up one day and find yourself in a whole new life full of magic and love.
Thank you for your words of encouragement Kellie. I appreciate the idea that my path is setting me up for a more fulfilling life. I hope to wake up one day and experience what you described. Thank you for reading.
Leave a reply