When Depression Causes a Lack of Motivation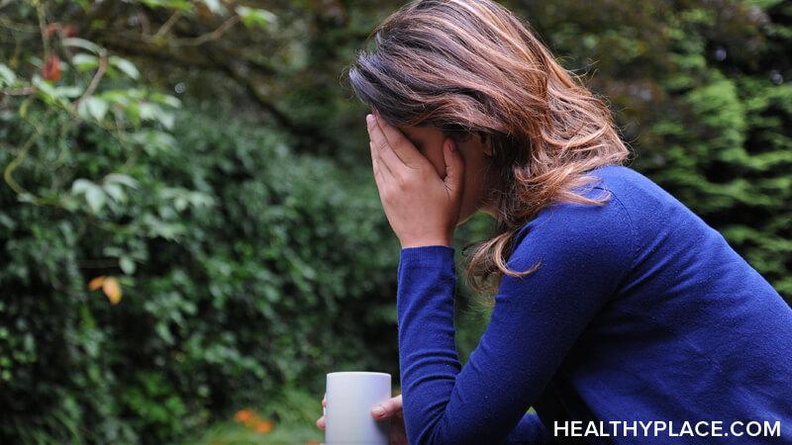 The lack of motivation that can be caused by depression and other mental illnesses can be debilitating. There are some things that are so important they must be done as soon as possible. But for those who battle depression, the lack of motivation can be an enemy that seems insurmountable at times (Depression Can Drain You of Your Will to Live). Here's what to do when depression causes a lack of motivation.
Lack of Motivation is Common in Depression
The United States Substance Abuse and Mental Health Services Administration (SAMHSA) has established a working definition of mental health recovery that defines recovery as: "a process of change through which individuals improve their health and wellness, live self-directed lives, and strive to reach their full potential."
You may have noticed all the elements of SAMHSA's definition of mental health recovery require you to do something. "But," I protest, "I can't even get out of bed." Depression saps motivation so completely, the depressed person can often find herself in the midst of a pile of tasks left undone and plans left unrealized.
Don't Mistake Depression and Lack of Motivation for Laziness
This is often where the depressed person can be, mistakenly, thought of as lazy or apathetic. A depressed person's lack of motivation is not the same as laziness. When someone is lazy, they don't want to do work or do unpleasant tasks, even when they have the energy to do so. They may be motivated just fine, they simply don't want to exert themselves in any way.
The person who is unmotivated due to depression usually wants to work and do other things, but feels as if they can't. This is a key difference between laziness and depression.
Since we see that becoming motivated even in the depths of our depression, or other mental illness, is a huge part of the mental health recovery process, let's look at three ways to overcome the depression-caused lack of motivation we might feel.
3 Ways to Beat Depression's Lack of Motivation
1. Identify the Essentials
When you're depressed and lack motivation, you may need to adjust your ideas about what is essential and what isn't. Doing the dishes is essential; polishing the faucet isn't.
2. Break Up Large Tasks Into Smaller, Easier Ones
Okay, so the kitchen needs cleaning. There are dirty dishes everywhere. But it's such a huge job when we're depressed that we let it go and it becomes much worse. And this just serves to make our depression worse because we feel lazy and no good. So instead of telling ourselves, "I've got to get this whole kitchen cleaned up," we should break it down and say, the first thing is to unload the dishwasher full of clean dishes. But this is even too much, so we tell ourselves, "okay, the only thing I have to do right now is unload the silverware." This is a job we can usually get ourselves to do because it's short and easy and requires only a bit of our valuable energy. Once we're done with the silverware, we can leave the kitchen and collapse on the couch until the next time we go to the kitchen for something and break off another small chunk by unloading just the bottom portion of the dishwasher.
By doing things this way, it allows us to at least get started on our immediate tasks. Granted, it takes a bit longer using this method, but it's better than not doing anything at all.
3. Be Positive about Even the Smallest Victories
In mental health recovery, any small step should be celebrated. Use these victories to encourage and remind yourself that you can indeed overcome one step at a time. You'll be able to say, "I know I can do it because I've done it before." When depression causes a lack of motivation, know that you can still beat it.
APA Reference
Ehrmantrout, M. (2015, March 18). When Depression Causes a Lack of Motivation, HealthyPlace. Retrieved on 2023, December 11 from https://www.healthyplace.com/blogs/recoveringfrommentalillness/2015/03/about-depression-caused-lack-of-motivation
Author: Mike Ehrmantrout
Kev, you think you are the better person because you don't have a mental illness. No, WE are the strong ones who have to battle almost intolerable illnesses. You probably work five days a week and then give yourself a well earned weekend break. Ours is a constant battle, no breaks, fighting everyday sometimes to stay alive. I wouldn't wish it on you. [moderated]
I know i kinda late. I stop my depression treatment in midway and i dont take any meds.i just let the time flow. I keep this secret from my family so i am not sure if i am still in depression state. I noticed through out my days that i feel like i am not myself. Like i dont care anything at all, i become a really bad temper person. Sometimes i lost in thoughts and lack of motivation. Am i still depressed and do i need to do something?. .. I am really confused with myself
I am very unmotivated to do anything. I never knew why until I started seeing a therapist recently.Then today I found this site. It has helped. I sent it to my husband who left me because of it. He felt like I was treating him like a servant. I never asked him to do those things.
For me,I think not knowing a acceptable outlet for my anger is what leads yo depression?
I was motivated but this town that I live in is filled with hate and negativity, even certain jobs are full of negativity ! I understand everyday won't be good but the bad out weighs the good ! These people has religiously tried to bring me down, in the most petty ways possible! I feel like I'm in prison! The harder I tried. the more they tried to bring me down ! Awful and I have tried my best to do the right thing, yet they find ways to harass my life ! I think my motivation will come once I'm happier, because I'm not now ! Bitterness marks me !
My lack of motivation is due to disability abd pain, which hasnt helped my depression. Infact i could say its made it worse so to be i honest id have to say yes it is possible lack of motivation can cause depression but saying that there may also be other undercurrent causes so this may need more research
Maybe it is the other way around? Could it be the lack of motivation that causes depression?
I just found this site, and think this is very informative and supportive, however I do have a major concern regarding posting of comments here. Given this site is clearly about coping strategies for dealing with mental illness, why would moderators of this site allow comments that appear not only ignorant but insulting, abusive and potentially very harmful to those with a mental illness, should they read them?? I would have thought it was the responsibility of the moderators to remove any 'hate' messages, or messages that could cause serious downward spirals in people suffering from mental illnesses such as depression. I am very concerned that some replies to nasty and ignorant comments elude to possible self harm as a result of reading such comments. It is very worrying that someone with depression may take comments like this to heart, and then take drastic action. As a sufferer of depression, with criticism a major trigger, I am most disappointed to see that comments like those made by Kev Man and the like have been permitted.
Kev Man Will get so depressed. Life has a funny way of teaching us.
I'm in this boat with many things I want to do, but I just can't. I can't even get myself to pick up the phone to call someone to take care of some yard work for me. I have MS which could be the source of the depression, but who cares. I just want to be able to do some work around the house on the weekends. I wouldn't wish this on my worst enemy!
Some things I learned:
Do the dishes. Do the laundry. Take a shower and wash your hair. Get a haircut. (Can work miracles). Don't think about it, force yourself. Organize your drawers. Sometimes just sleep the day away. Don't be perfect, just do as much as you can. Keep order if you can. If that seems useless that's just the evil depression talking. Don't believe your feelings when you are depressed. They are lying to you. When you feel horrible say "I am depressed." It helps you realize that feelings are not reality. Cut yourself major slack. If you are alive, fed and sheltered then you did OK so far.
Also guys have a problem talking about their feelings. Duh. A man wouldn't be here unless he was dealing.
All these ideas are not perfect but they can lift you one or two notches so can see what tomorrow brings.
What all these things say is treat yourself the same way that someone who really loves you would. Lastly, you don't owe anyone an explanation how you got this way. Either they accept it or they don't. (Hint, ditch the ones who don't)
People who don't understand depression try to over simplify the problem. Someone in my family once told me " just don't think like that" If it were that easy to do, I'd have done that a long time ago. People who say that can't understand that I don't choose to think like that. When people like you make comments like that,people like me want to lash out at you, for example that emblem on your identity, makes me think that you think you're superman, you're shield looks like superman's emblem , pasted on an emblem of the world. So Kev man sounds like superman, and it sounds like you have an overinflated ego. You're no better than anyone else. I'm kinda curious as to why you're even posting on this site. Maybe you'd think different if you had a loved one who had depression, or maybe you do, and you can't take that someone else is getting more attention than you. I'd like to tell you that you're a better person than everyone else, guess what, you're not. So Kev man, you da man, I wish I was just like you, not! You say things like you do just to get attention. You don't care if it's positive attention or negative, you just crave attention, congratulations, your statement accomplished your goal, because people responded. [comment edited by moderator]
Kev Man
I was where u are the first 25years of my.life. I saw and knew the dead beat, weak minded, wreaks, doing nothing, then I feel into a hole in my life I struggle with every day to climb out of. I had no clue that I would find it impossible not to go back to bed for days at a time. I figured some physical thing like so gla.d or organ was screwed up. Nope, I am depressed, every day all day long. Meds help alot but I'm not who I was, I understand and it sucks. I don't know I'd go back to being so work drive, that wasn't healthy ether, so I work and fight the emotions I have every day. The not till you are in my shoes, due you know squat aboute.
Hi, I'm suffering from lack of enthusiasm in life. I suffered depression a year ago and was able to get out of it. But now it came back much worse because now I dont want to do anything at all. I was a victim of an accident that led to place pelvic implant that cost me so much limitations. This always hurt especially the fact that I can't find work to regain my life. This is the cause of my depression. Right now, I don't want to get involve socially not even facebook or in the world, just living...=(
Disregard that comment she made. You have nothing to be ashamed of. This is a tough life to live. I have some segments of the topic from my script on Wordpress. If you like to see that you are really not alone. Love and Strength to all of you.
Where to begin. I am sure things began in 1970 from a PTSD reaction to my young brain being shocked with close combat. (fight or flight). Supressed with lack of understanding of what I had become after the war experience. 35 years later with many intervening stories, the VA has given me direction through counseling. In the midst of treatment I could not fathom why with so many things that needed to be done, I could not motivate. Discovered depression, and learned it isn't laziness. In the meantime fat has accumulated, muscles have atrophied, and mood swings are annoying. Many other health issues service related have come to bear. Now scheduled for catheter ablation. Have no physical or motivational energy. Reminds me of those famous three letters of my time in service FTA. Hoping these treatments result in a better me sometime soon, and the same for you all.
Kev Man I suspect you've got the indignation in the replies that you were trying to provoke. I don't know your religion, or even if you have one, but there is a saying 'there but for the grace of God go I'..... one day you just might find out what depression is really like. It can happen to absolutely anybody.
I wish i was mentally ill. Then i could get a pass on having to live up to the average person's responsibilities. But instead, because i work so hard to maintain, im the one who had to pick up the slack you broken brains leave behind. Must be nice to be allowed to be lazy and have the world feel sorry for you.
Leave a reply