Are Your Anxious Thoughts Trustworthy?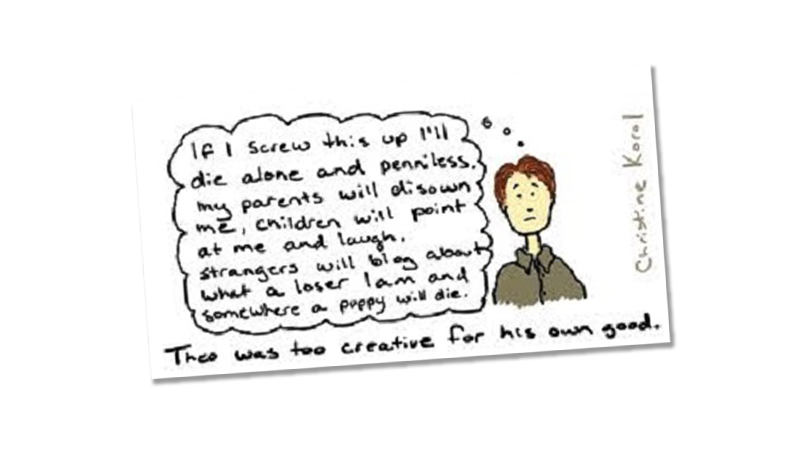 Fear. Terror. Worry. Obsessive thoughts. Anxiety and all of its manifestations can be crippling. The mind races with worst-case scenarios, and the anxious thoughts can be unrelenting. As if the thoughts themselves aren't bad enough, it's common for another worry to bubble to the surface of the mind plagued by anxiety: are these thoughts real, and can I trust them?

Can You Ever Trust Anxious Thoughts?
When we're gripped by any type of anxiety disorder, it can be maddening to experience self-doubt on top of the anxious thoughts. On too many occasions, I've made some mistake or another and then fretted and agonized over it until I was fully entrapped in web of anxiety symptoms, both physically and emotionally. I knew, without a doubt, that I had completely ruined important aspects of my life: relationships, career potential, reputation, love, and financial security. I was certain that these were out the window because my thoughts told me so, and thoughts don't lie. Perhaps you've had similar experiences.
When anxiety is running rampant through our minds, it's often difficult to know if our thoughts are accurate or faulty. It doesn't help when the (usually) well-meaning people around us dismiss these thoughts, saying, "Don't worry!" or "It's not that bad. You're imagining problems."
Are Anxious Thoughts Real? Yes. Trustworthy? No.
Anxiety is real. It's part of the brain's physiology. Further, the thoughts are real. They are authentic. While they are real, you can't always trust them. Because they're not trustworthy, they don't have to control or dictate your reality. Since you can't trust them, why let them stick around?
Decreasing anxious thoughts is a process, and there are many effective approaches to ridding yourself of thoughts you can't trust. One component of the process is a researched-proven therapeutic approach known as cognitive-behavioral therapy (CBT). Cognitive-behavioral therapy is multi-faceted. It includes, among other things, identifying your anxious thoughts or negative thinking patterns and challenging them.
How to Transform Anxious Thoughts Into Trustworthy Ones
When you're anxious, pay attention to the thoughts clamouring around in your mind. What, exactly, are you thinking?
Don't argue or struggle with the thoughts. Like a stubborn toddler, that will just make them stand their ground.
Simply notice your thoughts. Wonder about the possibility that you can't trust this thought.
Come up with a plausible alternative and acknowledge that this could be the trustworthy thought.
That's it. Of course there are subsequent steps, but going through too much of the process at once can be overwhelming and usually anxiety-provoking in and of itself. An important goal in reducing anxiety is to slowly, but surely, develop a large toolbox filled with strategies that work for you.
Simply noticing your thoughts and gently challenging them by wondering if there could be alternate thoughts that are more trustworthy, has great potential to make anxiety dwindle.
Connect with Tanya on Facebook, Twitter, Google +, LinkedIn, and her website.
APA Reference
Peterson, T. (2014, March 19). Are Your Anxious Thoughts Trustworthy?, HealthyPlace. Retrieved on 2023, December 11 from https://www.healthyplace.com/blogs/anxiety-schmanxiety/2014/03/with-anxiety-are-your-thoughts-trustworthy
Author: Tanya J. Peterson, MS, NCC, DAIS
mm accept your anxious thoughts and in time they will be just thoughts
read self help for your nerves by clair weeks and this will cure you
at my worst i thought i had HIV from a toilet my doctor must of thought i was crazy
and yes it was a crazy anxious thought stick with acceptace of these thoughts and you will see the miracle in time time is the answer anxiety sufferer for 40 years created by work pressure
Hi Tanya, thank you so much for your article, it has been really helpful for those people who would like to know more about anxiety. I have discovered my husband to have anxiety about 9 months ago especially after he changed of his new job environment and after his mother has just passed away 6 months ago. He started to think something out of logic to me eg. Telling me that his colleagues thought that he was in drugs and thinking that I was with his colleague who trying to check whether he is on drug (which I do not even communicated to his colleagues all this while). He is so sure that this is what he thinks and is real to him. Things got worst even to a little small things that I have done eg. Asked him to smell what I have been cooking due to the reason I feel that I couldn't smell what I am cooking) which he thinks that I was trying to test him whether he is on drug. My long distance relatives have also came into picture which I have reassured him that my relatives rarely know him and its impossible for them to check on him or even recorded him. His constant feeling of unrealistic (to me) has created my doubts whether what he said about his colleagues should be trusted. Since his situation is getting worst and what he is suffering from the office is affecting his daily life, I have requested him to leave the company which eventually he has did so. I wondering whether quitting the job is at least can help his current situation gets better? Is this consider anxiety disorder or bipolar disorder or even worst schizophrenia disorder. What would be the best treatment for the person who fall in such situation.
Tanya,
It's been awhile since the original article was written and I want to say that I thoroughly enjoyed reading it, but I've been having difficulty figuring out my specific relationship anxiety. I love my boyfriend, he's intelligent, very handsome, we have most certainly had some ups and downs in our relationship but overall I think he's amazing and I want to see us go the distance. I recently moved 500 miles away from him (GA) to Indiana to stay with my sister. Previously him and I lived together and decided to take this time away from each other to heal ourselves in our own traumas, and to reassess ourselves and our relationship. We are still committed to each other, but this process has been 1.) confusing for me and 2.) It's definitely triggered me. I have been having pretty consistent "what if" thoughts and a lot of doubts. I am terrified I am going to mess things up out of fear and because my anxiety is feeding me constant negative thoughts around our relationship. Any advice you can give me?
Tanya,
Firstly, thank you so much for your wonderful and insightful writing - such a huge help! I'm currently having an anxiety relapse and wondered if you had any insight into this particular scenario. I had CBT several years ago and it was very helpful. In short, I'd become obsessed with the idea that I HAD to do a certain thing in order to overcome my fear of it, even though this certain thing (namely living alone) a) wasn't what I actually wanted b) wasn't financially viable and c) living with others wasn't causing me harm or distress - in fact it was good for my mental health. My therapist helped me see that fear could be reduced simply by changing the way I thought about things, rather than DOING the things simply for the sake of doing them. However, I'm going through an anxious phase of doubting what she said, wondering if she just told me what I wanted hear to get me out of her office! Is the only way to overcome fear to do the thing you fear, even if would ultimately end up being not in your best interests?
Goodness, I hope that makes sense; my thinking is so obsessive at the moment!
Thank you
Hi Tanya,
First off I wanted to thank you for your wonderful articles. I think I speak for many when I say these articles have provided a safe space to feel understood without judgement. Thanking you from the bottom of my heart. In regards to anxious thoughts not being trustworthy, I do agree, but do you mind explaining why these are "authentic" thoughts? To me, anxious thoughts are real, however they are not genuine or authentic, they don't necessarily come from the heart as much as they do from spaces of negative self-talk, which to me are inauthentic. Thank you in advance for exploring this topic with me.
As of lately i have been a anxiety wreck. I was doing good for about 3 years at keeping my anxiety at bay. However i allowed myself to get stressed out and boom i set off my anxiety and somehow the thought of me being bipolar popped in my head and that sent my anxiety soaring. I have taken the bipolar spectrum quiz over and over and the text even stated that it is my anxiety but i just can shake the thought just because i actually entertain it in the first place. I question everything i think of because of this, im just ready to be back in Anxiety Free Remission lol. I feel so out of it and unreal. Any suggestions?
Hello Tanya!
I find this website so comforting. I don't know about the others, but sometimes when you are drowning in anxiety and you know if you voice the thoughts to other people, they will look at you weird, laugh about it, make light of it and say oh you're just being silly, etc. It is comforting to know that others have had these same experiences, thoughts, reactions, etc. All the material on here is also very helpful and encouraging. I have been through so many therapists I have lost count. I attended a group for anxiety and depression for 5 months, three times a week. I take medication. I have every book written on anxiety and depression, and it remains my constant companion. It's kind of scary sometimes wondering if it will ever be gone.
So when I fear and have this over powering worry, It means it was never true? That I worried because I didn't want it to happen but because I became worried my brain made it feel real only because I was worried? I hope that made sense.
I've come across numerous patients who have previously heard of CBT and equate it to basically telling yourself to 'snap out of it', or implementing a mind over matter attitude. In one particular case this could also relate back to damaging childhood memories of being told to do this whilst suffering from depression at a very young age.
Do you believe that CBT can be just as effective with someone who is dealing with depressive tendencies as well as suffering from anxiety?
Thank you for this very insightful post. I woke today full of anxious thoughts and it was starting to let them unravel me. This is just what I needed to read: perhaps the thoughts are not trustworthy. I have pondered this idea before but definitely needed a reminder this morning. So thanks.
I don't know...mind it is kind a real... difficult phase that I have to overcome :-(
Leave a reply