About Gabe Howard, Author of Anxiety-Schmanxiety Blog
My name is Gabe Howard. I live in Ohio, am married, a hockey fan (go Blue Jackets), a college football fan (go Buckeyes), a couch potato, the life of the party, a home owner, and a pizza connoisseur. I sleep too little, talk too much, and drive my wife mad. I tell her I do it because I like the company.
In my late 20s, I was diagnosed with bipolar, anxiety, and panic disorders. Everything changed pretty much overnight. Severe panic attacks, paranoia, and general anxiety sidelined me for a long while costing me a marriage, a career, friends, social status, money, and time.
Everything Changes for the Worse
It seemed to come out of nowhere, though in retrospect, it seemed obvious that I'd been suffering my whole life from these conditions. My world was a wreck and I didn't have a clue what to do.
Over the ensuing years, however, I gained quite a lot of knowledge and experience. I also met some amazing and inspirational people along the way. After battling mental illness for years, I knew what I needed to do.
Everything Changes for the Better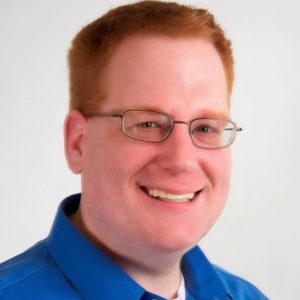 So often in my personal and professional life, I have been shocked by the number of people who believe the content of a diagnosis can define the content of their character.
But we are not defined by the disorders and illnesses we have. They are not who we are.
My mission has become helping others understand this and to motivate them to achieve their own personal greatness. I became a motivational speaker, mental health educator and advocate, community activist, storyteller, and writer. I use humor, motivation, and inspiration to challenge audiences to see things from a different point of view. This mission became one of the most rewarding endeavors of my entire life.
I know full well how frightening, challenging, horrifying, and time consuming it can be to manage a mental illness. My hope is that my experiences will help others to better manage their disorders.
Knowledge and experience have really helped me with the day-to-day. If I can learn to see my disorder differently, so can anyone. And nothing makes me happier than knowing I've helped someone to do so.

Thank you for reading and please reach out to me! I love interacting with people.
You can find Gabe on Facebook, Twitter, YouTube, Google+, LinkedIn, and his blog.
APA Reference
Howard, G. (2014, March 26). About Gabe Howard, Author of Anxiety-Schmanxiety Blog, HealthyPlace. Retrieved on 2023, December 9 from https://www.healthyplace.com/blogs/anxiety-schmanxiety/2014/03/about-gabe-howard
Author: Gabe Howard
I think humanity is flawed by nature. The main reason for this is our free will and because we aren't God. We only learn from experiences acquired in our lifetimes, so our understanding of ourselves and reality is made out of assumptions made from experimental evidence - the scientific model. We don't have the perfect knowledge and understanding of reality, and even when and if we do, we mess up because there are many things that can affect us. Therefore, we need to be able to deal effectively enough with uncertainty and unwanted events. Anxiety disorders are examples where this self-control doesn't work effectively and well enough. Therefore, I'm angry and disappointed that non-anxiety-disorder sufferers display such poor support for us anxiety-disorder sufferers. I think this is due to a fear of having to deal with mentally ill people. But they also just don't understand the amount of self-doubt that's instilled into an anxiety disorder, which obviously makes overcoming it extremely difficult.
Aw, this was a very nice post. In thought I wish to put in writing like this additionally – taking time and actual effort to make an excellent article… but what can I say… I procrastinate alot and on no account seem to get one thing done.
Please help me i need to talk to some one.. I feel my whole life falling apart. My daughter doesn't want to live with me nomore and my husband can't stand me..i text 100 times a day i chase everyone i love away. I even think of ending my life.
It is very important you reach out and talk to someone. Suicide is a permanent solution to a temporary problem and you are very valuable and needed in this world. I have included a link of resources below:
Hotline Numbers and Information
Please call the Suicide Prevention Lifeline at 1-800-273-TALK.
You are important and the world needs you.
Hugs,
Gabe
whoah this blog is wonderful i love studying your posts. Stay up the great work! You know, many individuals are searching round for this info, you can aid them greatly.
Thank you for the kind words! Keep reading and commenting! :) ~Gabe
Gabe,
thanks for being a Mental Health Hero for my cartoon-a-thon. I look forward to working on more projects with soon.
Chato Stewart
Mental Health Humor
Chato - You are extremely talented and the pleasure was all mine. Thank you for reading & commenting! :) ~Gabe
Leave a reply