Depression Can Drain You Of Your Will To Live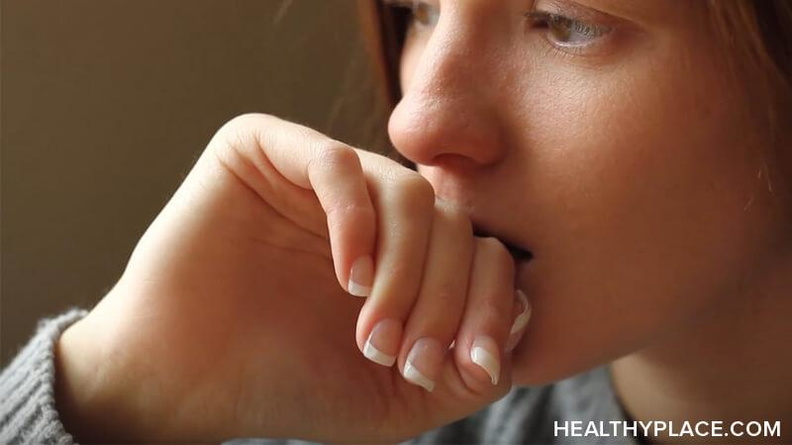 Depression can drain you of a lot of things: motivation, self-esteem, focus, decisiveness. The list is long (Why Live When You Feel Like Dying?). The very worst of these is when depression drains you of your will to live. I know. I've been there.
Depression Drained My Will to Live
I think about that day a lot, less than two years ago, when I almost killed myself. I sometimes wonder if I would have gone through with it. How much lower would I have needed to be? I was pretty low - holding the lethal pills in my hand. I felt so desperate, so sad, so lost and alone.
At the very lowest moment, I had one, very brief moment of clarity in which I asked myself to think about just one thing that I was looking forward to.
And then I lived.
The 'Just One Thing' That Stopped Depression From Draining My Will To Live (And More)
From that moment on, that technique of finding just one thing has become my saving grace. When I lack motivation, I tell myself to get up and do just one thing, like vacuum the rug. When my self-esteem is low, I remind myself about just one thing that I am good at, like writing. When my focus is blurred, I pick just one thing to concentrate on, like reading. When my depression threatened to swallow me whole, when I nearly took my own life, I thought of just one thing to stay my hand: my daughter's wedding.
Can Something So Small Stop Depression From Draining Your Will To Live?
It is a very rudimentary, yet powerful, technique I learned during cognitive behavioral therapy (CBT). People scoff at psychotherapy, calling it ineffective. When partnered with other treatments, psychotherapy and CBT can save your life.
Today, my particular battle is with this unbelievably long, brutally cold and snowy winter (What is Seasonal Affective Disorder, Seasonal Depression?). I'm trying very hard to think about just one thing I appreciate about the winter besides my love for wearing warm, cozy sweaters; the just one thing I appreciate about the winter is that is always ends (eventually), and it always ushers in the spring!
When depression is draining you of you will to live, of all those things that make you who you are, try, if you can, to think about just one thing that can help change your state of mind. Try it. It works!
APA Reference
Scott, L. (2014, March 16). Depression Can Drain You Of Your Will To Live, HealthyPlace. Retrieved on 2023, December 11 from https://www.healthyplace.com/blogs/copingwithdepression/2014/03/depression-is-draining
Author: Liana M. Scott
I give up. Been thinking about suicide since I was a very young girl...now 56. Feel alone. That's all I can say..I would have paragraphs of crap. I will spare you. God be with you all. My prayers to each and every one of you!
I've lost my will to live. I think about suicide 24/7 for the last two years. I've tried to end my life, but I always back out at the last minute. Hanging is very painful, and I feel like I'm going to aspirate the contents of my stomach. Therapy and meds have not helped. I honestly don't want to go on. I don't want to justify why I feel this way, or get help to go on. I just want relief. I want someone to help me end things peacefully. I don't want to traumatize anyone with a brutal exit. Why can't society understand this? I have not wanted to go on living for almost two years. I'm not afraid of regretting an early exit, as (obviously), I wouldn't be around to do so. Does anyone else feel this way? It's unbelievably tragic, but that's the way I feel, and realizing this, everyday, is absolute torture. Please someone, tell me I am not alone. That suicide can be a rational decision in the mind of the person who experiences this level of mental anguish, every minute of every day.
Is there help for someone whom has no will left? Someone whom is living simply out of fear of the fabled punishment interwoven into their childhood from the altruistic and lOvInG gOd...
Someone whom has tested the all mighty big pharma and the infallible state regulated behavioral health vendors for over 20 years...
Someone whom has no monetary worth...
Is there help for them?
Hello, Piper. I'm Jennifer, the current author of the Coping With Depression Blog. I'm glad you reached out to us. First of all, please speak with a healthcare professional about your feelings if you haven't done so already. Secondly, when trying to find your "one thing," think about anything you enjoy or look forward to doing - no matter how small. Recall things you're good at. For me, I think about how much I enjoy certain holidays and reading and writing. I also love to cook and bake and find those to be nice distractions when I feel like harming myself. I remind myself of my gifts in writing and teaching. You, too, can find your one or more reasons to keep going. Hold on. I know it's dark now, but there are brighter days ahead. Never give up.
How do I find this one thing? I need it to stop myself from attempting to hurt myself
so how am i supposed to carry on after my girl (age 20)
was found naked.dead in a ditch after being missing for 5 weeks.
killed at the hands of a so called HUMAN BEING!!how would any1 else
on this site like to cope with the guilt/knowledge that it couldve been prevented?i carry on for my son but hes not on
speaking terms with me+supposing he never speaks again?
i have tortured thoughts of girl s last moments.what did IT do
to her?what were her last thoughts?was she tortured?why am i alive
+she isnt?please dont say TIME HEALS.ITS BEEN 11 YEARS +im
feeling WORSE.dont mention religion, that means nothing to me.
no beliefs at all,and never will have.i force a smile each day,
but inside im DEAD.1 day i will be ,then these tortured thoughts
will stop.
I am also taking anti depressant drugs and I to think they do not work as the way I feel hasn't changed I married quite hastily and had my first child the first year of my marriage. I did not realise how drastically my life would change I am now a wife and a mother a home keeper but I am no longer ME! What happened to me the me that had a sense of humour the me that was up for anything fun the me that loved living. I died and now only a wife and a mother a home keeper goes in day by day.
I have just come across this and I still feel the same as Craig I'm only going on because of my three beautiful children they are my saviours because if they didn't exist I wouldn't exist and everyday they are the reason I wake up.
I am a middle-aged man turning 50 this year and I found I have no will to live my life anymore. I just migrated to a new country 3 years ago, thought it would be a new beginning for me after getting myself burnt-out by 17 years of work in stressful consulting world. The last three years before the move was a final blow as I also lost my father due to his recurring kidney failure. I found life was so fragile and meaningless, it is too much to bear, so much hurt, so much pain and so little hope. After my relocation to a new country, I find out tings were not turning out as good as I imagined. Even they are worst, for one I could not find a job, I dis not enjoy the life in the new country and was left in cold loneliness everyday at home whilst my wife working and my two kids study at school. I found it difficult to accept this reality. I know I should be strong, grateful and accept the reality and move on. I try to seek God for peace, hope and guidance but I could not find what I am looking for. I am depressed and torn between the two worlds of returning back to the life I used to hate or adjusting to a new life I find meaningless to cope. I have been taking anti-depressants for 3 years but they are not helping. I am sorry for all my whinings and complaints. I think I need to stop, life is just too much for me and my depression has taken the will to live from me ...
Suffer from severe depression. I have been on numerous different meds and not one has worked. My desire to no longer live is stronger than my desire to live. I have children and love them more than anything and do not want to cause them pain, but my desire to no longer live is even stronger than that.
Thank you Jennifer. I am still suffering but was glad to re-read your words. Haven't found my motivation but have tried volunteering which is good . Your blog is a great help.
My name is Jen. I lost the love of my life. She was everything to me. Yes, I am very depressed. 28 years together. 5 days away from legally married. I am devastated. So to all of you, hold, hug, kiss, the ones you love because you just do not know what my happen tomorrow.
I had brain surgery in 2009. After the surgery, I experienced massive seizures multiple times a day. I was fully conscious with each seizure. I lost my job, could no longer play with my kids, driving was out of the question. Over the years my seizures have gradually subsided. It seems that my doctor finally found the right cocktail mix of drugs. Each drug had its own set of adverse side effects.
After 8 years, the seizures finally stopped completely and I started looking for a job again. I worked in the software industry and quickly realized that my previous skill set was no longer relevant. After months and months of trying to find a job that was close to making what I was making 8 years ago. I had no success. That's when the depression came.
I felt worthless. My wife didn't understand and just thought I should "snap out of it". After more than 20 years, my marriage was on the brink of collapse. Suddenly the word "divorce" started coming up more and more frequently. We went to counseling. I started seeing a therapist on my own then I went to a psychiatrist who prescribed more drugs. Nothing seemed to work. I was tired and wanted my life to be over. Suicidal thoughts ran through my brain from morning till evening and all through the night. I just wanted to escape from it all.
That's when a friend turned me on to a natural vitamin supplement called focus essentials. I know it probably isn't appropriate to plug a product on this blog and that really isn't my intention. But I was desperate to try anything. I still wanted to live. My suggestion to anyone facing deep depression is to try anything that will help. For me it was this vitamin supplement, for you it could be something different. Now my marriage is slowly getting stronger each day. I found a good paying job. And my kids now have their dad back.
Just don't give up, it's a battle worth fighting for!!
I am here a lot on this site. It's almost unbelievable seeing all these pages of comments and replies today. It's so very saddening. I'm so sorry for us all and hope each and every one of us finds a reason, to get us through each day. I'm 57 and have been through a horrific marriage, separation,, long drug our divorce from a man I deeply loved. The only man I've ever loved. Could not have had worse judgement, ignored many red flags, believed lies for years. Narcissist along with my mother who will be 93 this Monday. I've not spoken to her, or my grown daughter from my first marriage out of high school in nearly 6 years. I have 3 beautiful granddaughters I've not seen in all that time either. The rest of my family disowned me, I'm on disability for depression and anxiety and was diagnosed with C-PTSD during my separation, divorce and post divorce that I'm sure the judge would have given him my blood if he'd remembered that one last thing. I was discriminated and humiliated and bullied by the court system to where I can't even drive by the courthouse. I've isolated myself to the point it's desperate that I do leave at times. My ONE THING is my dog. My almost 9 year old Golden Retriever, I'm already worried about losing too soon because two before her died young. I literally get out of bed each day just for her. I let her out and I stare out my back door crying and begging that someone sees my pain and helps and also mortified that someone will. I've been so hurt and devastated and destroyed by lies for so long I'm beginning to wonder again if things weren't all my fault as my ex tried pounding into my head for too many years. I am so lost and empty and unloved that I've nobody to list as an emergency contact. I've had emergencies where I had no one to call. No one to drive me to the ER when I couldn't drive. I look at my dogs beautiful face, covered in white now with her years of wisdom as her groomer as so sweetly said before. She is my life. But I also need a human being to hug and hold and touch. I've thought so many times of how to end it, but I'm a coward and I can't make the mistake of messing this last thing up. If I were to try and fail it would be so much worse. My family would see it as a weakness and embarrassment and shame to them. That's the mother I've known all my life. She's never once asked me how I was when my marriage was falling apart. My home of 24 years in foreclosure because my spouse left and never saw a cent from him again even after the divorce. Contempt of court for maintenance. He threatened me many times with harm if I ever tried to collect. I don't want to ever see him or hear his voice again. He's the devil on this earth and the reason my daughter disowned me. We were so close. I was so proud because my own mother and I never were not for a minute. Yet she blamed me for being uncaring and unloving. I honestly don't think I have any love for my mother and I don't feel guilt over it. She's done nothing but say I was a disappointment all of my life to her.
It's a holiday weekend here in the US and as weekends go they're the worst for me but a holiday weekend makes me feel so much more empty and dead inside. I just want the pain to end and live somehow but there's nothing to motivate me and nowhere to go that I feel I fit in anywhere. People have people. People need people. I've got no one at all who even cares if I'm alive or dead so why am I here other than my sweet beautiful dog? Even she deserves better than me.
CBT works for me. It has done me more good than any other type of therapy I have had. It has made my depression more manageable.
I hate CBT. I've had it numerous times and it doesn't help. Doctors are obsessed with it so it must be the cheapest form of therapy.
I also don't want to live anymore but for the time being. I know I would be willing after a few days. Currently my one of my closest cousin sister doesn't accept me as brother. I have tried every thing in all the ways to persuade her. I tried to visit her by travelling 3000+ Km journey but she refused to talk even. I have discussed some of the things with one of my friends and he suggested let her go to hell. All other would say similar thing and laugh on me.
One of my Aunt said, "hey! you forget everything and start worshiping God"
I am unable to understand to whom should I say my concern in order to get a solution. I feel I should have alcohol and to be in unconscious state. But my ethics doesn't allow to have this.
I have tried enough. Now she has such strong hatred feeling that she doesn't even want to be connected over social media. Please Please Pleasee help me.
Thanks in advance.
I sill feel very guilty for attempting suicide last year. My depression has still plagued me and part of it is related to ambivalence about staying in my marriage. I am obsessed with my indecisiveness. Since I retired I feel no purpose. Wondering how to overcome feelings that I am a loser for trying suicide.. I have three children and know it was wrong to have almost put them through the pain of losing their father.
Leave a reply