The Difference Between Arguments and Verbal Abuse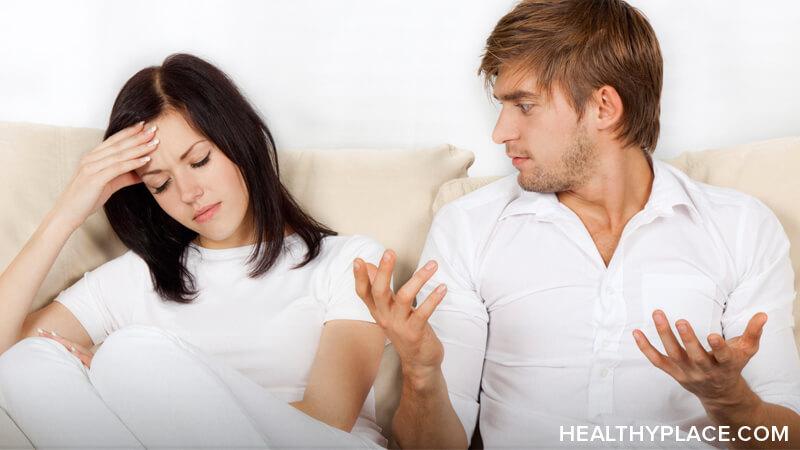 There is an important difference between arguments and verbal abuse. Have you ever heard the expression, "You can't see the wood for the trees?" That's how a verbally abusive relationship made me feel. I spent so long trying to unpick my partner's behavior that I became blind to it, all the while thinking that if I could somehow do better, be better then the abuse would stop (Do You Abuse Yourself with Self-Blame?). I was in denial. I told myself that all couples argue. But I now know there is a clear distinction between normal relationship arguments and verbal abuse.
Verbal Abuse vs. Arguments Is About Intent
The difference between an argumentative partner and a verbally abusive one is his intent. When a couple in a functional, non-abusive relationship argues, it is with the view of reaching a mutual agreement over a particular situation such as chores or communication problems. What both parties want is for their feelings to be heard and understood. This doesn't mean to say their disagreements are always amicable or reasonable, but most of the time they arise because the couple is striving to make the relationship better.
However, an emotionally or verbally abusive person aims to diminish the self-worth of his partner in order to establish his own dominance, which has a very different effect.
Bear in mind, a verbal abuser doesn't have to act this way all the time in order to be classed as such. There were times when I felt safe with my ex-partner. There were times when he was there for me emotionally, paid me compliments and was kind to my friends and family. But there were also times when he told me he hated me or insulted those very same loved ones. On other occasions, I genuinely feared for my safety in his company. This is a classic example of the kind of emotionally abusive cycle that destroys our sanity by causing us to question our interpretation of events -- surely someone we love could never be this cruel?
Is Your Partner Verbally Abusive or Just Argumentative?
Here are some examples of normal relationship conflict:
"Argh. You infuriate me sometimes."
"I feel like you never listen."
"I don't think you should have bought that, we're really strapped for cash."
"You're always working. I feel like you don't have time for me anymore."
And here are some examples of verbal abuse:
"I don't understand why you would clean the whole bathroom but not mop the floor. That's just you all over isn't it? Doing everything in half measures. No wonder you dropped out of university."
"Get out of bed. You're not ill, you're just pathetic."
"Move out of my way or I'll hit you."
"Don't spend your money on that. Put your money into my bank account and we'll spend it on something we both want. I don't want you making decisions without me."
Both sets of examples stem from personal experience but there is a big difference between the two. You might be wondering how I ever could have overlooked this kind of behavior or why I stuck around for so long when I could have just walked away. But abuse surfaces gradually in a relationship, chipping away at our self-esteem and slowly affecting our ability to think for ourselves.
As women, we grow up believing that boys are cruel because they like us. Throughout history, romance novels from Wuthering Heights to Fifty Shades of Grey have done nothing to discourage this notion. Similarly, I know men who expect women to "treat 'em mean" or "play hard to get" rather than show them genuine affection. All things considered, is it any wonder we have a hard time distinguishing between a healthy relationship and an abusive one? Leave your thoughts below.
APA Reference
Smith, E. (2017, July 11). The Difference Between Arguments and Verbal Abuse, HealthyPlace. Retrieved on 2019, September 21 from https://www.healthyplace.com/blogs/verbalabuseinrelationships/2017/07/the-difference-between-arguments-and-verbal-abuse
Author: Emma-Marie Smith