Abusive Relationships: Don't Let Abusers Waste Your Empathy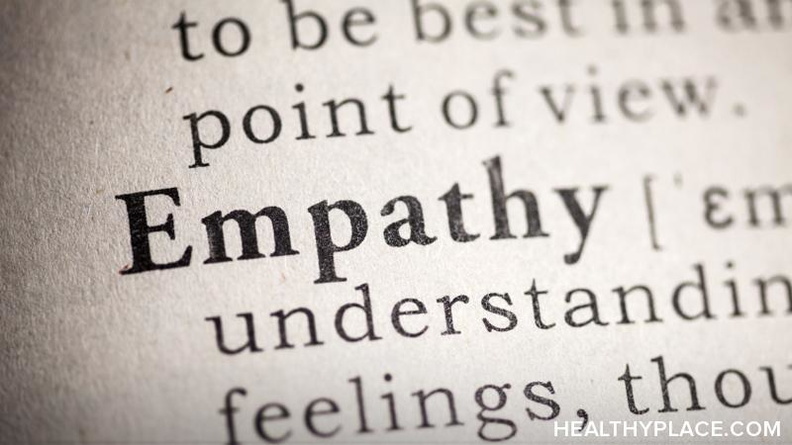 Waste comes on all forms. Plastics, bodily wastes, and characteristics like empathy for others. Yeah, I know, we don't usually consider a good quality in ourselves as a waste - but in some cases, empathy is a waste of energy. When you're in an abusive relationship, your loving empathy for your abuser is a definitely a waste of your energy.
When you waste empathy in your abusive relationship, you throw your thinking and emotions off balance. Unbalanced thoughts and feelings lead to hasty and usually detrimental actions. When was the last time you did something in a state of anger that you wish you could take back? How often have you been so fatigued from dealing with your abusive relationship have you neglected important tasks or other relationships?
An unbalanced internal state causes an unbalanced way of living. Once you start the slide downhill, the negative energies gain power and you just keep on sliding down (Verbal Abuse Signs and Symptoms).
Why Abusive Relationships Are A Waste of Empathy
An abusive person requires you to stick around so they can maintain the will to survive. If your abuser had no one to abuse, they would be forced to turn on themselves, to beat themselves down. Due to the nature of an abusive person, they cannot remain alone for very long because they cannot take the punishment they inflict on themselves (it's like the pain they inflict on you!). They're weak. They require the energy you provide to them by acting as their punching bag, their stress relief.
However, if the abuser didn't project the illusion of a person that deserves your empathy, you would leave your abusive relationship straight away. Keeping you around by showing their nice face every now and then strengthens your empathy for the good person they want you to think they are deep down (Cycle of Violence and How to Break the Cycle of Abuse). It is easier to be nice to you ever so often than to go out and fool another person into loving them. The abuser's payout for using energy to fool you comes back to them 100-fold when you let them abuse you because you feel sorry for them.
While your empathy fuels your abuser and makes them stronger, wasting your empathy on an abusive person turns you into a sick person. Your self-esteem drops, your decision-making ability declines and eventually your body deteriorates. Your brain creates new pathways to handle the negative energies going on in your mind and spirit. You will develop depression and/or anxiety, and your body could lose its ability to fight infection or its strength to fight a pre-existing malady.
Your abuser does not deserve your empathy. There are better things you can do with it that will help you and the world around you!
3 Ways to Conserve Empathy In Abusive Relationships
Reduce Empathy Used in the Abusive Relationship
Reducing your empathy requires detachment. The ability to detach requires knowledge about abusive relationships. The more you know about domestic violence and abuse and why your abuser acts the way he or she does, the clearer it will become that you shouldn't take their words and actions to heart. In a way, whatever your abuser says or does isn't directed at you. It's directed at themselves, but instead of abusing themselves, they choose to abuse you.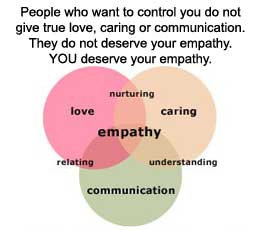 Check out the picture next to this paragraph. In the center is the word empathy. Read the words around empathy. Does your abusive relationship offer anything like understanding, nurturing, relating to one another honestly, caring, good communication or love? No. So you don't have to give empathy to your abusive relationship either.
Reuse Your Empathy
You can reuse your wasted empathy. You know how much effort you put into understanding your abuser? Figuring out what they need and want and then giving it to them is good practice for figuring out what you need and want and then giving those good things to yourself.
It may feel weird to reconnect with your feelings at first. For a long time, you have ignored how you feel and allowed your abuser to manipulate you into feeling false emotions like guilt, shame, and hate for who you have become. Your abuser should be the one feeling those horrible things, not you! But your abuser won't feel bad for anything they do - they expect you to feel bad for them.
Stop wasting empathy on your abuser and the abusive relationship. Use your empathetic skills to help someone who deserves them - YOU!
Recycle Your Empathy
When you slip and decide to stick around after an abusive episode because she's having a bad day or this is just how he is, forgive yourself for staying. Admit that you gave the abuser a pass. Instead of enforcing your boundaries, you caved and let your abuser hurt you. Oh well. Everyone makes mistakes.*
Figure out exactly when you decided to stick around to listen to your abuser's nonsense. Were you trapped in the room or the car? Did they wake you up from a sleep and you didn't realize what was happening until it was too late? Maybe you were just too exhausted or afraid to get away. Whatever the reason you didn't walk away from them, it's okay.
You aren't stupid. You aren't weak. But prevent the abuse from happening again by empathizing with your feelings about what happened (not theirs) and make a safety plan for what you will do the next time your abuser sideswipes you like that.
Always remember that you deserve as much or more empathy from yourself than you give to anyone else. You deserve forgiveness, joy, and love as much as you want to give good feelings to your abuser. But since your abuser doesn't want to accept your loving gift, stop giving them something they don't want. Give it to yourself instead.
Reduce, reuse and recycle your empathy so you can stay strong and make clear-headed decisions that will increase your positive energy.
See also: Compassion Fatigue Test
*Hey! If you are physically abused, forgive yourself but leave your abusive relationship as soon as possible! Don't hold out for the next time.
You can also find Kellie Jo Holly on her website, Google+, Facebook and Twitter.
APA Reference
Holly, K. (2013, April 28). Abusive Relationships: Don't Let Abusers Waste Your Empathy, HealthyPlace. Retrieved on 2019, May 23 from https://www.healthyplace.com/blogs/verbalabuseinrelationships/2013/04/empathy-waste-energy-abuse
Author: Kellie Jo Holly
We must take care of ourselves first. If someone is abusing you, and they won't stop or can't stop or haven't been through enough "treatment" to learn how to stop, it is our right and responsibility to protect ourselves from them. Empathizing with their "plight" "disorder" and "lack of social know-how" takes vital energy away from the victim/target of their abuse. Let them get their treatment and their knowledge - allow them their space to heal. Sticking around in a relationship where you see them every day is like taking a daily dose of s&*t that poisons and slowly kills.

Save your empathy for healing yourself. I'm not in the business of healing the abuser - if they want to heal, more power to them and it can be done (in some cases). I don't see one good reason why I or anyone else should feel so sorry for them that we need to stick around and allow them to practice on us. That's why marriage has a term called "separation" attached to it - separate, live apart, and let the abuser PROVE through his or her actions that s/he will learn how to behave like a decent human being.
No. You are dead wrong. This article is great. If you think PTSD causes abuse, then consider that only a qualified psychiatrist can treat it. Not a spouse, girlfriend, or best friend. You can love someone from afar. Dont ever think you can cure an abuser it only prolongs your own self being abused.
Yep. Those examples show verbal/emotional abuse.
Leave a reply