Combat PTSD Symptom: The Exaggerated Startle Response
A few weeks ago, I discussed how hyperarousal (or feeling "keyed up") is a symptom area of combat posttraumatic stress disorder (PTSD). A symptom that is part of hyperarousal is an exaggerated startle response. But what is this response and what might this PTSD symptom look like?
What is a Startle Response?
When you are startled, you feel a number of things. Your heart may race, you may sweat, you may breathe faster, your muscles may tense (to the point you might even jump), and you may feel scared. This is known as your startle response. When someone jumps out from behind you and yells, "Boo!" that may initiate a startle response. For most people, this response is short-lived.
The Startle Response in Combat Posttraumatic Stress Disorder
While everyone experiences this type of response, those with combat PTSD may experience a heightened sense of it, may experience it in response to more stimuli, and it may take much longer to pass (Ways to Deal With Hyperarousal Symptoms of PTSD).
A Heightened Startle Response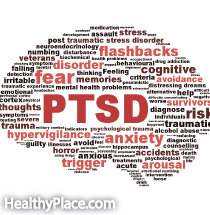 Research is mixed about whether people with PTSD actually experience a heightened startle response when compared to those without PTSD when neutral stimuli is involved. In other words, when startled by something that does not remind the survivor of the trauma, his or her startle response may be similar to that of anyone else. It may also be the case that a heightened startle response is more likely soon after the trauma but for those traumatized many years ago, their startle response may approach the average.
However, when a startle stimuli reminds the person with combat PTSD of his or her trauma, the response will likely be heightened. So, while a car backfiring can startle anyone, a person with PTSD may have a startle response that causes them to "hit the deck" because it reminds him or her of enemy fire.
Startle Response Stimuli
As stated, most people are startled by certain things, such as a sudden loud noise, but those with PTSD may experience a startle response from stimuli that doesn't startle most people. What we know is that people with PTSD are constantly looking for danger in their environments, so even small changes in the environment, such as a hand placed on the shoulder unexpectedly, may cause a person with PTSD to be startled.
Getting Over a Startle Response When You Have PTSD
While some people find being startled, or suddenly scared (such as by a horror movie), almost enjoyable, it's pretty much guaranteed that a person with PTSD will not feel that way. And while the average person will get over a startle response quickly, research has shown that it takes people with combat PTSD longer for their bodies to return to normal after being startled. Additionally, people with PTSD often also experience heightened physical symptoms, such as an increased heart rate, even before they are startled making their response even stronger.
What Does the Startle Response Mean for People with PTSD?
What this means is that for people with combat PTSD, being startled is not a fun or "good" thing. It is not okay to scare a person with PTSD just to watch them jump. Doing such a thing may actually be traumatic and is absolutely nothing to laugh at.
References:
Fani et al, Attention Bias Toward Threat is Associated with Exaggerated Fear Expression and Impaired Extinction in PTSD
Jovanovic et al, Altered Resting Psychophysiology and Startle Response in Croatian Combat Veterans with PTSD
APA Reference
M.D., H. (2014, November 17). Combat PTSD Symptom: The Exaggerated Startle Response, HealthyPlace. Retrieved on 2019, August 19 from https://www.healthyplace.com/blogs/understandingcombatptsd/2014/11/combat-ptsd-symptom-exaggerated-startle-response
Author: Harry Croft, M.D.