PTSD vs. Combat-Related PTSD
This blog is specifically geared toward combat-related posttraumatic stress disorder (PTSD), however, there are many people outside of this situation who also suffer from PTSD. This blog is not meant to suggest that this significant group of people doesn't exist. Here is some information about PTSD in multiple populations.
Causes of PTSD
Of course, being in or around combat can cause PTSD, but any trauma (a frightening event), particularly those that are life-threatening, can also cause PTSD. For example, a person might suffer from PTSD after:
Child sexual abuse
An assault such as a physical or sexual assault
Living through a disaster, such as a major earthquake
An event where you thought your life or the life of another was in danger
Trauma in Everyday Life
Trauma itself is not rare, and just like not all veterans suffer from combat PTSD, not all non-veterans who experiences a trauma suffer from PTSD either. In fact:
Approximately 60% of men will experience a trauma at some time in their lives.
Approximately 50% of women will experience a trauma at some point in their lives.
In spite of these high numbers, only about 7-8% of the population will suffer from PTSD at some point in their lives. Women are more likely to develop PTSD than men.
Number of Veterans who Suffer from Combat PTSD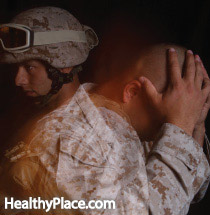 While 7-8% of the general population (including veterans) will experience PTSD at some point in their lives:
Between 11-20% of those who served in Operation Iraqi Freedom and Enduring Freedom experience PTSD in a given year.
About 12% of those who served in desert storm experience PTSD in a given year.
It is estimated that about 30% of Vietnam Veterans have had PTSD in their lifetimes.
It's also important to remember that other non-combat-related traumas, such as sexual assault do happen in the military. In fact, among veterans who use Veteran Administration healthcare, approximately:
23% of women report sexual assault in the military
55% of women and 38% of men experienced sexual harassment in the military
Treating PTSD vs. Combat-Related PTSD
Most PTSD treatments are developed for the population at large and few are dedicated towards combat-related PTSD specifically. That said, we do know that general treatments for PTSD work for many people no matter what the cause of their PTSD.
So while there are specific challenges faced by those with combat-related PTSD, we know that all people with PTSD can get PTSD treatment and recover.
For statistic references, please see the Veterans Administration PTSD site.
You can also connect with Dr. Harry Croft on his website, Google+, Facebook,Linkedin and Twitter.