Effects of Combat PTSD on the Children of Veterans
Last week I discussed the fact that combat posttraumatic stress disorder (PTSD) can be transmitted to children from their parents in cases where a parent suffers from combat PTSD. This intergenerational transmission of trauma, or secondary PTSD, can drastically impact a child's behaviors. Symptoms of combat PTSD in children can range from hyperactivity to extreme withdrawal.
Effects of Combat PTSD in Children
The effects of combat PTSD in children vary depending on the symptoms experienced in the adult. Anxiety is certainly one of the most common symptoms and can be brought about through many of the symptoms experienced by the parent. For example, if a parent re-experiences the trauma, particularly to the point where it feels like it truly is happening again, this is accompanied by fear and anxiety that the child also feels. Children don't understand what is happening and they may fear the parent cannot take care of them.
People with combat PTSD also tend to experience avoidance or "numbing" symptoms as they do not wish to re-experience the trauma. This often emotionally cuts them off from the child and the child may feel that the parent doesn't care for him or her.
Hyperarousal symptoms, also common in people with combat PTSD, also affect children. Being on edge, angry, or aggressive much of the time can make a child fearful and wonder whether the parent loves him or her.
Symptoms of Combat PTSD in Children
These reactions in children are internal, however, and what the parents and other adults see is behavioral. Symptoms of combat PTSD in children can be seen, mistakenly, as a hyperactivity or conduct disorder or they may make the child appear to be withdrawn and a loner. And, not surprisingly, children often mirror the combat PTSD symptoms seen in their parent. For example, while most homes of veterans are not violent, of those that are, children are known to act out with violence as well.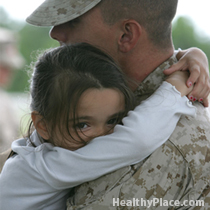 Symptoms of combat PTSD in children include:
Behavioral problems
Problems getting along with other children
Sadness and anxiety
Aggression
Hyperactivity
Nightmares about the parent's trauma
Difficulty concentrating due to focus on problems in the home
Symptoms of Combat PTSD in Older Children
It's important to remember that children of parents with combat PTSD do not jut "grow out" of these symptoms; the effects of combat PTSD can be seen in teens as well. Problem behaviors are common in teens where combat PTSD is in the home. Teens may have a more negative outlook towards the parent with combat PTSD and more negative attitudes towards school. Teens also may be more sad and anxious and less creative, according to one study. In short, it's worth dealing with parental combat PTSD no matter what the age is of the child.
In the next article, I will discuss some of the ways that a parent with combat PTSD can fight the effects that it can have on his or her child.
You can also connect with Dr. Harry Croft on his website, Google+,Facebook, Linkedin and Twitter.
APA Reference
M.D., H. (2014, March 19). Effects of Combat PTSD on the Children of Veterans, HealthyPlace. Retrieved on 2019, August 19 from https://www.healthyplace.com/blogs/understandingcombatptsd/2014/03/effects-combat-ptsd-children-veterans
Author: Harry Croft, M.D.
You have hit the nail right on the head and described exactly what I am seeing in my own home. And furthermore what I have worked so hard to shield my kids from for years now... But thankfully (or not) within the last week, three of my six kids have come forward to talk to be about how they are feeling about things with dad's problems right now. I am extremely thankful that I have the very open relationship that I do with my kids. Ages ranging from five to thirteen, blended family. And I find it no coincidence that the kids having the struggle are my husband's biological kids. So now
...I search for counseling. My five year old I knew was not handling his anger in an age appropriate way and all said it was because he was the "baby" of the family. But... It's very clear he searches for more... He needs his daddy and he does not know how to express that the correct way. It was my job to protect him and make sure this didn't happen. I can't fix my husband, but I had one job with my son. And I failed him.
Leave a reply