About Dr. Harry Croft, Author of Understanding Combat PTSD Blog
Dr. Harry A. Croft, a Distinguished Life Fellow of the American Psychiatric Association, is board certified in Adult Psychiatry, Addiction Medicine and Sex Therapy, and has been in private practice in San Antonio, Texas, for more than 30 years. Dr. Croft's interest in post-traumatic stress disorder (PTSD) began in 1973 when, as an Army physician, he served as the medical director of drug and alcohol treatment at Ft. Sam Houston, Texas, at the height of the Vietnam War. This experience paved the way for his medical evaluation of more than 7000 veterans with PTSD. (Dr. Croft's full bio)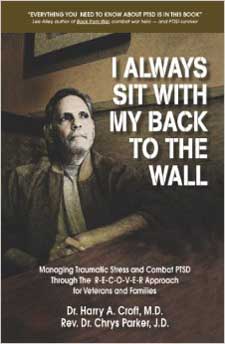 Being touched by those with combat PTSD drove Dr. Croft to co-author I Always Sit With My Back to the Wall, a book for those with traumatic stress and combat-related PTSD with Rev. Dr. Chrys L. Parker, J.D. Partial proceeds of this book go to the Back to the Wall Foundation, a non-profit that is dedicated to providing the best and most comprehensive array of information and viewpoints concerning traumatic stress and PTSD in order to support, advance and improve the well-being of those who experience these conditions.
Dr. Croft is also Medical Director and Principal Investigator for the San Antonio Psychiatric Research Center, where, for 25 years, he has participated in the development of many of the psychiatric medications that are now in use for depression and anxiety disorders.
Dr. Croft's lectures have enriched and enlightened more than 1000 medical audiences in all 50 states and 7 foreign countries. His publications in major medical journals such as the Psychiatric Annals, JAMA, Psychiatry and the American Journal of OB-GYN reflect his dedication to the advancement of best practices in modern psychiatry. He also serves as the Medical Director of HealthyPlace.com, the world's largest consumer-driven mental health website.
Scholar, writer, speaker, author, researcher and gifted physician all are terms that describe Harry Croft. The words he, himself, would choose, however, are "family man". He considers himself greatly blessed to be a devoted husband of 46 years. Harry and his beautiful wife Benay enjoy traveling to destinations where they can appreciate the grandeur of the natural and animal worlds. They take great joy in their two children, two granddaughters and in their countless friends.
Understanding Combat PTSD Blog Welcome Video
You can also connect with Dr. Harry Croft on his website, Google+, Facebook, Linkedin and Twitter.
APA Reference
Croft, H. (2013, November 12). About Dr. Harry Croft, Author of Understanding Combat PTSD Blog, HealthyPlace. Retrieved on 2023, October 3 from https://www.healthyplace.com/blogs/understandingcombatptsd/2013/11/about-dr-harry-croft
Author: Harry Croft, M.D.