Celebrities and Self-Harm: Does it Affect Us?
It's the sad truth, but celebrities have taken over the world. For some reason, we find it interesting that Kim Kardashian named her daughter North West and we continue to watch re-runs of Jersey Shore even though we know it's killing our brain cells. Celebrities take us away from the realities we live in and, sometimes, it is a positive way to escape.
However, what happens when the paparazzi puts up photos of a celebrity with cuts on his or her arms (self-harm scars)? How do the fans react to the self-harm of celebrities?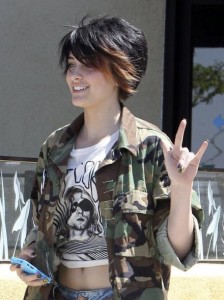 Paris Jackson, Self-Harm and Suicide
Recently, Paris Jackson, the daughter of Michael Jackson, was rushed to the hospital after a suicide attempt. She had cut her arms with a kitchen knife, was brought to the Children's Hospital in Los Angeles then later to Ronald Reagan UCLA Medical Center. Many sources have been saying that she had tried to kill herself before and had been using self-harm as a "coping skill" for a while now. Photographs of her scarred wrists have been on her Twitter site as well as other social media sites, making people suspect her self-harm.
From Self-Harm to Suicide
Many people have differing views when relating self-harm to suicide. Some people see self-harm as having absolutely no relation to suicide, but see it as a negative coping skill to help deal with demons. I absolutely agree with that view. However, I do believe that some people see self-harm as a trigger to suicide. If someone uses cutting or burning to comfort frustrating feelings, when they are suicidal, they may think it would be a safe way to go.
Not so much - no way, is a good way.
Back to Paris Jackson's situation. She had been putting photographs up of a knife deep in her arm along with other disturbing pictures. Being someone the paparazzi goes after quite often, putting these pictures up and having stories about her cutting may not help her fans and other self-harmers. It only makes it a more difficult scenario, seeing a celebrity struggle with self-injury and not get the help she needed (until recently). If she continues to seek help, her fans will support her and self-injurers, who look up to her, may follow in her footsteps.
More information on Paris Jackson, cutting and suicide can be found at New York Daily News as well as many other sites.
Other Celebrities and Self-Harm
Okay, we all know celebrities like Angelina Jolie, Princess Diana and Johnny Depp have struggled with self-injury. Seeing that self-harm is most prevalent among teenagers and young adults, the younger population may look to teen stars as role models. Being open about mental health struggles is a good thing. On the other hand, I understand the concern people have that a celebrity's negative behaviors can have a destructive influence on young people.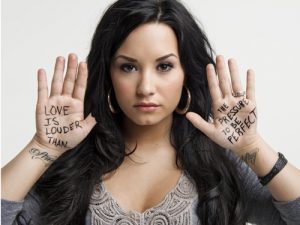 Some known celebrities who self-harm, or have in the past, are:
- Demi Lovato
- Miley Cyrus
- Anna Paquin
- Lindsay Lohan
- Drew Barrymore
Demi Lovato, judge on the X Factor, pop star, and past Disney Channel actress, has come out publicly, discussing her struggles with self-harm, bipolar disorder and an eating disorder. Many of her fans adored her for her strength in discussing her mental health issues as well as taking positive action for them. Like we all know, it is scary and difficult to talk about the demons rolling around inside you. Being in the limelight and discussing self-harm with her fans is one way to gain a trustworthy fan base and help those struggling to overcome self-injury.
We all need a positive role model to look up to and it is nice to know there are some out there that can relate to real world issues that are going on, such as self-harm.
APA Reference
Aline, J. (2013, June 28). Celebrities and Self-Harm: Does it Affect Us?, HealthyPlace. Retrieved on 2021, July 27 from https://www.healthyplace.com/blogs/speakingoutaboutselfinjury/2013/06/celebrities-and-self-harm-does-it-affect-us
Author: Jennifer Aline Graham
This was an interesting article. I have been a self harmer for three years and I didn't know how it could affect others.
Leave a reply