College Students with Mental Illness -- Survival Tips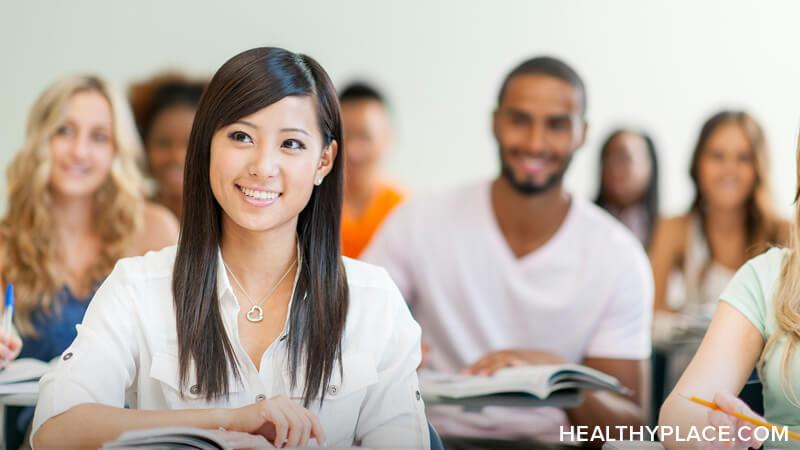 Being a college student with mental illness can be challenging, but for many, it is well worth it. A few months ago, I wrote an article on the importance of persistence as a college student. Persistence in college helps greatly, but it takes more than that to succeed. There are many resources available to college students with mental illness and it's also important to build a network of support, including mental health professionals, peers, mentors, family and friends.
Tips for College Students with Mental Illness
Involve Your Treatment Team
Stay open and honest with the mental health professionals currently treating you. This may include doctors and therapists. Be forthcoming about your plans and goals. This can help them better treat you since the stress of college can greatly affect your symptoms.
Seek Out Resources On Campus
Get to know your school's Disability Services office. To receive services as a college student with a mental illness, they may require your doctor to fill out a form. Disability Services can provide accommodations or help you if you need to go on medical leave. Accommodations aren't meant to make your coursework easier, but they do help to level the playing field and give everyone a fair chance.
Take advantage of the academic advisors, mentors, and tutors available on campus. They can motivate you and help you stay focused. You deserve all the assistance available to help you succeed.
Many colleges have counseling centers and support groups for college students with mental illness or experiencing mental health issues. Support groups can be a great way to find peers for support. The counseling center can be really helpful if you are away from home and away from your usual treatment team.
Learn to Manage Your Time
Time management is extremely important in college. You'll have lots of work to do so it's important to use your time wisely. Don't forget to schedule time to relax, too. I'm a big fan of planners and lists. Planners can get a little pricey; however, I have seen free downloads of planner pages and calendars online. There are many on Pinterest.
Involve the People Closest to You
Finally, don't forget your family and friends – the people that know you best. They can be there for support and feedback, and maybe even help you find ways to relax.
College Students with Mental Illness Can Do It
College can be really difficult when you have a mental illness, but not impossible. Many students with a mental illness have graduated, and once you get that degree, no one can take it away from you. It is a huge accomplishment, and it's a reflection of your hard work and determination. There are many tools and resources available to college students with a mental illness, so please don't feel like you have to go it alone. You deserve every chance to be successful.
APA Reference
Rahm, M. (2017, November 29). College Students with Mental Illness -- Survival Tips, HealthyPlace. Retrieved on 2023, December 3 from https://www.healthyplace.com/blogs/recoveringfrommentalillness/2017/11/resources-for-college-students-with-a-mental-illness
Author: Megan Rahm
Thank You for this! I am a college student with Bipolar Disorder. I agree that it is challenging. Actually, I had a relapse a year ago due to school workload. Now that I have recovered, it is important to be very keen on managing both studies and health.
Leave a reply