Faith and Mental Health Stigma
It is always sad when faith and mental health stigma go hand in hand (Abused for Christ: When Religion Becomes Painful). Recently I was interviewed by a reporter about the stigma attached to mental health in a faith community.
Mental Health Stigma Affected My Faith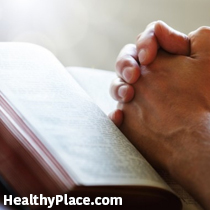 It is a subject I'm, unfortunately, an expert on, as I was forced out of a church that believed my mental illness was the result of unconfessed sin (anger or bitterness), lack of faith in God for healing, or demon possession. The mistreatment sparked a battle with vodka, a crisis of faith, and rerouted my career plans--I could not be a missionary due to the stigma churches attach to mental illness.
But the story has a happy ending. I now attend a supportive church that understands my struggles. Many people in the church are not only educated but in the helping professions, which leads them to have more progressive views regarding mental illness (Spirituality vs. Religion: The Role of Faith in Life with BPD).
My Experience with the Church and Mental Health Stigma
You can also find Becky Oberg on Google+, Facebook and Twitter and Linkedin. Her ebook, Comforting Tamar, is available on Amazon.
APA Reference
Oberg, B. (2016, October 26). Faith and Mental Health Stigma, HealthyPlace. Retrieved on 2023, October 3 from https://www.healthyplace.com/blogs/recoveringfrommentalillness/2016/10/faith-and-mental-health-stigma
Author: Becky Oberg