Recovering from Mental Illness and Homelessness
How does one recover from homelessness and mental illness (Mental Illness and Homelessness)? I spent some time in a homeless shelter on two separate occasions--once fleeing an abusive relationship and once seeking safety from an abusive group home. Both times my mental illness could have easily worsened had I been on the streets, but I went to a shelter that was equipped to treat mental illness. Recovery is possible and real. One can recover from homelessness and mental illness.
Mental Illness and Homelessness
According to Treatment Advocacy Center, homelessness due to severe mental illness can happen to anybody. They share the following story:
In April 2015, the nation's capital received a reminder that homelessness associated with serious mental illness is an equal opportunity employer. Alfred Postell, a bearded homeless man who carried his belongings in a white plastic bag, was charged with unlawful entry in DC Superior Court and stood before Judge Thomas Motley. Motley asked Postell if he had a lawyer. "I am a lawyer," Postell answered. It turned out that Postell also had degress in economics and accounting and had graduated from Harvard Law School in 1979. In fact, Postell was in the same Harvard Law School class as Judge Motley and Supreme Court Justice John Roberts. That was all, of course, before Postell got schizophrenia, was not treated, and became homeless.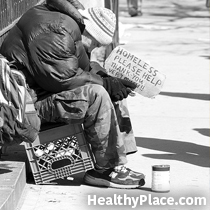 When we realize homelessness due to mental illness can happen to anybody, we can become more willing to pay for treatment, which is the only way to recover. We need to allocate funding for treatment for mental illness--there is a direct correlation between lack of treatment, crime, and homelessness. We need to treat homelessness as a mental health issue and be willing to intervene before it becomes an emergency. Mental health recovery is a right we all have. It's time to seize it.
It's Possible to Recover From Mental Illness and Homelessness
You can also find Becky Oberg on Google+, Facebook and Twitter and Linkedin.
APA Reference
Oberg, B. (2016, July 27). Recovering from Mental Illness and Homelessness, HealthyPlace. Retrieved on 2022, August 14 from https://www.healthyplace.com/blogs/recoveringfrommentalillness/2016/07/recovering-from-homelessness-and-mental-illness
Author: Becky Oberg
Thank you for this very informative writings. It will be a big help for me as i am planning to try your tips and suggestion. More power to you
Leave a reply