How to Confront an Animal Hoarder
Do you know how to confront an animal hoarder? Animal hoarders keep their secret for as long as they possibly can, but, eventually, it becomes obvious that compassion has obscured reality and intervention becomes necessary (What Is Obsessive Compulsive And Related Disorders in DSM-5?). My mother fosters cats for a couple of Humane Societies in the Greater Indianapolis area. Sometimes, this involves confronting animal hoarders. There are certain techniques that help make the confrontation less stressful for all involved.
Confronting an Animal Hoarder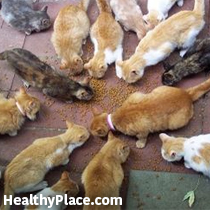 First, emphasize the best needs of the animals. Most hoarders care very deeply about their animals, which is why they have so many of them. Deep inside, they want what's best for their fur babies. Pointing this out can make the confrontation easier.
Second, be gentle while setting limits. Acknowledge that this is hard for them and allow them to keep one or two (fixed) animals while surrendering the rest. Try to understand hoarding symptoms and their point of view and reason with that viewpoint in mind.
Finally, if all else fails, notify the police who can use legal pressure to help.
Hoarding is a stressful situation for all involved, and confrontations can be especially dicey. Remembering these guidelines can help the confrontation of the hoarder go more smoothly and come to a successful resolution for both the animals and the hoarders.
Tips On How To Confront An Animal Hoarder Video
Animal Hoarding Problem Videos:
Takes Homeless Cats Home
80 Cats and A Baby
You can also find Becky Oberg on Google+, Facebook and Twitter and Linkedin.
APA Reference
Oberg, B. (2016, February 26). How to Confront an Animal Hoarder, HealthyPlace. Retrieved on 2023, October 3 from https://www.healthyplace.com/blogs/recoveringfrommentalillness/2016/02/how-to-confront-an-animal-hoarder
Author: Becky Oberg