Mental Illness Lies Some Christians Believe
Recently, I remembered the time I was kicked off a mission trip to Mexico because of my "demonic influence" (depression). It's a wound that has not yet fully healed, largely because it altered my career path (I was going to become a missionary until my diagnosis became a big red flag). Many christians believe three lies about mental illness.
Mental Illness Lie 1: Mental Illness is Demonic Possession
The Bible is an excellent guidebook on how to live one's life. It is not, however, a science textbook.
If we take the Bible literally, demon possession can manifest as epilepsy, deafness, muteness or several other symptoms--Jesus healed a deaf-mute boy whose "demon" caused convulsions and often threw him into the fire or into water (Matthew 17:14-20, Mark 9:14-29, Luke 9:37-43). While there are churches that equate any kind of physical illness with demonic influence--I was in grief therapy with two women whose father was told to treat cancer with a daily dose of Jesus rather than chemotherapy--most churches have an advanced enough understanding of science to know that there are physical causes for these disorders. Why is our understanding of mental illness any different?
Many churches that equate mental illness with demons take their teaching from Dr. Neil Anderson. However, Anderson once wrote
"Consider what happens, however, when a prayer request is given by someone who is depressed. A gloom hangs over the room and a polite prayer is offered: 'Dear Lord, help Mary get over her depression. Amen.' The Christian community has not been taught how to respond to emotional problems. There is no cast to sign, and everyone is silently thinking (or the depressed believe that others are thinking), Why doesn't she just snap out of it? I wonder what skeletons she has in her closet? If she would just pray and read her Bible more she wouldn't be in such a state. No sincere Christian should be depressed. There must be some sin in her life. These critical thoughts are not helpful to the depressed person and often aren't true. Contributing to a person's guilt and shame does not help mental functioning. We must learn to reflect the love and hope of God who binds up the brokenhearted. ... Christians are no more immune to endogenous (i.e., from within the body, or physical in its origin) depression than non-Christian people. Therefore, it is wrong to jump to the conclusion that it is a sin for a Christian to be depressed."
Christians need to learn that mental illness medication helps. Exorcisms do not.
Mental Illness Lie 2: People with Mental Illness Are Not Capable of Leading
I read a book about a pastor diagnosed with bipolar disorder. Although a talented communicator and qualified minister, he often heard, "I hear you've got a case of 'the nerves.'" This phrase usually preceded a closed door in the form of a job opportunity not offered.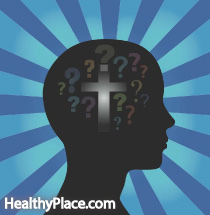 I've often said that I've never lost my job due to my substance abuse, but I've lost several due to my mental illness. Ironically, the same people who try to sell the power of positive thinking are the ones who are quick to assume that mental illness renders one incapable of leading. Nothing could be further from the truth.
Pastor Ryan Ahlgrim of Richmond, Virginia, writes:
It is my understanding that mental illness and spirituality are two different things, just as a broken leg and spirituality are two different things. One can have a deep and enriching relationship with God and still be mentally ill, just as one can have a deep and enriching relationship with God and still have a broken leg.
We would never believe anyone with a broken leg is incapable. So why is our attitude toward mental illness any different?
Mental Illness Lie 3: People with Mental Illness Can Snap Out of It
People with mental illness are sick. They are not morally weak or spiritually unfit. They do not lack faith. It is a mental illness lie that people with mental illness can just snap out of it.
Mental illness is not "a bad day." It is a physical problem that happens to manifest in the emotions. People can no more snap out of mental illness than they can snap out of a broken leg. People with mental illness need treatment from a competent mental health professional. Prayer and Bible study are not going to work.
I believe that God gave doctors wisdom to treat mental illnesses. God can use medicine to liberate people from crippling depression. There is nothing in the Bible that forbids seeking medical treatment.
These three lies Christians believe about mental illness can be deadly when they isolate the person with mental illness--I blame a church for my friend Matt's suicide. We must speak out when we encounter them. The Church must stop believing the lies and treat people with mental illness with grace.
You can also find Becky Oberg on Google+, Facebook and Twitter and Linkedin.