Staying Sober for New Year's Eve -- My Plan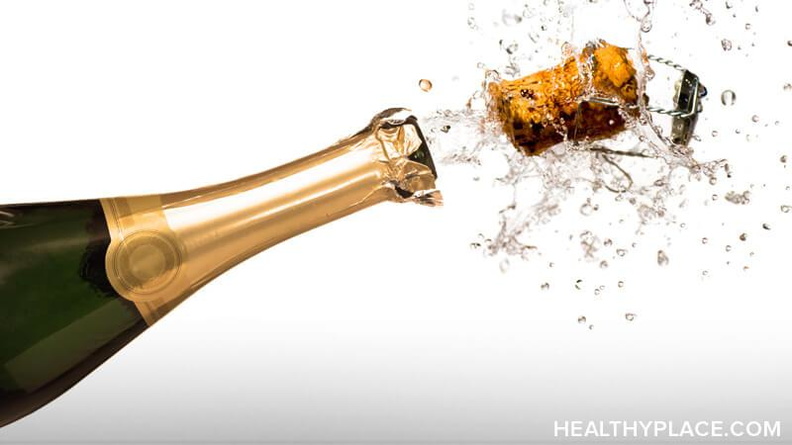 Staying sober for New Year's Eve (while everybody but me will be drinking) will be a challenge. Fortunately, therapy, medication and Alcoholics Anonymous (AA) have helped me prepare a sobriety plan. Here are three things I plan to do to stay sober for New Year's Eve and beyond.
How I'll Stay Sober for New Year's Eve
Plan A: Have A Non-Alcoholic Drink in My Hand
New Year's is a time where the alcohol flows freely. I've found that having a drink in my hand, be it kombucha or soda pop, is helpful. It gives my hand something to hold and my mouth something to drink.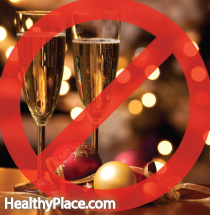 My personal favorite to have on hand, so to speak, is kombucha. That is probably because I brew my own, and it took the place of my homebrewing of alcohol. I choose what flavors I want to make, and for those of you who like the taste of alcohol, you can mimic the taste of your favorite beer. For example, I've found that 18 ounces kombucha and two ounces of grapefruit juice added to a container of coconut water tastes like Blue Moon. In addition, one of kombucha's anecdotal health benefits is that it helps alcoholics stay sober. I'm one of them.
During Christmas, my father gave my brother, Dan, a selection of beers and my brother, Tim, a bottle of scotch. I was tempted. Fortunately, I'd brought a spiced apple kombucha with me, so I went straight to the fridge and got it. I drank it, feeling like I'd dodged a bullet.
Kombucha does not work for everyone. You may want to keep a soda pop in your hand, or even milk. Having something in your hand greatly decreases the chance that you'll use said hand to pick up a drink.
Plan B: Spend New Year's with Sober People
I'll admit, I want to go to my favorite jazz dive and drink a few non-alcoholic beers. But that's just asking for trouble. As a sobriety guide from AA says, "There is absolutely no reason to ever check out your former favorite establishments." Even the smell of alcohol can be tempting and it is best avoided.
Several AA chapters sponsor sober parties. It's a myth that things aren't fun without alcohol. Why did we go to the bars in the first place? For the company--otherwise we would have stayed at home and drank alone. Spend the holiday with people who are supportive of your recovery. You can even host your own sober event.
What can you do if you doubt your ability to avoid alcohol-serving events?
Have an escape plan ready.
Keep a list of reasons to stay sober with you.
Have the phone number of a support group with you and if you have to, excuse yourself to make one of those calls.
Have another place to go.
Don't let yourself H.A.L.T.--get too Hungry, Angry, Lonely or Tired.
And if you're acutely aware that you're only one bad decision away from relapse, leave.
Plan C: Comprehend and Live Serenity
An AA list suggests that one remove holiday expectations. "Take it easy on everyone, including you," the list reads. "Take each situation for what it is and enjoy the season."
Volunteer to help the less fortunate. Write a daily gratitude list. Practice mindfulness meditation. Take it one day at a time. Enjoy your sobriety.
"Never mind what happened," the list reads. "Don't worry about what could happen. Live today. Celebrate your sobriety."
Ask yourself "Is this worth my sobriety?" More often than not, if you're working the program, the answer is no. Know your limits and stay as far from them as possible.
Happy New Year!
APA Reference
Oberg, B. (2014, December 29). Staying Sober for New Year's Eve -- My Plan, HealthyPlace. Retrieved on 2023, December 3 from https://www.healthyplace.com/blogs/recoveringfrommentalillness/2014/12/staying-sober-for-new-years
Author: Becky Oberg
Great site! I am loving it!! Will be back later to read some more. I am bookmarking your feeds also.
These are some great tips! I think plan C is really great. This is something everyone can benefit from. I love the quote ""Never mind what happened," the list reads. "Don't worry about what could happen. Live today." This can help with sobriety and also with staying sane this time of year!
Leave a reply