Emotional Healing Enhanced By a Sense Of Worthiness
When it comes to emotional healing, I see more and more how important our sense of worthiness is in the process. Emotional healing can't happen if you believe you're worthless. I created a video about worthiness and belonging a few weeks ago, and I can't seem to shake the importance a sense of worthiness has in emotional healing and in living a blissful life. So I decided to do a follow-up blog to include emotional healing.
I truly believe that the majority of my happiness stems from the fundamental belief that I am worthy and that I belong. But how did I achieve that mindset? It didn't happen overnight, that's for sure. Here are a few steps that have enabled me to experience emotional healing through the belief that I am worthy.
Emotional Healing Happens After You Give Yourself Permission to Be Worthy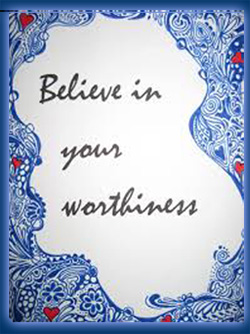 It seems awkward to have a high sense of self. We are bombarded with messages that we aren't enough. I see it in marketing every day. As a woman I should be concerned about my smile lines, stretch marks, and unpolished toenails. Every day I see commercials, and billboards and emails that tell me all the ways that I'm not enough. These messages can often create negative self talk.
It almost seems like a bold statement to declare one's worthiness outside of external validation but that's exactly what I do every day. I give myself permission to believe that I'm enough — as is. And the emotional healing I've done by believing I'm worthy is, well, a beautiful thing.
I want to give you permission to do the same. I want to give you permission to believe that you are worthy, to believe that you are good enough. I'm convinced that if you do, your life will be transformed. I can't offer a money back guarantee as this blog is free but I can say that believing that I am enough and that I am worthy transformed my life. It's a belief that I cling to every day.
Extend Grace as You Achieve Emotional Healing By a Sense of Worthiness
Once you give yourself permission to believe you are worthy, you need to fan the flame of that belief to achieve emotional healing. I have found that the best way to do this is through grace. Be generous with grace toward those around you and yourself.
By extending grace you are actively acknowledging that yourself and others are worthy of the benefit of the doubt, a second chance, compassion, love, and so much more. People have written books on grace. The power of grace and forgiveness is astonishing.
One thing that makes grace so powerful is the fact that it actively acknowledges the worthiness of both the giver and the receiver. When you extend grace to others you may realize that you are acknowledging their worth, but you are acknowledging your own worth too. When you extend grace you are acknowledging that you are worth enough to move beyond whatever pain that individual has inflicted on you. You are worth the effort of emotional healing.
Emotional Healing Asks You to Define Your Sense of Worth
The terms worthiness and sense of worth may seem ambiguous at best. To heal emotionally, you have to know what "emotional healing" looks and feels like. That's why you have to identify what it means to you to be worthy.
I have identified that I am worthy of
happiness,
close relationships, and
the pursuit of my creativity.
When I feel like I don't deserve — or am not good enough — to pursue happiness, relationships or a career in writing, I remind myself that I am worthy. I am worthy and good enough and have nothing to prove. Life through that lens feels light and blissful.
I invite you to join me in this bliss. Because you are worth it.
APA Reference
Hoskin, A. (2015, September 15). Emotional Healing Enhanced By a Sense Of Worthiness, HealthyPlace. Retrieved on 2023, September 24 from https://www.healthyplace.com/blogs/livingablissfullife/2015/09/use-worthiness-as-a-tool-for-emotional-healing-and-bliss
Author: Arley Hoskin, CMPS
i need extensive encouragement to feel a real sense of worth. my weight is a major factor but that's how i got there in the first place.
Leave a reply