Use This Positive Thought Technique to Turn Your Day Around
Mornings can be rough when you have a toddler so it's important to have positive thought techniques in your arsenal to turn your day around. Last week my daughter peed on my leg, used my shirt as a kleenex and spilled milk on my purse — all before 7:00 a.m.. I could have let this rough start shape my day in a negative light, but instead I used positive though techniques to reframe my day and turn it into the story that I wanted to live.
When I'm having a bad day, or moment, I use a positive thought technique I call the ABC's of restarting my day.
Accept Your Frustration So You Can Turn Them into Positive Thoughts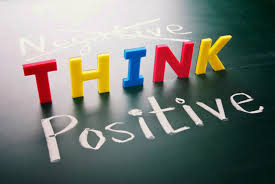 The first step is to accept your frustration. Denial gets you no where. My daughter just peed on me and I was already running late. That is not a positive situation. The only way I could get past the frustration of having to change my pants and being late for work was to accept it and move on.
This step may seem trivial, but validating your frustration and feelings is an important part of self-compassion and positive self-talk.
Believe That Change is Possible Through Positive Thought
The next step to reframing your day through this positive thought technique is to believe that change is possible. I recently had someone tell me that when his day starts off badly, or when something frustrating happens along the way, he considers his entire day shot.
If you want to live a blissful life, you have to understand that every moment we have the opportunity to start over. I recently heard the pastor/podcaster/motivational speaker Rob Bell say that the universe is constantly changing. We, as people, are part of this constant changing universe. And in every moment we have the ability to redirect our narrative through positive thought. We can't do that — we can't change the direction of our story — unless we believe that change is possible.
When my daughter peed on my leg I chose to believe that this instance wouldn't define my day. When I went into my bedroom to change my pants I believed that I was going to have a good day.
It is possible to change negative thoughts.
Change the Course with Positive Thoughts
The final step in this ABC technique of positive thought involves action. Positive thoughts are important, but you shouldn't stop there. When I changed into a clean pair of pants that morning my daughter peed on my lap, I changed the course of my day away from the incident. I didn't dwell on it, or think about it all the way to work. No, when I changed my pants I focussed on the day ahead, not on the potty incident of recent past.
We have the power to change the course of our day. You see, the things we focus on direct our actions.
Your day, no matter how badly it starts, can be some degree of fabulous. Next time your day starts out roughly, use this ABC positive thought technique to turn it around. And if this techinque doesn't work for you, you can also try to combat negative self-talk with the three Cs.
APA Reference
Hoskin, A. (2015, August 25). Use This Positive Thought Technique to Turn Your Day Around, HealthyPlace. Retrieved on 2023, June 5 from https://www.healthyplace.com/blogs/livingablissfullife/2015/08/use-this-positive-thought-technique-to-turn-your-day-around
Author: Arley Hoskin, CMPS