Trauma Disorders and Cortisol (Part 4): Why It Matters
About a year ago it occurred to me that managing cortisol might directly impact symptoms of Dissociative Identity Disorder (DID) and Post-Traumatic Stress Disorder (PTSD). Because cortisol is an adrenal hormone secreted during periods of high stress, it seemed logical that people with trauma disorders would have higher-than-average cortisol levels. The symptoms of cortisol imbalance supported that idea, and since taking the steps to stabilize those theoretically high cortisol levels could do me nothing but good either way, I launched an experiment. I quit smoking, swore off dieting, and tried to get better sleep. Did it help?
Trauma Disorders and Stress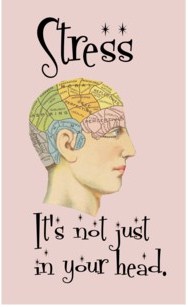 Trauma disorders like Dissociative Identity Disorder and PTSD are born in a climate of overwhelming stress. You might even say that their pathologies are breakdowns in stress management. Which doesn't mean that someone with DID or PTSD is less capable of handling difficulties. But it does mean that their symptoms interrupt and inhibit their capacity to distinguish difficult from dangerous. And I don't mean just cognitively. Because what we think about ourselves, the world around us, and our ability to navigate that world is certainly important. But a funny thing happens when you repair trauma-based cognitive distortions - nothing. Nothing happens. Why?
Trauma Disorders Aren't Cognitive Disorders
I believe that cognitive distortions in Dissociative Identity Disorder and PTSD are largely secondary. Physiology comes first. In other words, our minds believe what our bodies believe, not the other way around. It isn't enough to know I'm not in danger if my body is convinced that I am.
Managing Cortisol = Managing Stress
A safe, calm human body isn't secreting excess cortisol. Sleeping enough, eating enough good food, and not inhaling carcinogens are all good ways to make a body feel safe and calm. But that's true whether those things have any impact specifically on cortisol or not. That is to say, the steps I took to manage cortisol helped stabilize my Dissociative Identity Disorder symptoms and my PTSD symptoms because they alleviated physiological stress. But it's anyone's guess if that included stabilizing my hormones.
Then Why Does All This Stuff about Trauma Disorders and Cortisol Matter?
We tend to think of trauma disorders like Dissociative Identity Disorder and PTSD as purely psychological conditions. But they're as physical as they are psychological. And that's why my little experiment matters. If nothing else, it reminded me that I'm not just a brain on legs, that I have a body as well as a mind, and that they're kind of a package deal.
The quitting smoking part is pretty cool, too.
Trauma Disorders and Cortisol (Part 1): What Is Cortisol?
Trauma Disorders and Cortisol (Part 2): Cortisol Imbalance
Trauma Disorders and Cortisol (Part 3): Managing Cortisol
APA Reference
Gray, H. (2012, August 2). Trauma Disorders and Cortisol (Part 4): Why It Matters, HealthyPlace. Retrieved on 2019, August 21 from https://www.healthyplace.com/blogs/dissociativeliving/2012/08/trauma-disorders-and-cortisol-part-4-why-it-matters
Author: Holly Gray