Remission from Dissociative Identity Disorder?
Reader Deanna asked if anyone has ever experienced remission from Dissociative Identity Disorder. If we're defining remission as a period of diminished, unobtrusive dissociative symptoms – "normal" dissociation, in other words – then I'd wager there are people who have experienced exactly that. But they have worked hard to achieve that degree of integration and awareness. It didn't happen spontaneously, which is what I suspect most of us with Dissociative Identity Disorder mean when we bring up this idea of remission. And I also suspect it isn't really integration we're talking about, but the apparent disappearance of other personality states. I'm guessing plenty of people experience this latter scenario too; but remission it is not.
Increased Dissociation is not Remission
I've heard people with Dissociative Identity Disorder talk about personality states dying or disappearing enough to believe it's something most of us with DID have experienced at one time or another, myself included. But I don't believe anyone has actually gone anywhere. In fact, I'd say that's impossible. Because when we talk about personality states we aren't talking about superfluous identities, additional personalities that can be disposed of once they're no longer needed. We're talking about dissociated aspects of self, disowned parts of who we are. True remission from Dissociative Identity Disorder, therefore, doesn't involve putting greater distance between the self and its various aspects. And when we say things like, "My system disappeared," we are saying, essentially, "There is now even more distance between me and these other parts of who I am." That's an increase in dissociation, not a remission from it.
Integration Leads to Remission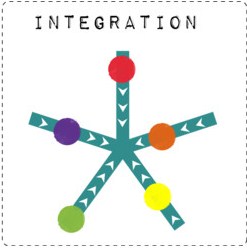 Remission from Dissociative Identity Disorder occurs when we have, over time, diminished the distance between our various personality states and integrated them into one multifaceted identity. Though I've not experienced it, I can't imagine that complete integration feels anything like the sense that all or parts of your system have simply disappeared. After all, what's happened is the opposite: rather than parts of the identity disappearing, they become accessible to each other, woven into the overall sense of self.
In the context of dissociative disorders, integration can be understood as the organization of all the different aspects of personality (including our sense of self) into a unified whole that functions in a cohesive manner.

- Coping with Trauma-Related Dissociation
Boon, Steele, van der Hart
Achieving Remission from Dissociative Identity Disorder
If having Dissociative Identity Disorder meant having extra personalities to help out until the "real" person becomes strong and flexible enough to navigate life on their own (a common misconception), achieving remission would involve getting rid of those extra personalities. But that's not what DID is. No part of who we are is disposable. And the belief that there are aspects of self that should go away is part of the pathology of DID. Achieving remission means challenging that belief by choosing to move closer to dissociated personality states. Remission is the opposite, in other words, of your system disappearing – it is your system moving together and becoming one.
APA Reference
Gray, H. (2011, August 25). Remission from Dissociative Identity Disorder?, HealthyPlace. Retrieved on 2019, May 19 from https://www.healthyplace.com/blogs/dissociativeliving/2011/08/remission-from-dissociative-identity-disorder
Author: Holly Gray