My Hospitalization for Suicidal Ideation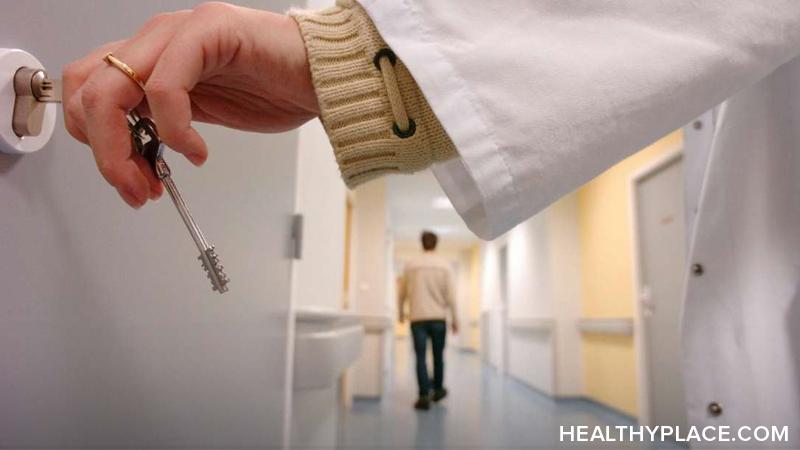 Trigger warning: This post involves frank discussion of suicidal ideation.
About 12 ½ years ago, I was hospitalized for suicidal ideation in the inpatient psychiatric ward of my local hospital. Suicidal ideation is when you are thinking about suicide a lot but don't have a plan to actually harm yourself. Still, I felt I was in danger, so I asked my fiancée to drive me to the hospital.
I Had Suicidal Ideation Even Though I Was About to Get Married
That's right; I said fiancée. We were engaged. And I was engaged to a wonderful man who was more thoughtful and considerate than anyone I had previously dated. I should have been over the moon.
But the fact is that my schizoaffective disorder clenched onto the upcoming nuptials--still several months away--as a cause for stress. If you think about it, getting married is very stressful. Especially when you stage weddings the way so many of us do nowadays. There's the planning for every little thing in the wedding--the ceremony, the reception (I am someone who gets stressed out by parties), and, most obviously, the fact that you're making a major, life-altering decision, even if it is a happy one. It's all still stress.
There's also the fact that I was working as a waitress at a restaurant. It was a place I'd worked at on and off for several years, and I loved the owner. But the job still stressed me out and underscored that I couldn't make a living with my artwork.
There was also the stress of the time of year--late winter. That is always when my schizoaffective symptoms kick in at their worst.
All of this activity wreaked havoc with my schizoaffective disorder. I fell into schizoaffective depression, and I told my fiancée, Tom, that I felt I had nothing to live for.
"That makes me feel really great," he replied sadly.
I really wish I hadn't said that to him. But I can't take it back now.
I am so grateful that he didn't leave me. After all, if he had, who could blame him? But he stuck by me. He, along with my parents, visited me in the hospital every night.
Suicidal Ideation and My Stay in the Psychiatric Ward
The thing that bothered me most about being hospitalized was that I couldn't smoke. (I've quit smoking since then.) I liked the other patients. My mom brought me my copy of the book Girl, Interrupted, a memoir by Susanna Kaysen about her stay in a mental institution during the 1960s.
One important thing that came out of my stay in the psychiatric ward was that my psychopharmacologist switched my antipsychotic to one that prevented suicidal thinking. I went off it a few years later, though, with the guidance of my doctor, because it caused symptoms of obsessive-compulsive disorder (OCD).
So, that was 12 ½ years ago. I went to the emergency room again in 2017 for schizoaffective suicidal ideation, but I agreed on the advice of my doctor to participate in an outpatient program. You go to classes and learn skills during the day, but you aren't confined to the hospital and get to go home at the end of the session. The skills I learned there helped me manage my illness better, and using those skills has helped me stay out of the emergency room and any psychiatric ward since then.
If you feel that you may hurt yourself or someone else, call 9-1-1 immeditaly.

For more information on suicide, see our suicide information, resources and support section. For additional mental health help, please see our mental health hotline numbers and referral information section.
APA Reference
Caudy, E. (2020, September 17). My Hospitalization for Suicidal Ideation, HealthyPlace. Retrieved on 2023, November 30 from https://www.healthyplace.com/blogs/creativeschizophrenia/2020/9/my-hospitalization-for-suicidal-ideation
Author: Elizabeth Caudy