Schizophrenia, Schizoaffective Disorder, and Medication
People with schizophrenia and schizoaffective disorder are no strangers to taking medication. Often, they take multiple medications, like me. I take so much medication I have trouble keeping track of it. But I take medication for my schizoaffective disorder, because it's part of my treatment plan and it means I can live a full life.
Schizophrenia, Schizoaffective Disorder, and Keeping Track of Medication
I have an entire tray devoted to my schizoaffective medication. The tray has compartments for the morning and evening of each day of the week. I take most of my m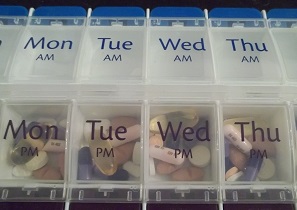 edication at night because, often in the morning, it makes me gag. That problem seeped over into other activities. Now I even have trouble brushing my teeth in the morning because I gag on my toothbrush.
The time when I have the most trouble keeping track of my medication is when I'm filling the tray. I have to take one of the meds in the morning. In that section for each day, I put a small pill for my thyroid. In the evening section, I put four pills that are both antidepressant and antianxiety medication, three additional antianxiety pills, and an antipsychotic for my schizophrenic symptoms. That med causes serious weight gain and lethargy. So I add to the evening section two more pills to prevent weight gain. Then there's the mood stabilizer for my bipolar symptoms (I have schizoaffective disorder, bipolar type), an anti-migraine medication, and an Omega-3 fish oil tablet, a horse pill that helps with my bipolar symptoms. Every, single time I fill the tray, I am afraid I may have made a mistake and forgotten something. Do you have any idea how stressful that is? Many of you reading this may know—or may know someone with the same challenge who needs your understanding.
Schizophrenic Medication and Anxiety
In addition to the two antianxiety medications I put in my tray, I take an as-needed antianxiety medication. So, yeah, anxiety is a big deal for me. I have generalized anxiety disorder (GAD). It impairs me even more than the schizoaffective symptoms. And, at the same time, it can make those symptoms worse -- if I get too anxious, I hear voices. Even though I take three separate antianxiety medications, I still have acute anxiety. I am actually angry that with everything I do to combat the anxiety -- everything from medication to dialectical behavior therapy (DBT) -- the anxiety is still so prevalent. But the as-needed antianxiety medication helps a lot, and the anxiety is slowly going away. I just need to be patient with the medication, with the therapy, and with myself. I know that part of the reason I get so frustrated at keeping track of my medication is because of my anxiety. Not only do I need to be patient with myself, but I need to trust myself. We all need to do that — and to be patient with each other.
More About Schizophrenia, Schizoaffective Disorder, and Medication
https://youtu.be/WNGT8_DViT8
Photo by Elizabeth Caudy.
Find Elizabeth on Twitter, Google+, Facebook, and her personal blog.
APA Reference
Caudy, E. (2015, July 28). Schizophrenia, Schizoaffective Disorder, and Medication, HealthyPlace. Retrieved on 2023, December 8 from https://www.healthyplace.com/blogs/creativeschizophrenia/2015/07/schizophrenia-schizoaffective-disorder-and-medication
Author: Elizabeth Caudy
no mention of ANY MEDS--irresponsible
When he places the phone face down where you can't see the face of the phone I always confronting him about his phone he is a good guy and I want to trust him he has been with me through out this whole Schizophrenia ordeal and after band when I confront him a day later about the keyboard placed over the phone he doesn't remember I want to believe him and I know he is getting very frustrated with me accusing him please help
Leave a reply