Schizophrenia and the Mad Rantings Of "Psychos"
Opening a book entitled Psychos on a Saturday evening in the bargain section of a local bookstore, I came across the rantings of an author that symbolizes the hatred and stigma that people with schizophrenia often face. The defining characteristic of the psychotic, according to this New York Times bestselling author, is a "lack of empathy" followed by deranged criminal behavior. This fundamental and obvious flaw into the nature of the psychotic is still perpetuated to the public, by authors with an abundance of both influence and ignorance.
Schizophrenia -- Psychotic vs. Psychopath
His words currently echo in bookshelves throughout the world:
Functioning psychosis--which is to say, the psychosis that interacts with us, day to day--is largely characterized by lack of empathy: the inability to feel or care about others. This enables psychotics to move through the world without the burden of sympathy or conscience, indifferent to moral codes that makes no sense to them. (Skipp, Psychos, 4)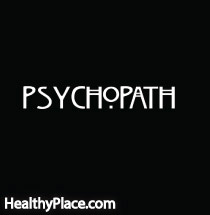 It is unfortunate for John Skipp and his readers, that he was unable to find a dictionary prior to smearing and hate mongering the very same disabled individuals, which he knows nothing about. The defining characteristic of the psychotic, has nothing to do with empathy, but a loss of touch with reality. Clearly he is confusing the word "Psychotic" and "Psychopath", which are entirely different psychological conditions.
Psychopaths are the ones characterized by a "lack of empathy," and suffer from a condition otherwise known as "anti-social personality disorder, an entirely different psychological disorder altogether. It is defined in the Diagnostic and Statistical Manual of Mental Disorders (DSM-IV) by traits and characteristics that are very different than people with schizophrenia and others that suffer from psychosis. In fact we are much more likely to be the victims of psychopathic criminal behavior than the perpetrators of such acts. A statistic that has been cited many times by several different studies.
Bashing People with Schizophrenia
Despite such evidence, writers and the mass media continue to bash people with schizophrenia. Too often such individuals live in a black and white world of good versus evil, where devilish entities stalk the streets and the do gooders are their to stop them. It is a fictional delusional world that exists only within the minds of people that are busy trying to prove themselves superior, by stomping on the weaknesses of others.
John Skipp has sold his books, by inciting fear and panic through misinformation and ignorance. Millions of people have picked up his works and read his pathetic insight into schizophrenia and psychosis. It's people like John Skipp that make my life more difficult and dangerous to live in, through nonsense writing such as this:
To psychotics, morals and empathy just seem like a big load of hooey: meaningless stupid obstacles between themselves and whatever they might hope to achieve. This is the mind-set that allows a person to ruthlessly step on others, treat them like shit, and kill them if necessary or otherwise exciting." (Skipp, Psychos, 4)
Such falsehoods about people with schizophrenia are sadly conveyed time and time again, so often that people wrongly believe that we are destined for criminal and deranged behavior. There are many people with schizophrenia that live in ways that are not so different than that of the ordinary person. They take their schizophrenia medication, see a doctor regularly and manage their illness. They do so in ways that keeps them out of the hospitals and into the communities. They live amongst us, some going so far as to succeed in a world that so often hates them.
APA Reference
Hoeweler, D. (2014, October 29). Schizophrenia and the Mad Rantings Of "Psychos", HealthyPlace. Retrieved on 2019, August 19 from https://www.healthyplace.com/blogs/creativeschizophrenia/2014/10/the-mad-rantings-of-psychos
Author: Dan Hoeweler