My Last 'Coping with Depression' Blog Post. Thank You.
I can't believe it's been a year since I started writing the Coping with Depression blog for HealthyPlace.com. I've written over fifty blogs and recorded a dozen videos for the HealthyPlace YouTube channel. It's been a journey, and I thank you for riding along with me, but it's time to say so long.
I've poured out my heart and soul, sharing my experiences, good and bad, on how I cope with depression. In doing so, I hope that I've helped you as much as you've helped me. Writing this blog has given me insights into myself and my treatments, insights that I never knew I had and things I never knew I felt. I've had to admit things to myself, resign myself to a great many things and overcome recurring self-stigma in order to write from the heart.
I hope that what I've written has helped a few people. Several of you have taken the time to leave comments, sharing yourselves and trusting me with your thoughts. Thank you!
[caption id="attachment_2666" align="alignleft" width="224" caption="By Stuart Miles, courtesy of freedigitalphotos.net"]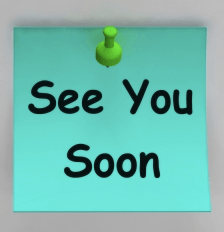 [/caption]
I'm branching out to write my own blog, independent of any affiliation, such as HealthyPlace.com. I want to thank HealthyPlace as well for giving me the opportunity to write for them. They're a phenomenal group providing amazing resources to all of us who suffer from mental illness.
You can find me at CascadingInsights where I will be writing about all aspects of my life, including my depression and anxiety. I would be delighted if you would come for a visit. My "Coping with Depression" co-author, Erin Schulthies, and new depression blogger, Jennifer Tazzi, will carry on here.
Once again, I want to thank you all for reading my blog this past year. Take good care, be well, but most of all remember: you are NOT alone.
Hugs to all.
Liana
APA Reference
Scott, L. (2014, May 25). My Last 'Coping with Depression' Blog Post. Thank You., HealthyPlace. Retrieved on 2023, June 5 from https://www.healthyplace.com/blogs/copingwithdepression/2014/05/last-blog-thank-you-see-you-soon
Author: Liana M. Scott
Stay strong and positive! Don't let depression bother you... :)
Well, this is my first visit to your blog! We are a group of volunteers and starting a new initiative in a community in the same niche. Your blog provided us valuable information to work on.
Leave a reply