Practice Courage to Build Self-Esteem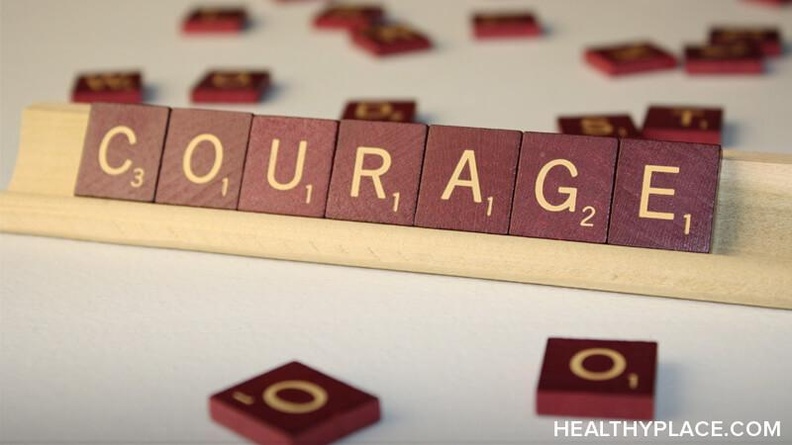 Building healthier self-esteem takes courage. Your courage will help you make the changes you choose to make to your actions and attitudes that will allow you to feel more confident and self-reliant. But where do you find the courage to become the person you wish to be? How do you begin to practice courage to build strong self-esteem?
The pandemic is providing us all a unique opportunity to take a crash course in making life changes. Most of us are spending a lot more time alone at home than we used to. Our usual routines have been shattered and we're forced to act differently than we did four months ago. Now is a perfect time to focus on building self-esteem by looking for areas that you would like to change and finding the courage to take baby steps in the direction you desire.
Over the last few weeks, I've been battling depression from feeling isolated. I am used to depression coming and going, but this time it wasn't leaving. I felt like I lost my purpose in life, and after a couple of weeks, I called my therapist for an appointment. During our session, I came to realize that there are changes I can make right now to live a happier life while physical distancing remains the norm. I've had to practice bravery this past week and I want to share my thoughts on how important it is to find courage when self-esteem is low.
How to Practice Courage for Healthy Self-Esteem
The first step in practicing courage to improve your self-esteem is to honestly assess your current situation. Look closely at your interactions with others as well as yourself and think about the things that make you feel less worthy of love and respect. It takes courage to see things that make you uncomfortable. When do you find yourself lacking in confidence? What do you wish could be different?
When I looked deep inside, I found that I was still relying too much on other people's affirmation of my value. I realized that I post a lot on Facebook about the good things in my life and that it was important to me to see how many and which people reacted to my posts. Most people never see the hard parts of my life because I never post about negative feelings. But my life is just l like everyone else's, with ups and downs. My feelings of loneliness may be rooted in my inaccurate portrayal of my life to others.
My honest look at my use of social media made me realize that I was acting every day, which was in direct opposition to my desire to live transparently. Healthy self-esteem means being confident in yourself enough to present yourself honestly to the world. I have a history of performing on stage, but I also performed every single day of my life by acting in a way that suited the people I was interacting with at any moment. I prided myself on my ability to have many different personas and it served me well in my career, but now I needed to stop worrying about the face I present to the world and start focusing on my own honest thoughts about my life to improve my self-esteem.
Perhaps the first step in being brave for me was making the call to my therapist. He had graduated me from regular sessions about a year ago but was always available in a crisis. Knowing when and how to ask for help is a sign of courage. We all need help sometimes, and it's a sign of healthy self-esteem when you ask for what you need. My session with him started me on this new path in my journey and I will continue meeting with him until I feel confident I can continue on my own.
Courageously Choose Changes to Build Self-Esteem
What changes do you think would benefit your self-esteem? It might be setting better boundaries with others, prioritizing self-care, or removing a constant distraction that prevents you from focusing on yourself. Choose one or two small things right now. Being brave means being okay with trying something new even though you're not sure it is the right answer. If it turns out the change didn't improve the situation, you can always try something else tomorrow or next week.
I made the decision to stop posting daily on Facebook. It made sense to try this change when I realized how much I depended on the feedback I received. I spent too much time and effort on the face I presented to the world. Considering this change caused me stress, and it took courage to stop my daily posts about my cats, my coaching philosophy, and my lovely new home. Practicing bravery by making this change a couple of days ago has already reaped benefits. Avoiding the app has removed what I see now was a great distraction and granted me the gift of more time. In addition to knocking out tasks that have been piling up on my desk, I'm playing my piano more which gives me joy. I was surprised by the relief I feel, and my self-esteem has bloomed because I feel more confident about taking care of the things that are important to me.
Change requires courage. Practice courage to improve self-esteem by making tiny changes without worrying about whether they will work out or not and you will find yourself becoming stronger and ready to take on bigger challenges. This is a great way to build strong self-esteem because you begin to trust that you can do whatever you need to do to make a better life for yourself, one baby step at a time.
Do you think of yourself as a brave person? How do you practice courage in your daily life? What do you wish you had the courage to try right now? Share in the comments how you believe that practicing courage can build your self-esteem.
APA Reference
Kaley, J. (2020, July 1). Practice Courage to Build Self-Esteem, HealthyPlace. Retrieved on 2023, December 3 from https://www.healthyplace.com/blogs/buildingselfesteem/2020/7/practice-courage-to-build-self-esteem
Author: Jessica Kaley
You are so right; the first step always takes courage! Keep working on you, reach out if you want to chat. I will still look forward to seeing the antics of the kitties :)
Thank you, Connie. I appreciate your taking the time to read my words and to comment.
Leave a reply