New Year's Resolutions that Can Help Bipolar Disorder
Making New Year's resolutions is something I don't regularly do (as I feel that any day is a good day for change), but if you're going to, you should consider making New Year's resolutions that will help your bipolar disorder. Many of these actually cross over into the realm of everyday resolutions but not only do you need to make the right ones, you need to make them in the right way (How To Set Realistic New Year's Resolutions). Here are a few New Year's resolutions that can help your bipolar disorder.
New Year's Resolutions that Can Help Bipolar Disorder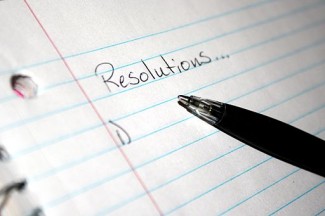 If we think about the New Year as a time when we can actually improve our mental health, I think we can be more successful and our resolutions will actually benefit us more than the average "go to the gym five times a week."
Some of the best New Year's resolutions you can make with bipolar disorder in mind include the following:
Smoking and Bipolar Disorder
Quit smoking – I know you're going to say this doesn't have to do with bipolar disorder, but actually, it does. Smoking-related illnesses are one of the major killers of people with serious mental illness. It's one of the main reasons that people with serious mental illness die sooner than the average person. And adults with bipolar disorder are two-to-three times as likely to have started smoking when compared to the average person and they seem less likely to try to quit/continue abstinence when compared to those without a psychiatric illness. If you do want to quit smoking, remember, you don't have to do it alone. There are treatments that can help you quit so talk to your doctor about them.
Bipolar Routines
Get into a routine based on your bipolar needs – I have talked about a bipolar routine before and I know people have a hard time getting into a routine, so start slowly. Pick one thing you want to do consistently and work on that. Then, once you've mastered that, pick one more thing. And start small. Perhaps create a pre-sleep routine. (Such as I always wash my face at this time, then I brush my teeth, then I read for 30 minutes, then I go to bed.) A pre-sleep routine can actually help you sleep better and fight insomnia (without drugs).
Bipolar and Exercise
Exercise more – yes this is a common New Year's resolution but it's one that can help with bipolar depression. It's critical that you start small to be successful. Here's a quote you should read: "The Harvard Bipolar Program leader, Dr. Sachs, says 'here's your exercise program: go to the door, look at your watch. Walk 7.5 minutes in any direction, then turn around and walk home. Do that 5 days a week at least.' . . . he calculated the average American would lose 5 pounds a year doing that, as opposed to gaining about that for the average sedentary person." And seriously, if the Harvard Bipolar Program leader says it, it's good enough for me. And starting this small sets you up for success, not failure. (Read this page for the quote reference and really good information on bipolar disorder and exercise.)
Bipolar and Sleep
Get to bed – I consider sleep to be the number one immediate effector of mood. If you don't sleep well, you won't be well, and that's all there is to it. Sleep needs to be a priority and not just something you do at the end of the day when you feel like it. Sleep needs to be part of your bipolar routine. You need to go to bed at the same time every night and wake up at the same time every morning. If you feel like you can't do this right away, that's okay, just try to adjust your schedule as much as possible to move things closer to a routine. Do this over time. Don't expect to change your sleep routine in a day. (Consistent sleep actually fights insomnia, too. See here for more on bipolar and sleep.)
Bipolar and Relationships
Reconnect – sometimes we let our relationships fall by the wayside or we just don't put as much effort into them as we should, so for your New Year's resolution, get out and socialize more. Again, start small. If you usually go out once a month, don't think you're going to meet up with friends every other day. Maybe try to socialize once a week. Make time for friends. Make them a priority. (Family relationships count here, too.)
Bipolar Treatment
Get your treatment on track – make the treatment of your bipolar a priority this year. If you've been putting off seeing a psychiatrist or trying that new medication, now is the time to step up. If you haven't been following your doctor's advice, try to implement that. If you are in treatment, but it's not working for you, be straight with your doctor and find new options. Get yourself into therapy. Everyone will benefit from this resolution – you, your family and everyone who cares about you.
Helping Your Bipolar with New Year's Resolutions
So these are a few things I think you can resolve to do this New Year's to help with bipolar disorder. Do you have any you'd like to share? What has worked for you in the past and what hasn't?
Check out Natasha Tracy's book: Lost Marbles: Insights into My Life with Depression & Bipolar and connect with her on Facebook, Google+ or Twitter or at Bipolar Burble, her blog.
Photo via Wikimedia Commons.
APA Reference
Tracy, N. (2017, January 6). New Year's Resolutions that Can Help Bipolar Disorder, HealthyPlace. Retrieved on 2019, June 25 from https://www.healthyplace.com/blogs/breakingbipolar/2017/01/new-years-resolutions-that-can-help-bipolar-disorder
Author: Natasha Tracy