Enjoying the Holidays with Bipolar -- Top Tips
Bipolar disorder doesn't have to mean that you can't enjoy the holidays. Really. Even though bipolar disorder may complicate our holiday planning you can still enjoy the holidays with bipolar.
Enjoying the Holidays – Bipolar or Not
I get that many of us come from challenging backgrounds – that is true whether you have a mental illness or not. And I get that bipolar disorder further challenges our ability to enjoy the holidays. However, I do believe that there are ways to enjoy the holidays anyway.
Pick and Choose What You Enjoy about the Holidays with Bipolar
I think one of the things that happens for most of us is that we get overwhelmed with all the parts of the holidays season. There's the visiting and baking and cooking and presents and wrapping and trees and so on and so forth. It's a lot. It's a lot to deal with on top of our already challenging lives. If you're one of the people who have enough trouble with stability during any day of the year then maintaining that somewhat-healthy state over the holidays can seem impossible.
But I think one of the secrets is to pick and choose what you enjoy (or don't enjoy) about the holidays. For example, I don't get a tree. I think trees are beautiful and I love them but they're more effort than I'm willing to exert – I live in a small space and my cats would make the presence of a tree a job in and of itself.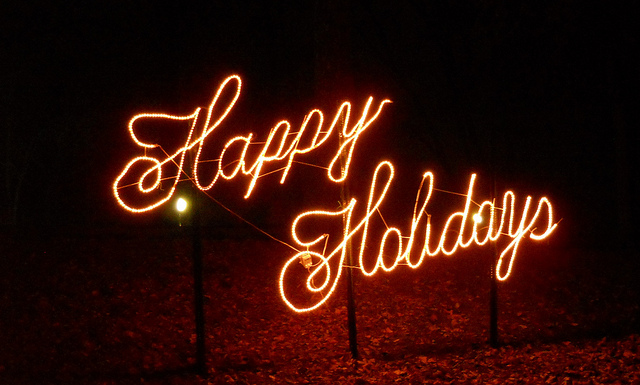 But I do like holiday baking. My contribution to being "merry and bright" is to bring ice wine marshmallows, Brandini toffee and Vunderbars to the people I care about.
The point here is that I don't try to do it all. I also don't try to do it all at once. While I could spend the week before Christmas pulling my hair out, I don't do that. I start my holiday baking a month in advance and freeze things before the season actually starts. I space things out in a way that is reasonable for me.
No one is Martha Stewart (probably not even Martha Stewart) so we shouldn't put pressure on ourselves to be someone that doesn't exist.
Tips for Enjoying the Holidays with Bipolar
If you're heading into the holidays season feeling overwhelmed, consider these options:
Don't like wrapping gifts? Try gift bags instead or shop where they will wrap for you.
Can't figure out what to buy someone? Try a gift certificate. I know it's not excessively personal, but you could buy it at their favorite retailer or at a place where you know they will need it like a grocery store.
Make the holiday dinner a potluck. Don't spend the whole day in the kitchen. You can make one or two dishes and have others bring the rest. After all, you're all enjoying the meal, why shouldn't everyone contribute?
Ask for help with the cleanup. Again, everyone enjoyed the event, why not ask some to pitch in during the cleanup, too?
Buy online. It's far less stressful to have gifts delivered rather than braving the crowds.
Don't have money for gifts? Try hand-making a craft. You might not be Martha Stewart, but you might get some good ideas from her as to what to make. Some crafts are very inexpensive. (I once made these snowflake ornaments that only require wire mesh from a hardware store, a pair of pliers, glue and sparkles.) You don't have to be excessively crafty to do it – trust me.
Also, if you don't have money for gifts, make coupon books. For example, include coupons for an afternoon of childcare, a delivered lunch or a carwash.
Don't attend every party if your social calendar is full. It's okay to admit that socializing is not for you at a specific time. Try spending time with the host one-on-one at another time (Importance of Socializing with Bipolar Disorder).
Don't have a place to be? If you don't have a place to be for the holidays and want one, try volunteering at a homeless shelter.
Take Time for Yourself to Enjoy the Holidays with Bipolar
And one of my biggest tips for enjoying the holidays is to take time for yourself. Watch this for more.
And, of course, things like maintaining your bipolar routine, making sure you have enough medications for when you are out of town or when the pharmacy is closed and practicing good self-care (Self-Care Strategies for Bipolar Youth) are also critical during the holidays.
What I'm basically saying is that by planning ahead, knowing what we truly want out of the holiday and acknowledging our limits, even with bipolar, we can enjoy the holidays, too.
Check out Natasha Tracy's book: Lost Marbles: Insights into My Life with Depression & Bipolar and connect with her on Facebook, Google+ or Twitter or at Bipolar Burble, her blog.
Image by Flickr user fauxto_digit.
APA Reference
Tracy, N. (2016, December 12). Enjoying the Holidays with Bipolar -- Top Tips, HealthyPlace. Retrieved on 2023, December 8 from https://www.healthyplace.com/blogs/breakingbipolar/2016/12/enjoying-the-holiday-with-bipolar-top-tips
Author: Natasha Tracy