Why Planning Ahead with Bipolar Is Tough
People with bipolar have a hard time planning ahead. I know it seems like it would be easy: "Want to go to lunch Tuesday?" "Sounds like fun. Sure!" but it isn't (How To Be Bipolar And High Functioning). And the reason is because bipolar disorder is highly unpredictable. Yes, I might feel fine right now but I literally have no idea what tomorrow will bring (Using Bipolar As An Excuse). This is why planning ahead with bipolar is really tough.
Planning Ahead with Bipolar
As I was recently explaining to a couple of people, if you imagine mood as a spectrum from -3 (not feeling good) to +3 (feeling great) with 0 being something close to average, most people float around a -2 to +2 most of the time, occasionally dipping down or floating up. This makes these people fairly reliable. This means that even if these people aren't feeling their best, they're still feeling okay enough to get their day done. It means that if you have lunch planned with them on Tuesday, they will not likely be stopped from showing up by their mood.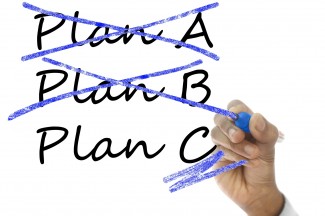 Bipolar, on the other hand, is very different. We live in more of a -10 to +10 kind of a world and where each person hovers is individual. For me, it's probably a -4 on a decent day. So on my decent days, I still feel worse than the average person does on their very bad days. That's the joy of bipolar.
But there's more to it than that because at any given time I can fluctuate. Your average person does fluctuate, of course, but they don't fluctuate drastically. They don't flop from feeling really great to being suicidal when they flip a light switch. They don't jump from feeling good to feeling like a genius deity because they blinked. They just don't do that.
And some people with bipolar don't do this either but, then, some of us do (Bipolar Mania and the Impact of Manic Symptoms).
And even if our moods stay reasonably level, our ability to deal with those moods may not. Our functionality with bipolar may be more or less impaired on any given day just because it's any given day. Some days I truly cannot get out of bed. It just happens.
Planning with the Uncertainty of Bipolar
So, understanding that my mood may augment or deteriorate at any given time and given that my functionality may be, well, functional, or not at any given time, it is very difficult for me to look into the future with any certainty. I look out into the future and I see a whirling dervish of chaos; I see squiggly, tangled lines; I see confusion; I see unpredictability.
Nevertheless, no matter how squiggly the line, plans have to be made. For me, as a contractor, I have to book speaking engagements, I have to stick to deadlines, I have to firm up travel plans despite bipolar. I have to plan, plan, plan, plan. So how do I plan with bipolar disorder?
Next time I'll talk about my specific tips on planning when you have bipolar disorder.
Does my experience seem familiar? Check yourself with the Mood Disorder Questionnaire - MDQ.
You can find Natasha Tracy on Facebook or Google+ or @Natasha_Tracy on Twitter or at Bipolar Burble, her blog.
APA Reference
Tracy, N. (2015, October 30). Why Planning Ahead with Bipolar Is Tough, HealthyPlace. Retrieved on 2019, September 16 from https://www.healthyplace.com/blogs/breakingbipolar/2015/10/why-planning-ahead-with-bipolar-is-tough
Author: Natasha Tracy