How to Make New Year's Resolutions You Can Stick To
I don't like New Year's resolutions, in general. This is because people tend to resolve to do pie-in-the-sky type things that they don't have a hope in heck of doing. New Year's resolutions turn into more like a wish list to be granted by a deity than goals any one person can achieve. But there are ways of making New Year's resolutions that you can stick to and here's how – create SMART resolutions.
How to Create SMART New Year's Resolutions You Can Stick To
Now, this method is typically used in the business world, but there's no reason why it can't work for New Year's resolutions too. SMART New Year's resolutions are:
S – Specific – Create a specific goal and not a general one. For example, saying you want to "be healthier" is nice, but it not a good resolution because how will you even begin to work on it or know if you have succeeded?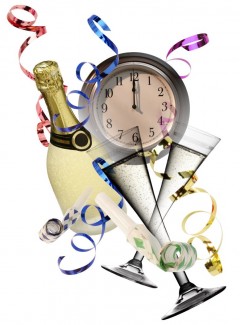 M – Measurable – Create a New Year's resolution you can measure. You are going to be much more willing to stick to a goal if you can measure your progress and know when you succeed. For example, "I want to be able to run five miles, three times a week." This is a great goal because you can measure starting one with one mile, once a week and then track your progress forward.
A – Achievable – A New Year's resolution is no good if you can never achieve it. An example of this would be, "I'm going to have a better relationship with my son." Well, you can do your part to better a relationship but if he won't talk to you, then it's out of your hands. A better goal would be, "I resolve to try to communicate with my son once a month."
R – Realistic – Again, a New Year's resolution cannot be stuck to if it's not realistic. For example, if your New Year's resolution is to run a half marathon in 1.5 hours and you've never run a step in your life, that's probably not a good goal for you.
T – Timely – Choose a goal that has some sort of time factor so you can plan out your track to success and know when you've gotten there.
If you really look at the components of a SMART New Year's resolution you can see that it is something you are much more likely to stick to. And that way, when New Year's comes around next year, you won't be dealing with failed New Year's resolutions and stuck with the goal of, "I resolve to do what I said I'd do last year."
Also check out my suggestions for New Year's resolutions that can improve your bipolar and your health in general in the video below.
Bipolar and Health-Related New Year's Resolutions
All that being said, I probably still won't make any New Year's resolutions because, hey, that's just how I roll.
Happy New Year's to all.
You can find Natasha Tracy on Facebook or Google+ or @Natasha_Tracy on Twitter or at Bipolar Burble, her blog.
APA Reference
Tracy, N. (2014, December 30). How to Make New Year's Resolutions You Can Stick To, HealthyPlace. Retrieved on 2023, March 30 from https://www.healthyplace.com/blogs/breakingbipolar/2014/12/how-to-make-new-years-resolutions-you-can-stick-to
Author: Natasha Tracy
SMART goals are great. I've used them before. They're an excellent tool for moving forward when I get stuck. The smaller and more realistic they are the better, especially when I'm depressed and rather stay in bed all day.
I was always resolving to do such and such usually starting on the first of the year, the month, the week, etc. I've learned by now there's no best time to start like the present, one baby step at a time!
Great article Natasha! You look great!
Leave a reply