Bipolar: Wired and Tired
I have this thing, and I don't know if it's the bipolar, specifically, but I get wired and tired at the same time and it sure feels bipolar-y to me.
Bipolar and an Anxiety Overdose
If you've been reading me in the last little while you probably recall that I'm in the process of buying a condo. This is a very exciting thing that feels like a massive ball of stress. And on top of all the condo buying chores I'm also putting in a kitchen island (Ikea to the rescue, yes, put together by me), doing presentations, trying desperately to keep up with my writing, I'm sick, oh, and folks from New York are coming next week to film me.
I'm swamped. And I'm beyond stressed. I don't think they've invented a word that fits how I feel at the moment. It's an anxiety overdose.
Bipolar: Wired and Tired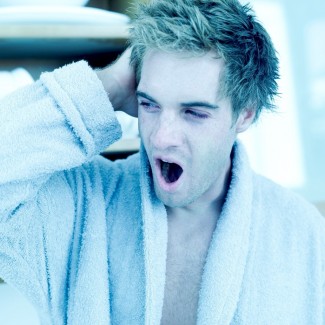 And when things are like this, I tend to get really wired. A little hypomanic-y. It's sort of a cross between hypomania and severe anxiety. It's like my inner cells are vibrating slightly. I have an exaggerated (seriously exaggerated) startle response. My thoughts are running at such speed in my mind that they collide and send fragments all over the place making my brain virtually unusable.
At the same time I'm exhausted. I want desperately just to calm down for a few hours and sleep but with all the vibrating cells that just doesn't seem likely. I also tend to feel the over-emotional-ness of depression at the same time as well. And seeing as I can't rest I tend to get sick, get headaches and the like.
Wired and Tired: A Bipolar Mixed Mood?
I wouldn't call it a bipolar mixed mood and I think, classically, it couldn't be diagnosed as one. I would call it fairly normal, human stuff except for the extremes at which I feel it are not particularly normal.
I suspect it's symptoms of the bipolar popping up in weird ways. Which is standard practice for bipolar disorder.
What to Do about Being Wired and Tired?
I can tell you what I do, but I'm not suggesting it's a defined best practice.
I use the wired energy to the best of my ability, often doing things that don't require a lot of thinking (because that's seriously hampered) or increase my stress level, such as packing. And then, when I can't take it any more I take an anxiolytic medication (antianxiety) PRN (as needed) and rest when there's a hole in my schedule. It's the only thing that allows for the rest I need in the extenuating circumstances of extreme stress.
So, tell me, do you ever feel wired and tired? Does that feeling last for days, weeks, longer? What do you do about it?
You can find Natasha Tracy on Facebook or Google+ or @Natasha_Tracy on Twitter or at Bipolar Burble, her blog.
APA Reference
Tracy, N. (2014, October 15). Bipolar: Wired and Tired, HealthyPlace. Retrieved on 2019, September 19 from https://www.healthyplace.com/blogs/breakingbipolar/2014/10/bipolar-wired-and-tired
Author: Natasha Tracy