The Importance of Sleep in Bipolar Disorder
If there's one thing that affects my bipolar moods above all else it is sleep. I consider getting the right amount of sleep to be critical in maintaining or achieving wellness. It's also critical that this sleep happen at exactly the same time every night.
In short, being a control freak about sleep is a good thing.
Bipolar is a Circadian Rhythm Disorder
I've said it before and I'll say it again: bipolar is a circadian rhythm disorder. This means that your internal body clock – the thing that regulates sleep wake cycles, among other things – doesn't work properly. In fact, according to the 2014 review Circadian rhythms and sleep in bipolar disorder: implications for pathophysiology and treatment:
Patients with bipolar disorder show altered rhythmicity in body temperature and melatonin rhythms, high day-to-day variability in activity and sleep timing, persistent disturbances of sleep or wake cycles, including disturbances of sleep continuity.
And they follow up with:
The internal clocks are, indeed, responsible for regulating a variety of physiologic functions, including appetitive behaviors, cognitive functions and metabolism . . . An underlying circadian pathology in bipolar disorder is a unifying explicatory model for the high psychiatric and medical comorbidity observed during the long-term course of the disorder.
In other words, if your sleep is off, your physical functions are also off.
What Happens to My Bipolar When My Sleep is Altered
I can say that as the researchers note above, my sleep continuity is almost always disrupted and I suspect it's by the bipolar disorder. It's extremely rare that I wake up in the morning without remembering moments of wakefulness during the night. The more wakeful moments I remember, the worse my day generally is.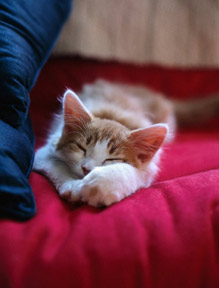 Similarly, if I can't get to sleep at night or if I wake up early, it's another red flag that something is wrong and it usually means that I'm heading towards a very bad day.
And when I say "worse" and "bad day" I mean a day where I'm overreactive and overemotional. I mean a day when I will feel depressed and be less productive (if productive at all). I mean a day when I function much less on a very, basic level.
Missing sleep or disrupted sleep isn't about being tired (although, like everyone else, I feel that too) it's about an alteration to mood and functioning. And when I say that, I don't mean it in scientific gobbledigook – I mean it in real life terms that result in tears over slight notions and an inability to do anything but lie on my couch in the fetal position.
Treating Sleep-Wake Problems in Bipolar Disorder
I think it's important to remember that "natural sleep" (sleep that is not drug induced) is, in my opinion, always superior to sleep that is controlled by medication. That being said, for many of us, we need sleep medication to have anything even resembling a natural sleep-wake cycle.
In my case I use a nonbenzodiazepine sleep medication. Some doctors don't like these and some even won't prescribe them but, personally, I have been using one for ten years without issue. (Note: if substance abuse is in your background, these are not for you.) It absolutely ensures that I get to sleep at the same time every night and that makes it worth double its weight in gold to me. (One should note that sleep medications rarely help people who wake early or help with disrupted sleep, particularly later in the night.)
It also appears that quetiapine (Seroquel) is helpful in improving sleep quality in patients with bipolar depression improving both sleep and depressive symptoms (although how those two are related is not known). (Doctors often prescribe quetiapine and other second-generation antipsychotics for sleep problems.)
Psychoeducation has been shown to likely not be useful in sleep regulation (long term use being possibly useful).
What is useful in treating sleep problems in bipolar disorder is social rhythm therapy. Or, more specifically, being very regimented about when activities in the day occur and adopting good sleep hygiene. Sleep hygiene requires it's own article, but the backbone is always going to bed at the same time and waking up at the same time every day – no matter what. That superimposed regulation can help the body regulate itself. Being this regimented sucks, but it really does work to have a bipolar routine.
Defeating Sleep Problems in Bipolar
In my case, I can tell you I cannot, entirely, defeat the sleep problems in bipolar disorder. Bipolar routines and medication have made my sleep much better and have created a more reliable stability in my life. Nevertheless I do have bad nights resulting in bad days. The important thing to remember is that they, too, shall pass and that a good night's sleep is still ahead of you.
You can find Natasha Tracy on Facebook or Google+ or @Natasha_Tracy on Twitter or at Bipolar Burble, her blog.
APA Reference
Tracy, N. (2014, September 24). The Importance of Sleep in Bipolar Disorder, HealthyPlace. Retrieved on 2019, September 15 from https://www.healthyplace.com/blogs/breakingbipolar/2014/09/the-importance-of-sleep-in-bipolar-disorder
Author: Natasha Tracy
Try CBD. It won't interact with your meds. It is also a great anti-psychotic and anti-anxiety.
Hi Jill and Heather,

CBD may or may not be a good option. Always check with a doctor before trying any drug. Some people find CBD to be anti-anxiety and anti-psychotic, but not all find it this way. There are dangers too. Some people do not react well. Make sure you are under a doctor's supervision any time you try something new.

- Natasha Tracy
Hi Lisa,

I am a bipolar expert through almost a decade and a half of research. You are welcome to address anything you feel is inaccurate but note that when I discuss specific facts, I generally link to the sources so you should check those.

- Natasha Tracy
Leave a reply