Is There Bipolar Stigma in the Workplace?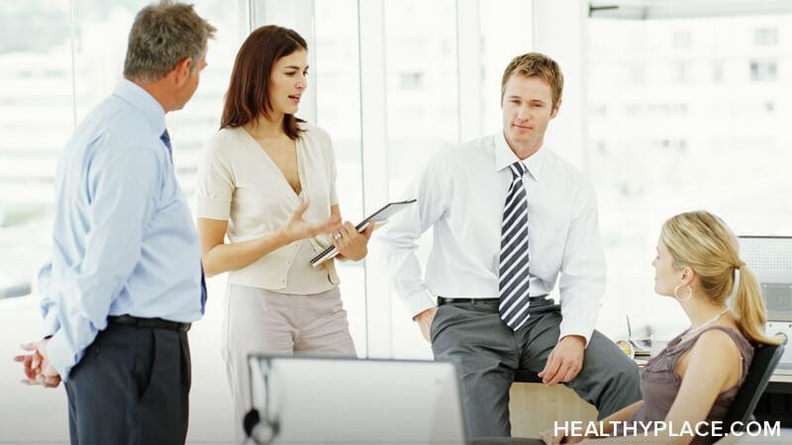 There is legislation in the United States that prevents people from being discriminated against based on an illness - and this includes mental illness. So, then, there should be no discrimination against those with bipolar disorder in the workplace. Right?
Prejudice and Bipolar Stigma in the Workplace
When you say someone has cancer, does that influence what you think that person does for a living? No, of course it doesn't because cancer is just an illness and it could happen to everyone from a stay at home mom to a chief executive officer.
However, when I say that someone has bipolar disorder, does that influence what you think that person is capable of doing?
For many, the answer is "Yes."
Conversation About Bipolar Stigma in the Workplace
In this video blog, I talk about bipolar stigma in the workplace and I suggest that yes, it very much does exist (Bipolar Disorder And Treatment Stigma).
You can find Natasha Tracy on Facebook or Google+ or @Natasha_Tracy on Twitter or at the Bipolar Burble, her blog.
APA Reference
Tracy, N. (2014, May 1). Is There Bipolar Stigma in the Workplace?, HealthyPlace. Retrieved on 2023, March 21 from https://www.healthyplace.com/blogs/breakingbipolar/2014/05/bipolar-stigma-workplace
Author: Natasha Tracy
At 18 I was diagnosed with bipolar disorder. I learned to manage my symptoms with meds and therapy. I taught in beach town, loved by children and supportive parents. Until a new administrator came. I was singled out and harassed non stop. I was given problem students and difficult parents. The admin. badmouthed me to the parents and other teachers, and failed to support me in any situations.
Due to the level of stress I lost my ability to maintain my bipolar balance. For the 1st time in my life I confidentially revealed my bipolar to the Admin. (even my best friends didn't know) I requested accommodation for a grade and room change. This was denied. (I thought, I expected compassion, or thought legally they'd leave me alone). I took a leave of absence.
On return, the harassment/discrimination increased. the parents seemed to fear me, They accused me of many atrocious things.
I was fired from the teaching position at my school of 27 yrs. and involuntarily transferred to a substitute position.
The district was not liable because they kept me employed.
I was unable to substitute...I resigned..my reputation destroyed, the career I LOVED destroyed and my retirement reduced to a third of my normal paycheck because I quit before age 55. Stigma? Who wants a Bipolar teacher?!!
There is discrimination in workplaces as well as harassment & it doesn't have to come from coworkers it can also come from managers ,supervisors but yet there's signs posted in these workplaces regarding discrimination/retaliation but unfortunately ignorance is bliss, just as there are laws regarding this. If this is happening & u have proof then do what u need too, keep a log as to what's happening, its like being a lawyer building a case, its time consuming but I think it's worth the effort because there are lawyers for this, also equal employment opportunities commission handles things like this .
I was 'legally" harrassed/intimidated if that makes any sense. Working for an enforcement organization my bosses knew how to harrass me and get away with it but I'm a fighter and I was able to hang in there and they backed off, so far. But rumour has it that there's going to be lay offs in the new year and I'm getting a little stressed and anxious about that. It doesn't help that a mentally ill person came into our office a couple of months ago and caused a temporary lock down situation where no one was allowed in or out... We work in an area where there is a lot of homeless, drug addicted and mentally ill people visable in the neighbourhood. If I lost my job I could conceivably end up like one of them and that scares the crap out of me!!!
Thank you for putting this info out there. Maybe if people hear it enough, there will be change.
I will say that I prefer articles to videos. Of course, you speak with confidence and are easy on the eyes, but there are people sleeping here. >< Perhaps a transcript in the future?
At any rate, you're absolutely right that discrimination still exists in the workplace. I was basically fired (told to quit or they'd make my work miserable) from my dream job. With the amount of effort I was putting into the job, I highly suspected it was because of my bipolar diagnosis. Later, it was confirmed that I went from headed to promotion to jobless solely because of having a mental illness. Despite having some proof, I didn't have the money or motivation to take the issue to court.
I've certainly experienced the stigma in other workplaces too, but that was the most heartbreaking. Now, I'm making the attempt to work for myself. It may be the only way I can work.
Hi I listened to your info on stigma in the workplace. I have Biplor 1 Disorder and today I am 51 but I got sick for the first time at 14. I went to High School with the illness, college , graduate school, and lived in Europe and I have been a therapist for the past 25 years...first I listen to he negative comments in the clinical team meetings, and usually after a few years I hit a bad period and end of disclosing and then it begins suddenly they are watching, closely monitoring, waiting for me to mess up, holding me to a new standard and sadly this is in a mental health center...I'm on a sick/ well cycle when I am sick I.. am quite sick, when I am well I am quite well...but I refuse to not be honest..I am proud of who I am and what I have accomplished...but they clearly put the glass ceiling over my head and look at me differently and document everything is case they need to get rid of me...
Leave a reply